RE7 Not a Hero - Green Shutter, how to beat High Regeneration White Molded with RAMRODs, Night Vision Device location in the Storage Area
Get the Night Vision and powerful ammo in Not a Hero.
Not a Hero's Green Shutter allows you to get the RAMRODs and Night Vision Device after exploring the Red Shutter and getting the High Grade Filter.
If you need a guide to other areas, our Resident Evil 7 Not a Hero walkthrough can help.
---
Want more help? Our Resident Evil 7 walkthrough provides step-by-step instructions on how to survive the main story, as well as finding the Shotgun, Grenade Launcher and the game's many Lockpicks and Treasure Photos. Meanwhile, our Antique Coins locations, Mr Everywhere statue locations and File locations lists will help you find every available collectible on Normal and Easy difficulties.
---
Exploring the Green Shutter
Head through the Green Shutter, and you'll see two doors. The one ahead is a Clown Door that cannot be opened (remember it for later), so head left. Now you have the High Grade Filter, you can explore this area safely. And if you haven't, then the Red Shutter is where you need to go first.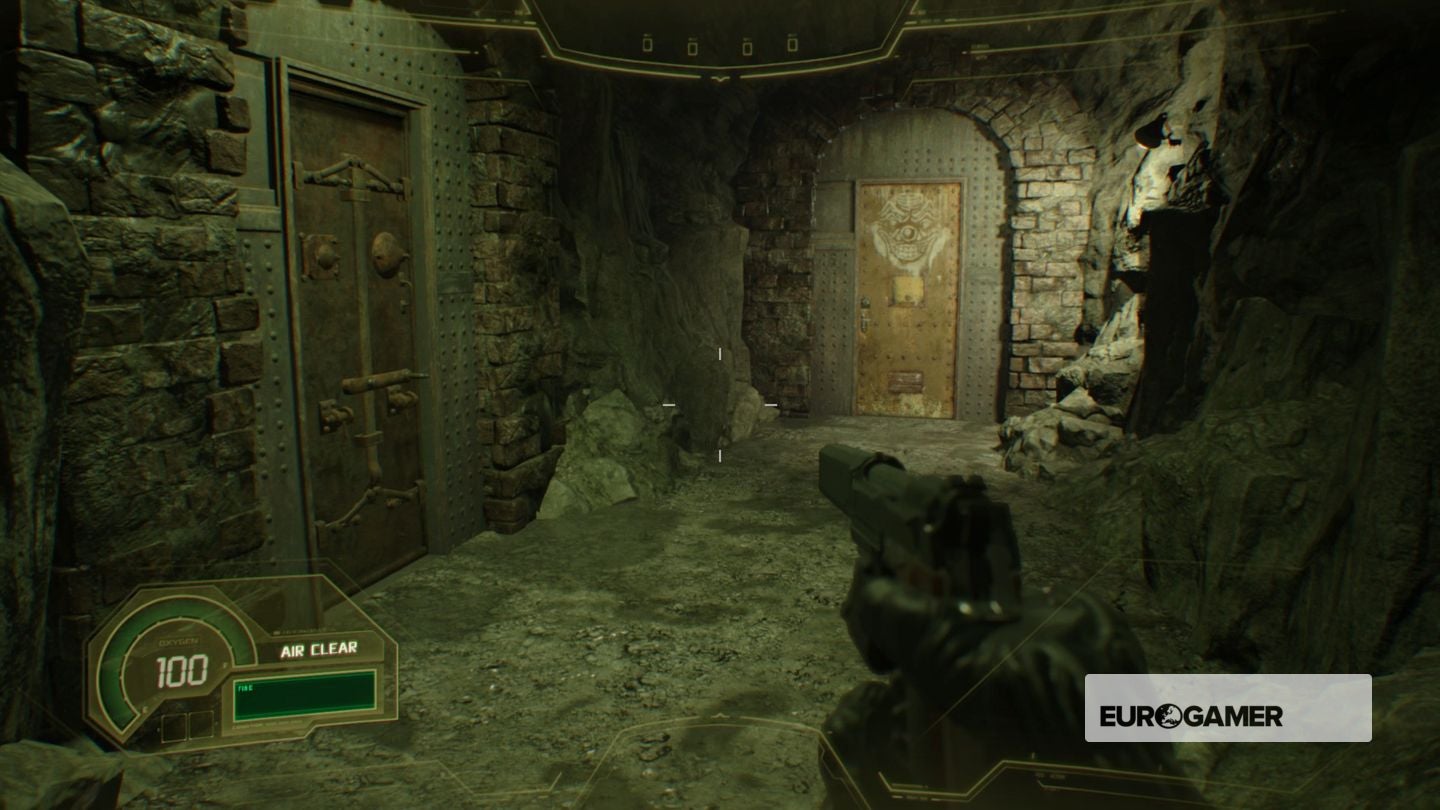 This series of corridors is a fairly linear (there are locked doors that you'll open up shortly, but ignore them for now) and several White Molded that cannot be killed.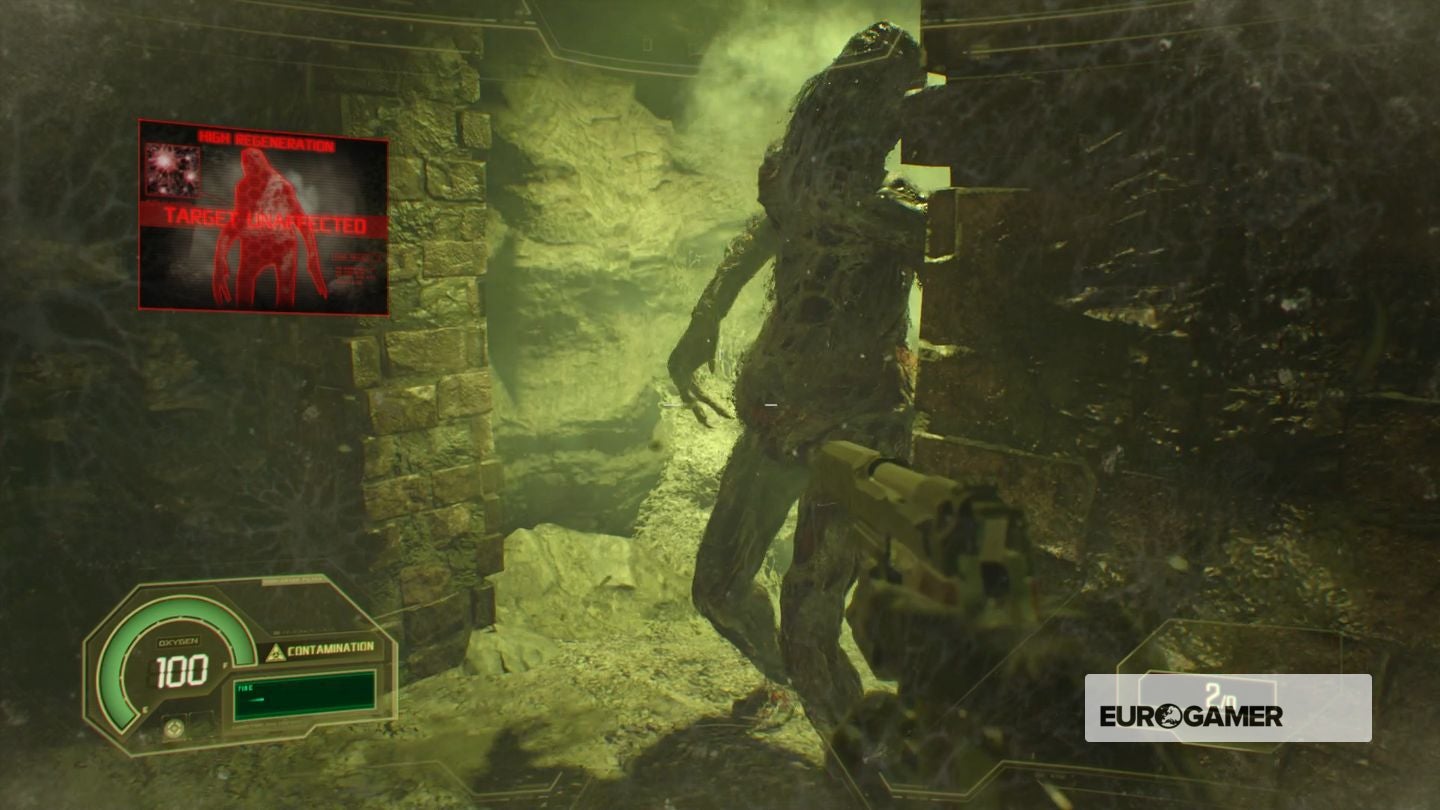 You either have two options - stun them with Neuro-stun Grenades, or sprint past them. We prefer the latter, as if you get far enough, they stop following and / or despawn. From the first White Molded, we recommend retreating back to the non-contaminated corridor to make it disappear.
Shortly after that first White Molded is an Antique Coin in the corner.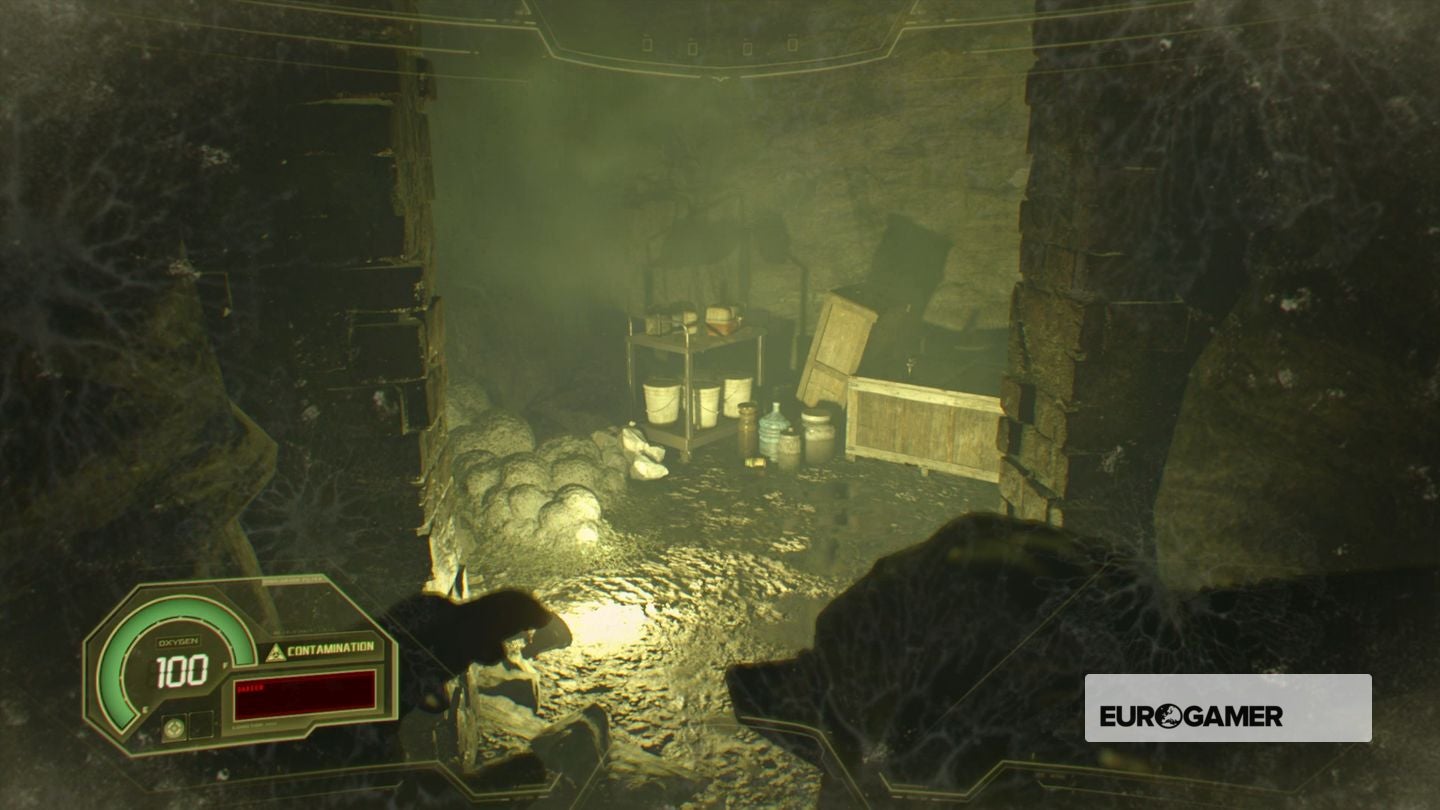 Continue following passages round - again, they are linear - sprinting past any Molded you come up against.
Towards the end of this area, you'll see a Molded suspending in the air that will drop down. From here, the rest of the corridor requires a Night Vision Device to continue, meaning you must enter the door on the right.
This is the Backup Power Room, filled with ammo, two Files and most importantly, a Night Vision Device and your first Anti-Regen Ammo (or RAMRODs). With the handgun equipped, press the left trigger (aim) and then Triangle (or Y on Xbox) to change to it.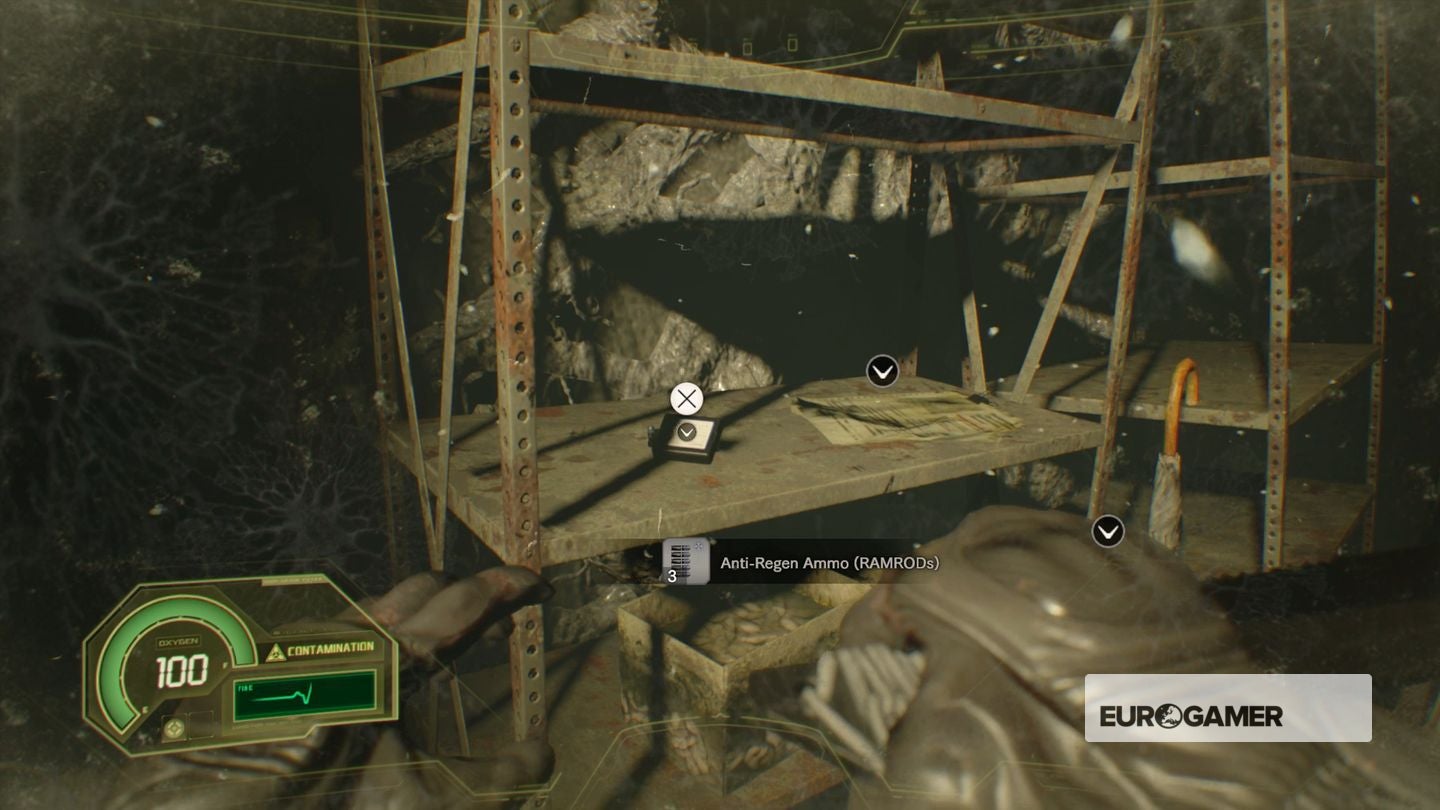 We'd recommend saving these three rounds for a specific encounter coming up, so don't squander them.
Leave the room and with your Night Vision Device, go right down the dark corridor. Open the door and smash the crates with your knife to reveal a hole in the ground.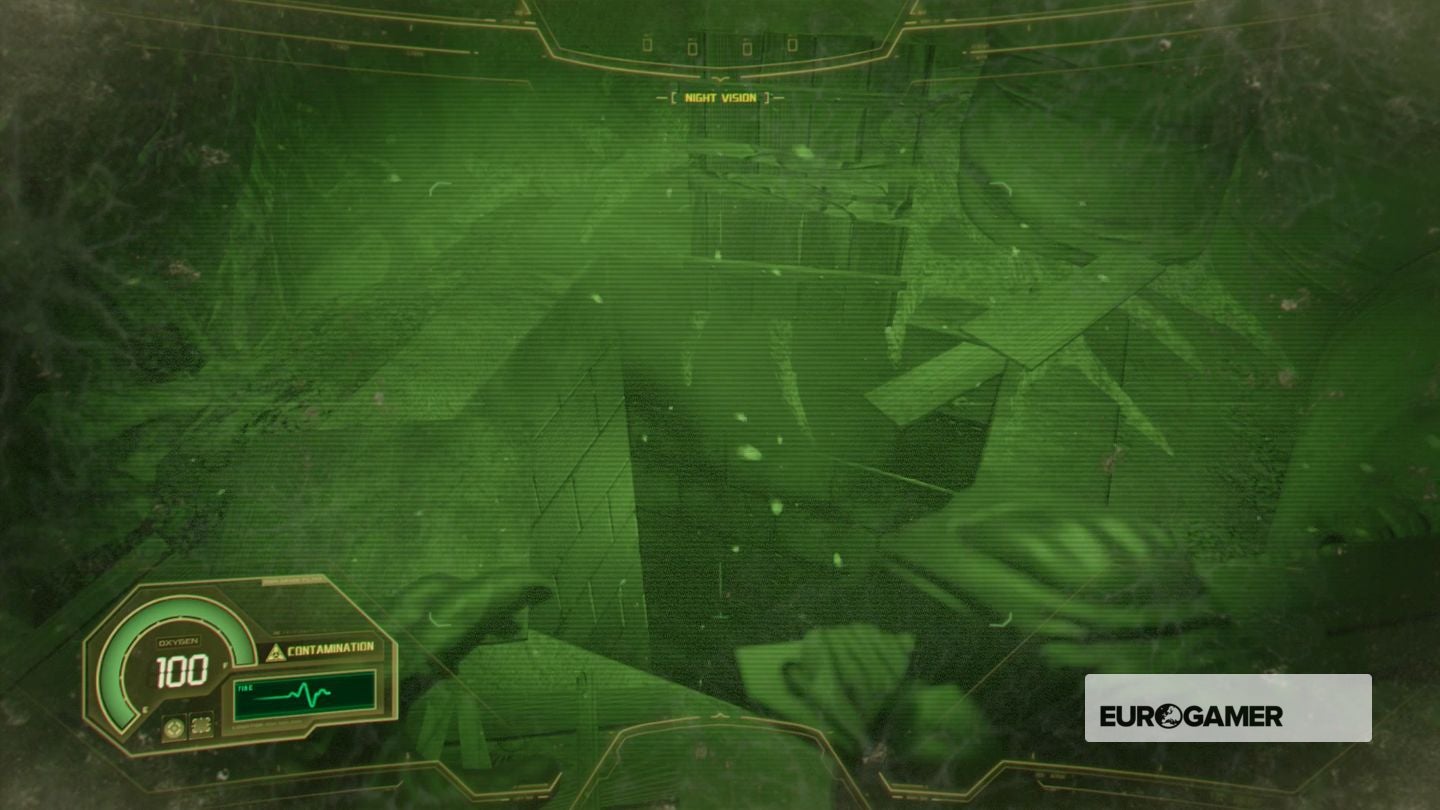 Drop down here to the Sewage, three switches puzzle and tripods, in what is one of the toughest parts of the DLC.