Red Dead Online beta start time, release dates, how to get beta access and everything else we know about Red Dead 2 multiplayer
When you can access and get your hands on the Red Dead Online beta release.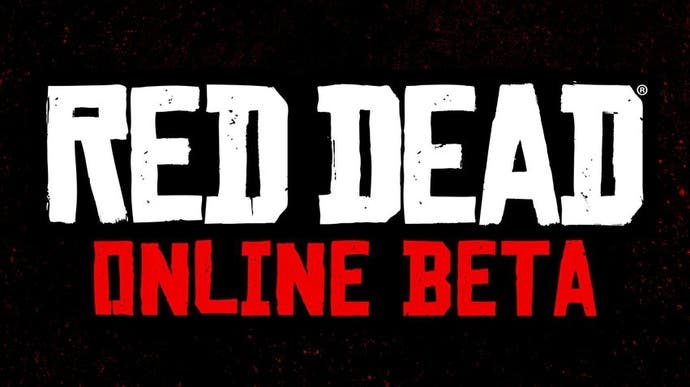 Red Dead Online is the multiplayer component of Red Dead Redemption 2 - akin to what GTA Online was to Grand Theft Auto 5.
Developer Rockstar Games is also employing a similar rollout, launching Red Dead Online after the main game releases as a Red Dead Online beta.
We now finally know every Red Dead Online release date and the respective beta start times for each - with Rockstar sticking to the planned November rollout - as well as some details on what Red Dead Online actually is.
Red Dead Online beta start time, release dates, how to access Red Dead Online's beta
Red Dead Online will go live this week, rolling out in stages, depending on the edition or when you first played the game (via The Verge):
Red Dead Online beta dates:
Tuesday 27th November: Ultimate edition owners - now live
Wednesday 28th November: Those who played on launch day (26th October) - now live
Thursday 29th November: Those who played during the launch weekend (26th to 29th October) - now live
Friday 30th November: Open access to all players
The specific launch Red Dead Online times for all players on Friday are the following:
UK: 1:30pm (GMT)
Europe: 2:30m (CEST)
East Coast US: 8:30am (EDT)
West Coast US: 5:30am (PDT)
When it comes to Red Dead Online beta access, you'll need to have a copy of the main game Red Dead Redemption 2. Have that, and the full Red Dead Online experience is free for all owners of the game from Friday. You can access it from the game's main startup menu or from the in-game menu while you're playing single-player, too.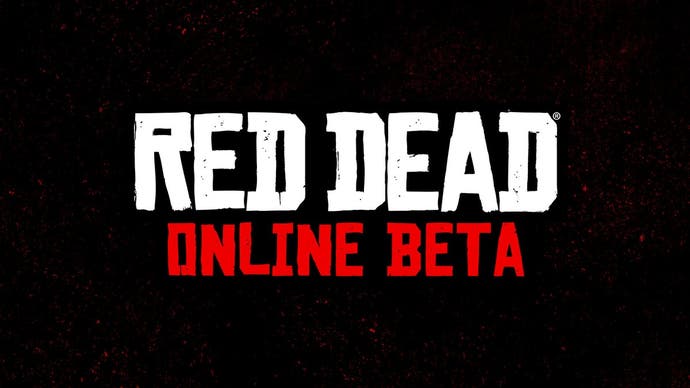 What else we know about Red Dead Online and Red Dead 2 multiplayer
Now we've played some Red Dead Online ourselves, here's a rundown of what you can expect:
There are story missions - similar to in single player, you simply head to the location marked on your map to start them.
There is indeed a battle royale-style mode - originally confirmed via datamines, we haven't found a 32-player version yet (multiplayer matches are chosen at random from a playlist) but the smaller-scale ones on the smaller-sized playlist are definitely live! They're limited to either just Throwing Knives or just Bow and Arrow weapons for now though.
Again similar to GTA Online, there are various other missions requiring solo work or cooperation in teams of four or even eight. All the 'story' missions we've encountered so far require you to matchmake with a squad of four (or play with your friends), whilst the multiplayer playlists of course put you into teams too, of varying sizes.
Red Dead Online is described by Rockstar Games as "a new online connected experience set against the backdrop of Red Dead Redemption 2's enormous open world" - which means you can expect the same world and settings as the main game. The entire map, including Blackwater, is unlocked from the start.
Rockstar has said to anticipate some initial issues at launch - it is a beta, after all, although one mission-breaking bug aside, which we fixed by just re-loading into free-roam, we haven't noticed many issues. They said: "As with most online experiences of this size and scale, there will inevitably be some turbulence at launch," it said. "We look forward to working with our amazing and dedicated community to share ideas, help us fix teething problems and work with us to develop Red Dead Online into something really fun and innovative."
---
The PC version has seen several new additions, including a photo mode, Landmarks of Riches Treasure Map, The Elemental Trail Treasure Map and the End of the Earth mission. If you're looking for more help in general, our Red Dead Redemption 2 mission list walkthrough can help provide pointers with the story. If you're looking for things to find, there are Killer Clue Piece locations, High Stakes Treasure Map locations, Jack Hall Gang Treasure Map locations, Red Dead Redemption 2 Le Tresor Des Morts and the Poisonous Trail Treasure Map locations too. Our in-depth systems explainers includes hunting perfect pelts, hides and skins as well as all Legendary Animal locations and Legendary Fish locations, or all Gunslinger locations, too. Finally, here's a list of Red Dead Redemption 2 cheat codes .
---
When it comes to a updates, Rockstar told IGN it plans to use the "best elements and best content packs from Grand Theft Auto Online" as a template. Heists were used as an example - not in terms of content, but "how they combined narrative, gameplay, modes and other content into a cohesive thematic whole". So expect something like that in the months after launch.
Unlike the original Red Dead Redemption multiplayer updates that "fractured the audience", Red Dead Online will keep every player intact with every update - a key learning from GTA Online, Rockstar Games told IGN.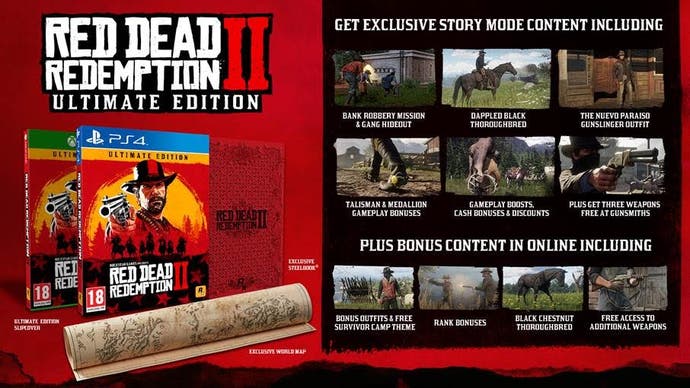 We've previously seen a tease of what might be included in Red Dead Online as part of an Ultimate Edition, which includes 'Bonus outfits and free Survivor Camp Theme', 'Rank Bonuses', 'Black Chestnut Thoroughbred' and 'free access to additional weapons' - in terms of those weapons, we claimed the Pump-action Shotgun, Volcanic Pistol, and more from the handbook (hold Left on the D-Pad).
That's it for now, but we'll be updating this page and plenty of others, like our guide to getting Read Dead Online money, in the days and weeks to come following the launch.