Defending APB
Realtime Worlds' Dave Jones hits back.
APB, the action MMO from Dundee-based developer Realtime Worlds, launched in the UK on Friday. Great things were expected, not least because of the pedigree of the developer behind it. So Eurogamer's review, which criticised the game's combat, vehicle handling and matchmaking before dishing out a less-than-stellar 6/10 score, came as some surprise.
One man who wasn't surprised was creative director Dave Jones, who anticipated similar reactions "months ago". Here, in a wide-ranging interview with Eurogamer, the co-creator of Lemmings and Grand Theft Auto defends APB from its critics, and discuses what's next for his studio and its new game.
EurogamerAPB is finally out. How do you feel?
Dave Jones
Well obviously it's great. It was a big huge effort to get to where we are and not many people have launched a big persistent online game, so pretty happy. Launch went really well - extremely stable. No issues.
EurogamerYou've put loads of effort over a number of years into this game. Now it's out, do you feel relief? Terror? What emotions are you going through?
Dave Jones
[Laughs] This is quite different. Typically on a single-player game by the time it comes in the shops you've probably been finished for about six weeks because of the time it takes to manufacture gold discs and send them out. So on a game like Crackdown, it's a quiet restful period, and you're happy and just waiting to see the reviews. On this game though, we're still working on it every day, changing it, gathering the feedback, working on the next set of changes and patches. This one's quite different. There's been no break, as such. We've just kept our heads down.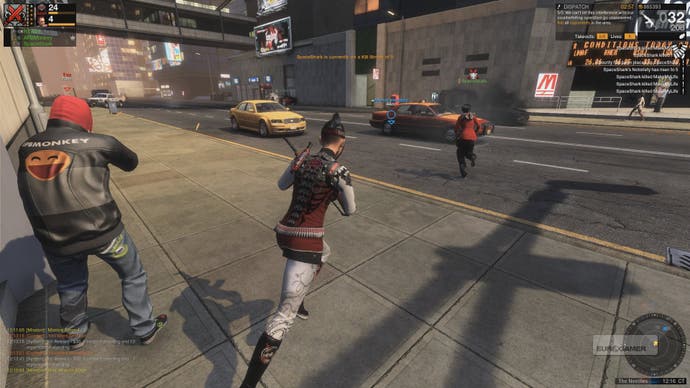 EurogamerFrom what you've seen, how are gamers responding to APB, and how do you feel about what they're saying?
Dave Jones
It's pretty much as we guessed. There are a lot of things we're doing different with APB, and some people can take to that and some people are having difficulty adjusting.
EurogamerWhat kind of things?
Dave Jones
We've come in to the action-based game and we've made this hybrid, so a lot of people are still thinking it's going to be more like an FPS combat system, and obviously they're straight from Counter-Strike or Modern Warfare, which are really just twitch-based games. They're about you can drop somebody sometimes even in one shot. It's about being stealthy and sneaky and doing that. Whereas we designed a third-person, more of a tactical combat squad-based game.
Obviously we've made some design decisions to support that. So there are a lot of people who aren't making that leap. They're just approaching the game maybe as you know, I just want to shoot this guy in the head and see him drop once, versus the good guys who have been in beta, who are more tactical based players, who play together as a good foursome.
Some people have adapted to the game better than others. But that was always the case. There are a lot of perceptions out there about exactly what this game would be, and some people have taken to it and some people are really struggling.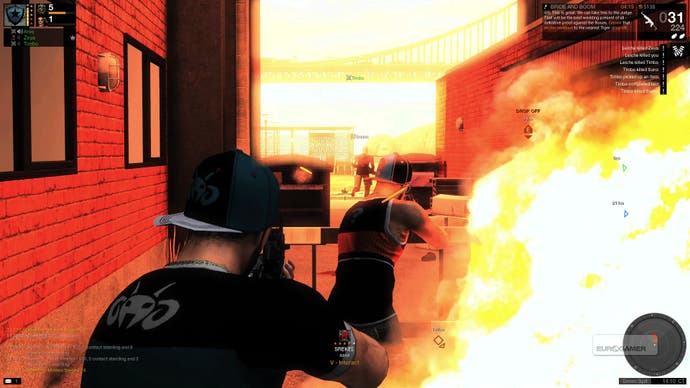 EurogamerWhy do people have that perception? Was it difficult communicating exactly what APB is?
Dave Jones
Yes. And I think a lot of people came to a lot of preconceptions, what they wanted it to be. You're never going to fight that. That's why we had the Keys to the City event - it was like, come and try it out, if it's not for you then at least you've had a chance to try it and play it. But for people who like this style of game and want something different from a typical twitch-based FPS in terms of combat and persistent servers and customisation, then we've got a lot of people who have taken to it really well.
EurogamerAPB has an interesting subscription model. Are you finding people are wrapping their heads around it? It is quite different, isn't it?
Dave Jones
It is. We wanted to be flexible and make sure people had options and it was seen as good value for money. We've not had any issues whatsoever on that. A lot of people looked at it and said well, for the more casual guys, 20 hours a month is quite a lot. So for them they like the fact they have this bunch of hours. And if they want to take a break form it because another game's come out and then come back to it, they don't feel they have to keep paying non-stop.
But the majority of people seem be going for the unlimited time. That'll just change as people come in and drift in and drift out.