Rayman Legends demo flutters onto XBL and PSN tomorrow
Woo hoo, a new underwater level shown off!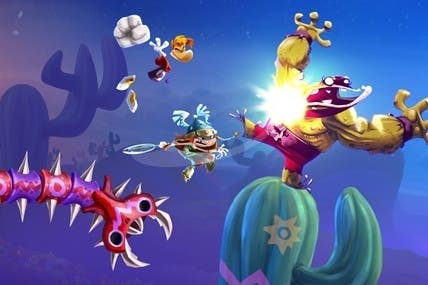 Last December Wii U owners got to try their hand at Ubisoft Montpellier's upcoming platformer Rayman Legends for the first time in a downloadable demo, and as of tomorrow Xbox 360, PS3 and Vita users will be granted the same opportunity.
The Rayman Legends demo coming to the more popular consoles is the exact same one as was first available to Wii U users. It contains the fairy tale-esque Teensies in Trouble level, along with the swamp-set A Toad Story, and the rhythm-based chase stage Castle Rock, which sees our hero (or heroine, depending on your character selection) running from a fire and demolishing enemy forces to the tune of Black Betty.
Additionally, Ubisoft has released a video walkthrough of the underwater chase stage Gloo Gloo, which is set to a cover of 5.6.7.8's song Woo Hoo from the Kill Bill soundtrack. Check that out below.
Rayman Legends is set to launch on 30th August in Europe on Wii U, Xbox 360, PS3, Vita, and PC. The Wii U version has the added benefit of allowing an additional player to use the Gamepad to control the sprite Murfy, who can shuffle platforms and various objects in the environment.