Rainbow Six Siege player-vs-AI Terrohunt mode detailed
Which is 60fps on high-end PC, 30fps on PS4 and Xbox One.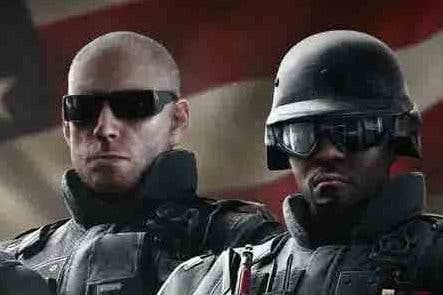 Ubisoft has pulled back the curtain on the Terrohunt mode included in Tom Clancy's Rainbow Six, which will allow for 1-5 players to tackle tough AI-controlled enemies as they bid to complete objectives.
The mode offers both offensive and defensive play, with players tasked to rappel in and breach locations or fortify and defend points as necessary.
For instance, Rainbow Six's new demo, playable here at E3, sees you infiltrate a building to defuse a set of bombs. Players must inch their way along corridors until their cover is blown, then work together to mop up any remaining enemies.
You can hide behind a teammate's riot shield, for instance, popping out of cover to fire off a few rounds. Playing in solo is a tougher challenge as you will be greatly outnumbered, but Rainbow Six's animation art director Scott Mitchell explained that the AI would adapt in such a scenario.
"When you're playing through single-player there are no supporting characters," Mitchell said. "But you can play as a lone wolf, as well as play the game's whole story campaign. That said, it is more difficult.
"We do offer difficulty settings, but the AI has access to all of the options you do."
11 Terrohunt maps will be included with the game. One is set in the UK, in the unlikely location of Hereford (that's where the SAS headquarters is, which makes a little more sense).
Each time you load up the mode you can get a random map location, a random choice of attacking or defending, a freshly-picked set of objectives, different obstacles and AI that will adapt to all of these different layouts.
"Because we're still optimising, it's one of those things where as you're working though you try to cram in as much as possible," Mitchell said. "Not necessarily to sell it, but to see what our benchmarks are. Not But then you go through and think - can we still hit 60fps? It gets very difficult and so things get tweaked, just as the gameplay gets tweaked, to make sure we're still hitting 60fps.
"You'll get 60fps on PVP across all platforms (PC, PS4, Xbox One), and you'll get 60fps on the PVE Terrohunt mode on high-end PCs. On consoles, it's going to be 30fps. Again it's due to optimisation, because the AI can do everything the player does and dynamically change tactics."