Rainbow Six: Siege open beta delayed
UPDATE: Rescheduled to go live at 5pm UK.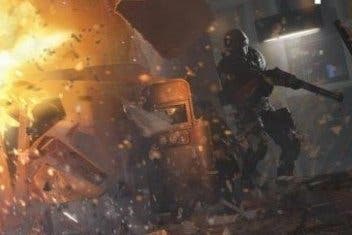 UPDATE 26/11/15 4.55pm The Rainbow Six: Siege open beta will finally go live today at 5pm UK time. That's... right about now!
"We want to thank everyone who is participating in this beta," Ubisoft said. "Your feedback helps. For everyone who hasn't been able to play as yet, we apologise for the inconvenience and we appreciate your patience and understanding."
UPDATE 26/11/15 8.15am: Ubisoft has detailed the issue currently delaying the roll-out of the game's open beta, and reassured fans that all will be fixed before the game's full launch next week.
The issue was only noticed now - or rather, yesterday, the day that the open beta was due to launch - because it was accidentally introduced as a result of fixing something else.
"Game sessions are not starting properly and we've encountered server issues, leading to failed connections," community manager Jax explained in a new forum post.
"We've identified the root issue that was introduced after the Technical Test while fixing a separate aspect of the game. A fix is currently under test and will be deployed within the next few hours.
Ubisoft will be pushing fixes to the game on all platforms today, and will issue another update on the situation later once maintenance has taken place.
"This open beta will ensure the cleanest launch possible," Ubisoft concluded. "Keep in mind that this beta is intended for this exact reason: find problems and troubleshoot them to ensure the most stable launch possible.
"We are confident the game will work as intended since the known issue will be fixed soon. Therefore the launch will not be impacted by this issue."
ORIGINAL 25/11/15 4.30pm: Ubisoft has delayed the Rainbow Six: Siege open beta, which had been due to go live today.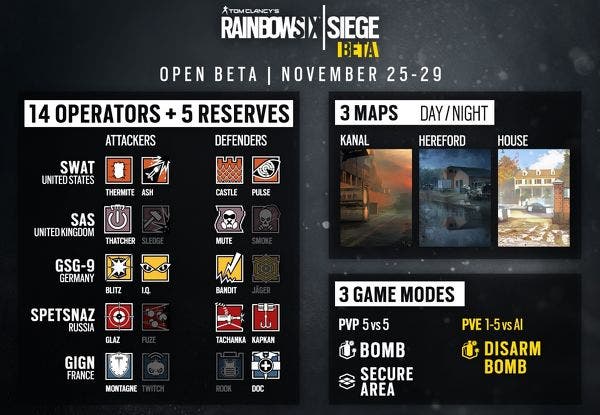 Notice was only issued of the delay within the last hour - a short time after the open beta had been due to go live.
"We're currently seeing issues with matchmaking times and disconnection on all platforms," community manager Jax explained via the Ubisoft forum.
"As such we're postponing the Open Beta until a later time and keeping the game under Closed Beta status. We apologise for the delay and can assure you this is our top priority. We will keep everyone updated regularly as we continue to deploy improvements."
It's a little concerning, since Rainbow Six: Siege is due to launch next Tuesday, 1st December on PC, PlayStation 4 and Xbox One.
The open beta had been due to contain three maps (Kanal, Hereford and House) along with three game modes. These include two PvP modes - Bomb and Secure Area - along with the PvE Disarm Bomb mode in which 1-5 players must take out a unit of terrorists.
Ubisoft has already detailed a year's worth of free additions to the game, although you can pay extra to receive bonuses and early access via the Season Pass.