Virtual Console Roundup
This week's efforts and some from the archive. Two 10s. Yep.
Excitebike
Platform: NES
Wii Points: 500
What is it with tiny motorbikes? I don't mean those stupid little clown bikes that Asbo monkeys use to speed around housing estates, like tracksuit-clad wasps, but dinky little bikes in videogames. While Excitebike doesn't have quite the same surreal genius as Wheelie - there's no dodging enormous bouncing hedgehogs - it does share that same instant appeal. Simply razzing a little bike off ramps never seems to get old.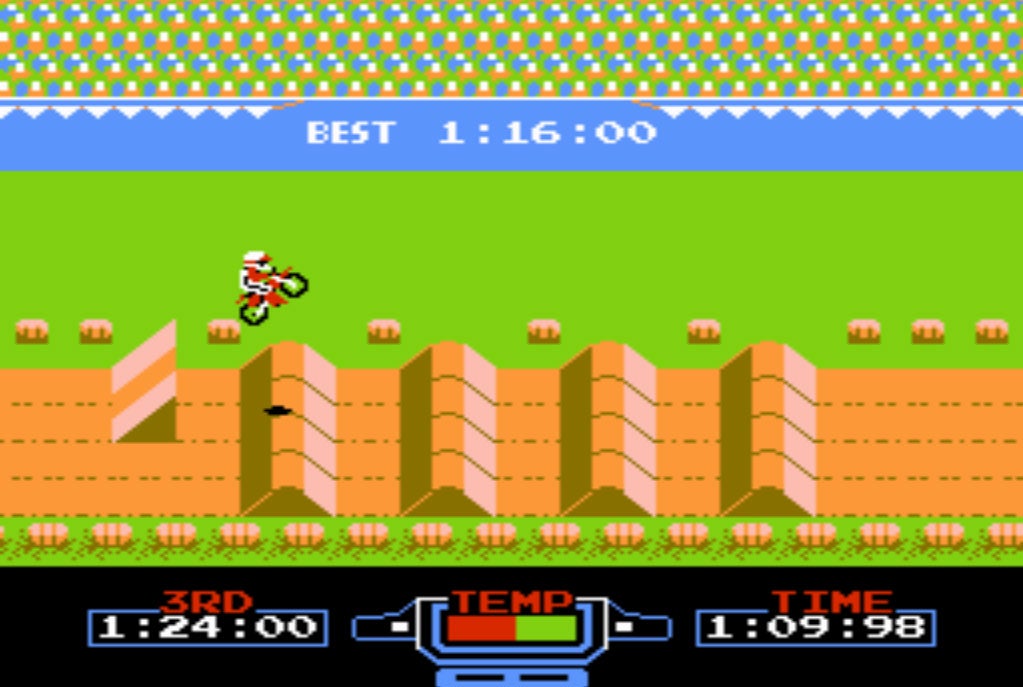 Offering a surprisingly generous spread of game options - plus a level editor - this is one of those rare racing games where even the time trials can be fun. Once you add the AI rival bikes into the equation, it's even more insanely chaotic. The more you play, the more you realise that there are all sorts of subtleties to the seemingly basic controls as well. Engine temperature must be kept low, but you can rev the engine that little bit harder - at the cost of a hotter engine - to really blast the jumps. Hitting chevrons on the track cools you down, but only if you hit them in time. You can even rotate your bike in the air, to maximise height or distance, or to line yourself up for a perfect landing.
There may be better bike games out there now, but Excitebike's instantly appealing mini motocross mayhem still works beautifully today.
8/10
Ice Climber
Platform: NES
Wii Points: 500
Pop quiz: how many games can you think of in which clubbing seals plays a vital role? Answer: just one, Ice Climber.
Admittedly, you wouldn't know it from the sanitised western version available here, but the Japanese original game found you crushing the skulls of doe-eyed seal pups in order to speed your advance through the game. As the title suggests, you're climbing up some ice. A mountain, to be precise, and all because a beastly condor has stolen your aubergine. Remember what I said about Balloon Fight? About how we never used to bat an eyelid at this stuff? God, we were naïve.
Anyway, you have to ascend up the level by bashing your way through platforms above, fending off polar creatures (but emphatically no seals, Mr Greenpeace, sir) until you reach the top and get to take a swing at that bloody vegetable-stealing bird.
It's simple, it's cute and - with two players - it's undemanding fun. It's no surprise that Taito produced a very similar game just one year after Ice Climber debuted, in which two dinosaurs made a similar ascent using bubbles instead of bashing. While Bubble Bobble is the superior game, Ice Climber is still worth having on your console.
7/10
Super Probotector
Platform: SNES
Wii Points: 800
Nobody really knows why this legendary run-and-gun series had to undergo a sanitised overhaul in Europe, but here it is - ruff n' tuff Arnie commandos were switched for kewl robots, while the title switched from Contra III to Probotector. Which actually sounds a lot ruder.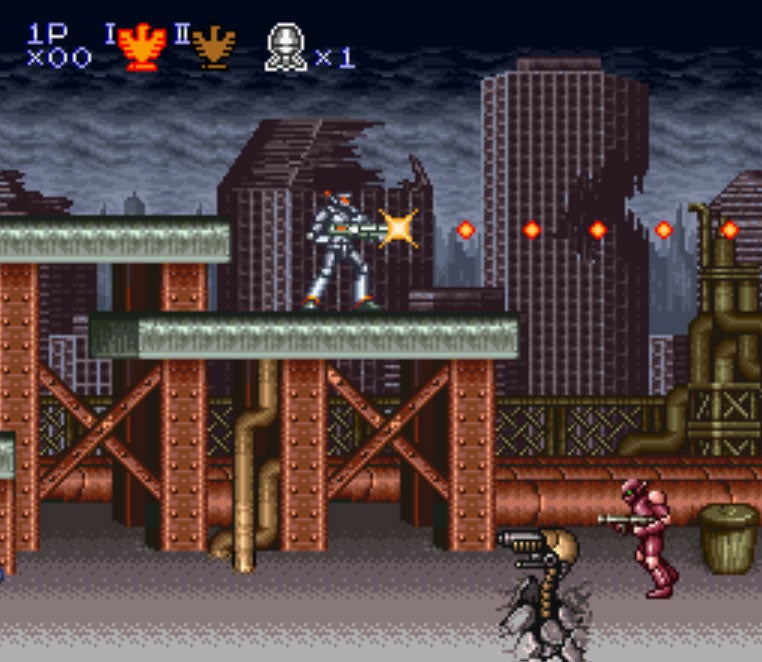 Whatever the reasoning behind the switcheroo, the end result is much the same - a savage and exhilarating shoot-'em up stuffed full of beefy weapons, pounding music and non-stop action. It is, of course, ferociously hard but it's the right sort of hardness (again with the rudeness, sorry). This is the sort of game where you're always just on the outer edge of being in control. You're barrelling forwards, spewing bullets and lasers in every direction, and for every time you escape death through your own cat-like reflexes, you suspect there are moments of sheer luck where you emerge from the carnage unscathed against the odds.
Apart from that bloody dog thing on Level 1. He gets me every time.
It's a nicely evolved title, with new abilities and small tweaks to the formula that improve the gameplay in big ways - being able to hold down the fire button for automatic fire is an absolute lifesaver - and for those with the patience to learn its patterns and face its challenge, it's a solid addition to the VC line-up.
8/10
Super Mario World
Platform: SNES
Wii Points: 800
There is, inevitably, a lot of filler making up the 96 titles on the Virtual Console as of this week. However, the good stuff...is really good. So much so that selecting titles to roundup each week is really straining my thesaurus. While there are arguments in favour of all three console download services, the Wii certainly has a headstart as far as bona fide 10/10 classics are concerned.
Wait, did I just give the score away?
Aah, you knew it was coming. For most of us, this game was our first introduction to the SNES, bundled as it was alongside Super Mario All-Stars in a bumper Mario console package. As a display of what was in store, it was perfect.
You have to remember that when Super Mario World first came out (1990 in Japan, 1992 over here) platform games were still emerging from the dark ages. Linear design crudely shoved you ever forwards, never allowing you to go back and explore areas again - even if the area in question had only just vanished off-screen behind you. By allowing you to roam up, down, left and right at will - and by tying the whole experience together with an RPG style overworld where secret locations could be unearthed and switches thrown to effect the whole game - SMW pretty much invented the platform game as we know it today. It may have been one small step for Nintendo, but it was an evolutionary leap for gaming.
As for its value today, it passed the simplest of tests with flying colours. This column nearly missed its deadline, because I downloaded Super Mario World for reappraisal and ended up losing the best part of an afternoon to rediscovering its impeccable design. It's awesome. You need to have it.
10/10
Will you support Eurogamer?
We want to make Eurogamer better, and that means better for our readers - not for algorithms. You can help! Become a supporter of Eurogamer and you can view the site completely ad-free, as well as gaining exclusive access to articles, podcasts and conversations that will bring you closer to the team, the stories, and the games we all love. Subscriptions start at £3.99 / $4.99 per month.