Virtual Console Roundup
DKC2, Mario & Yoshi, and eight more - including Zelda and Lylat Wars.
Lylat Wars
Platform: N64
Wii Points: 1000
While it's perfectly reasonable to argue that Nintendo has always relied rather too heavily on its roster of oft-delayed first party properties to prop up its hardware launches, and that the N64 suffered when compared to the PlayStation in that its line-up seemingly consisted of jazzed up sequels to SNES hits, there's no denying that the games in question still make for some sweet, sweet gaming.
StarFox 64, retitled as the rather uninspiring Lylat Wars for European markets because of a pre-existing C64 game, is a pretty typical example of this update mentality. It's pretty much the same as the beloved SNES game, but with tweaks, nips and tucks in the areas that matter. The aim is still the same - fly through a series of linear or free-roaming areas, shoot down as many enemies as you can and blow up the boss at the end - but the experience is bigger, beefier, more cinematic.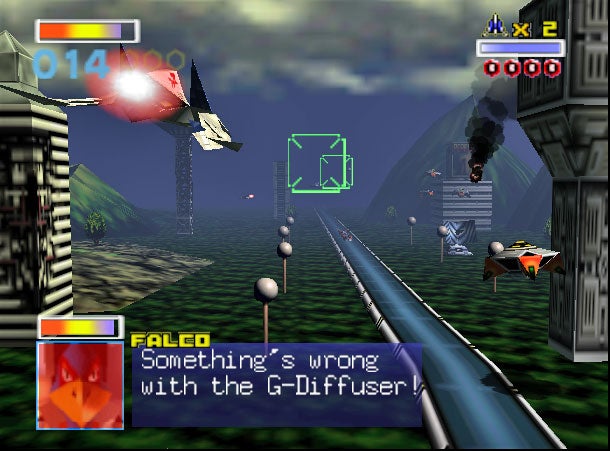 Assisting you, as always, are your anthropomorphic wingmen (wingbeasts?) who jabber away at you and sporadically call for help. Fail to blast the enemies on their tail and they retire from the fray, leaving you without their help on the following stage. As they can actually prove useful - Slippy, for instance, scans boss enemies for weaknesses - they act as more than just additional guns. Their frequent chatter - now delivered in full speech - is amusing and fun, and reacts intelligently to what you're actually doing. In typical Nintendo style, it's all very immersive and polished.
There are numerous routes through the stages, with the game shunting you down certain paths if it thinks you're doing badly or need to be challenged, while you can also make the decision yourself, or choose to replay the previous stage (at the cost of a life) if you lost too many wingbeasts. Men. Whatever. There are also two new vehicles added to the mix, in the shape of the Landmaster tank and Blue Marine sub. These only come into use a few times in the whole game, but their appearances are well-timed so that they come just as the incessant high-flying is starting to become repetitive.
Multiplayer comes in the form of four-player deathmatch fun, and if you do well in the single player game you can unlock the Landmaster tank and even on-foot characters for these sociable romps.
The controls were obviously designed to showcase the triple-pronged trident of the original N64 controller, so those using the Wii Classic Controller may face frustration unless you have a GameCube pad handy. Equally, some may find the rather slippery early analogue control takes some getting used to, especially as the game becomes less and less forgiving, forcing you to save team members or dodge obstacles with scant seconds to react. It's also a shame that VC titles still don't vibrate, as this was the first N64 title to make use of the Rumble Pak.
But these are really just silly niggles from a spoiled modern perspective, and shouldn't detract from the fact that this is a wonderfully constructed cartoon space saga with plenty of replay value. Definitely worth the full thousand points asking price.
8/10
Kirby's Adventure
Platform: NES
Wii Points: 500
So there's this round, pink hero, right? And he sucks his enemies into his mouth, and can either spit them out as a projectile or swallow them to absorb their abilities. Round. Pink. Spit. Swallow. Yes, Kirby is, as my dear old Nana would say, nothing but Percy Filth.
He's also one of Nintendo's most undervalued mascots, often sidelined in gimmicky spin-offs and puzzle games, and last seen in 2003's Kirby's Air Ride on the GameCube. This NES offering, his second game, is arguably still his best - a streamlined and thoughtfully staged platform game that makes good use of his power-copying ability to keep things varied.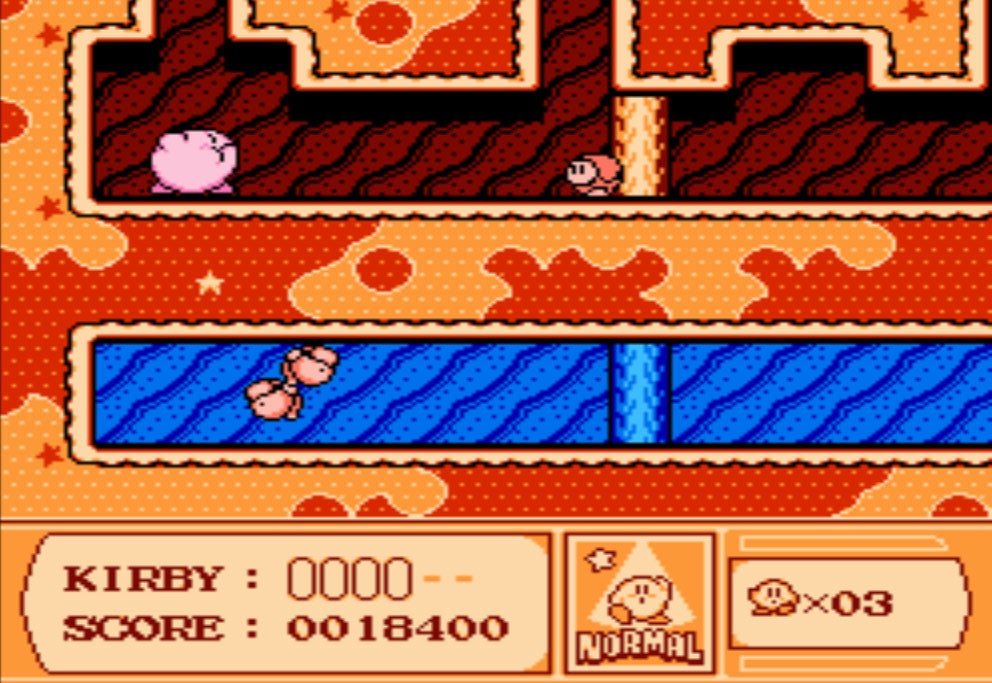 It owes a very obvious debt to Super Mario Bros, both in its blocky aesthetic and level design, but Kirby's balloony body means that play requires a very different mindset. Able to inflate himself and fly over obstacles and enemies, progress comes from identifying and mastering the different talents you can steal from the bad guys rather than simply scrambling for the end of the level in the fastest time.
With seven worlds, plus sundry bosses and bonus sections, it's not the biggest game in the world, but there does come a point where the experience flatlines and you suspect you've seen all the game has to offer. Despite this, Kirby's first and only NES outing is undeniably charming and, with its parallax scrolling and colourful characters, really showcases just how much juice developer's were squeezing from the tiny system towards the end of its life. If cute and quirky platforming tickles your biscuits, this is a fine way to spend 500 points.
7/10
Will you support Eurogamer?
We want to make Eurogamer better, and that means better for our readers - not for algorithms. You can help! Become a supporter of Eurogamer and you can view the site completely ad-free, as well as gaining exclusive access to articles, podcasts and conversations that will bring you closer to the team, the stories, and the games we all love. Subscriptions start at £3.99 / $4.99 per month.