QuakeCon Sale now live at Humble, features Prey, Skyrim, Dishonored and more
Up to 75% off.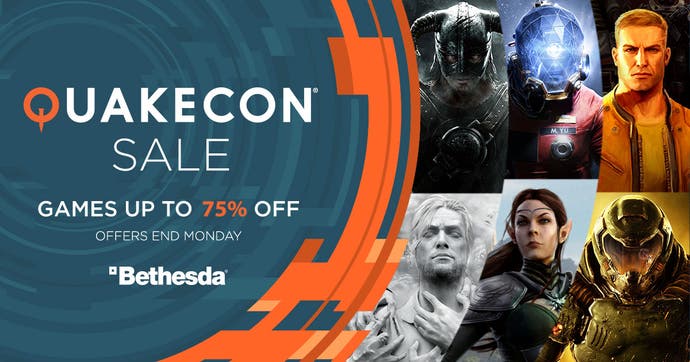 In case you'd not noticed it already, QuakeCon 2018 has kicked off as of today and from now until the end of the weekend, Humble is celebrating that very fact with a big ol' sale range specifically on QuakeCon-centric games. There's up to 75 per cent off the lot and a whole lot to choose from.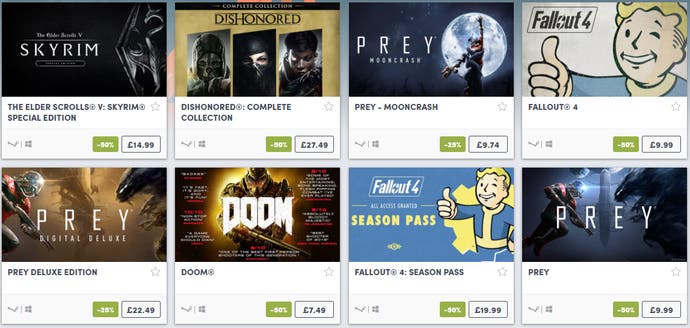 As you may have already assumed, there's an unsurprisingly Bethesda-centric nature to all the titles on offer, but even among an exclusively Beth-range, there's quite a lot on offer. The sale range comes to a close on Monday, 13th August.
Quake Champions, in its early access glory, is discounted to £13.19 for the time being, Prey's brand new Mooncrash standalone title is up for grabs at £9.74, Doom is down to £7.49, Wolfenstein 2 is available at £19.99, Skyrim Special Edition is £14.99 to anyone who doesn't already own Skyrim somehow, and you can even nab a copy of Rage for £1.99.
You'll also be able to pick up the entire Dishonored Collection for £27.49, which gets you both main series entries and the Death of the Outsider side story. The Fallout 4 Season Pass is also half price at the moment, costing £19.99 for a limited time, along with the entire Fallout franchise from as little as £1.99 per game.
There is also Rogue Warrior for 99p but I wouldn't recommend that unless you had a penchant for bad dialogue, ropey gameplay and Mickey Rourke's questionable voice acting.
Elsewhere on the internet, you can stop by Jelly Deals and take a look at today's best deals - there, you'll find a Logitech G920 Racing Wheel with £126 off, as well as discounts on graphics cards, 2DS consoles, and more.