PUBG's desert map Miramar is playable on Xbox One this week
Test server client available from tomorrow.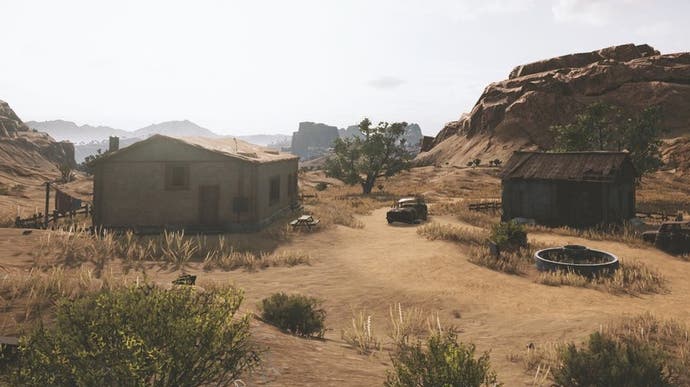 Miramar, PlayerUnknown's Battlegrounds' desert-themed map, will be playable on Xbox One this week, developer Bluehole has announced.
Miramar has been available to Battlegrounds players on PC since December last year, so its arrive on Xbox One - which Bluehole teased earlier this month - is long-overdue. However, Miramar will only be accessible on console for a limited time to begin with, as part of the studio's first wave of public testing for the map.
In order to play Miramar on Xbox one, interested parties should head to the Xbox Store and download the Miramar test server, listed as "PUBG Test Server". The application will be available from April 24th, 12am PDT, which equates to 8am tomorrow in the UK.
Full testing will then commence on April 25th, 5pm PDT and end at 11pm PDT. In the UK, that's 1am to 7am on April 26th, so don't expect much sleep if you intend to play. That schedule will repeat on April 26th and 27th in the US, and on April 27th and 28th in the UK.
Europeans are stuck with the graveyard shift this time as testing is limited to North American servers "for matchmaking reasons". However, Bluehole notes that it "might make adjustments to this depending on how the test goes".
Thankfully, as Miramar's testing moves into the weekend, Europe will switch to a rather more humane schedule. In the US, weekend testing will run from 11am until 11pm PDT on Saturday April 28th and Sunday April 29th. That's a more manageable 7pm until 7am in the UK.
Bluehole notes that Miramar is still "in an early stage of development" on Xbox One, and, as such, players should be aware that "some aspects may not function as expected". Additionally, the developer warns that "servers can go down for maintenance at any time".
"During the test period and beyond," Bluehole explains, "we will be actively listening to player feedback and using it to improve the build". You can find further information regarding Miramar's initial Xbox One testing period over on the official Battlegrounds forum.