PUBG now has a Deathmatch-style War Mode, but there's a catch
Next event mode detailed, too.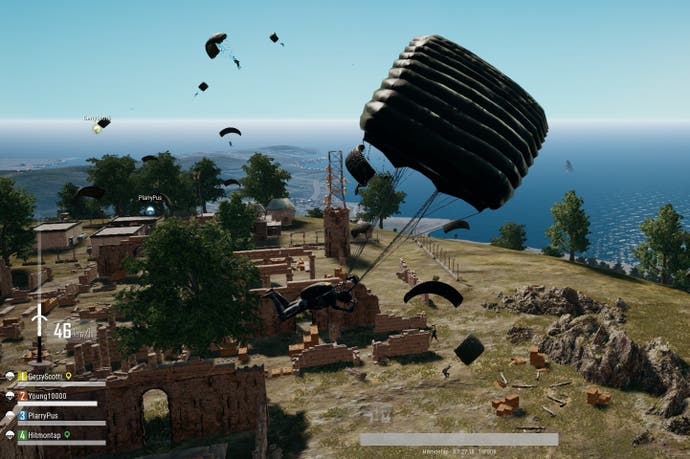 PUBG's rapid-fire announcements continue: a Deathmatch game mode is now available, but the catch is it's only available in Custom games for now.
The mode, simply called "War", sits alongside regular and Zombie modes in Custom matches, and condenses dozens of players into a miniscule circle on the Erangel map.
Being a Custom mode, only PUBG Partners - select streamers, community members and developers - will be able to create and host the games, but given the sudden surge of excitement to play it right now we were able to get into a game that had been set to Public, and thus available for anyone to enter, after a few minutes of trying.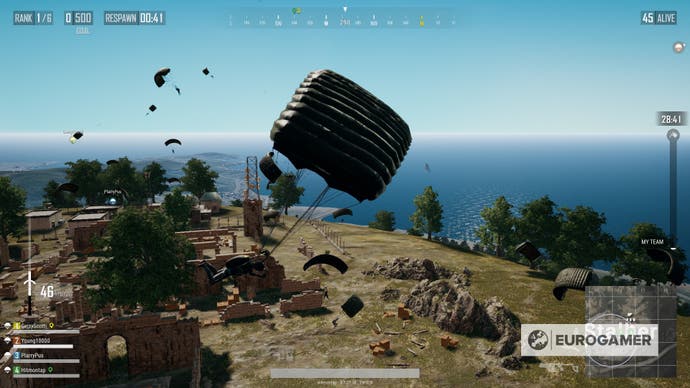 After that excitement trails off you can expect things to go pretty quiet on the Custom game front, as they usually are, and there's been no news from Bluehole or PUBG Corp. themselves in terms of an announcement, or even mention of the mode so far. We recommend that if you want to try the mode, you give it a go sooner rather than later.
In terms of how it plays: it's carnage. The specifics depend on the preferences of the player who set up the game, but for us it involved squads of four to six being dropped into a tiny safe zone circle at Stalber, the hilltop ruins in the north-east of the Erangel map.
You start in the plane as usual, and will take damage if you drop outside the safe zone even whilst in the air.
Each player started with a random SMG and random sidearm, a small amount of ammo, Level 1 helmet and body armour, a grenade, and five bandages. You can expect to live for about five to ten seconds before getting mown down - regardless of where you drop - in our experience, thanks to the sheer number of people squished into the playable area. There are also regular airdrop crates and the odd red dot sight kicking about, too.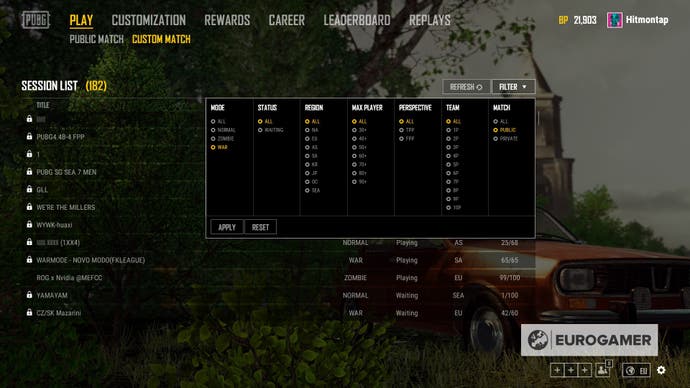 At this point then, there's not a huge amount to it outside of the novelty factor, but in terms of more playable modes there's also been another announcement, this time in the form of the next time-limited event mode, dubbed Tequila Sunrise.
It's available today, April 5th from 7pm PDT - which works out at 3am on the 6th for UK timezone players - lasting for just 72 hours, and features just shotguns and melee weapons, for four-player squads, on Miramar. Here are the full details:
EVENT SCHEDULE
STARTS: April 5th, 7pm PDT / April 6th, 4am CEST / April 6th, 11AM KST
ENDS: April 8th, 7pm PDT / April 9th, 4am CEST / April 9th, 11AM KST
AVAILABLE QUEUES
Squads (All Regions)
You can choose to turn Auto Matching either on or off in the main menu. The default state is "On"
NA/EU/AS: TPP + FPP
KR/JP/SA/SEA/OC : TPP only
LOOT SPAWN BEHAVIOR
Weapons
Shotguns (3x spawn rate)
Melee Weapons (3x spawn rate)
No other weapons
Items
Bag/Helmet/Armor Lv.3 (3x spawn rate)
Bag/Helmet/Armor Lv.1 (0.5x spawn rate)
Ammunition (3x spawn rate)
SAFE ZONE (WHITE CIRCLE) BEHAVIOR
Immediately after the plane gets into the air, the first safe zone is visible on the map.
The first safe zone will be smaller than its normal size.
OTHER EVENT RULES
Time of day is locked at sunrise.
Care packages are disabled.