PUBG Emotes list - how to use Emotes and all Emotes explained
All the info you need on PUBG's set of shorthand Emotes.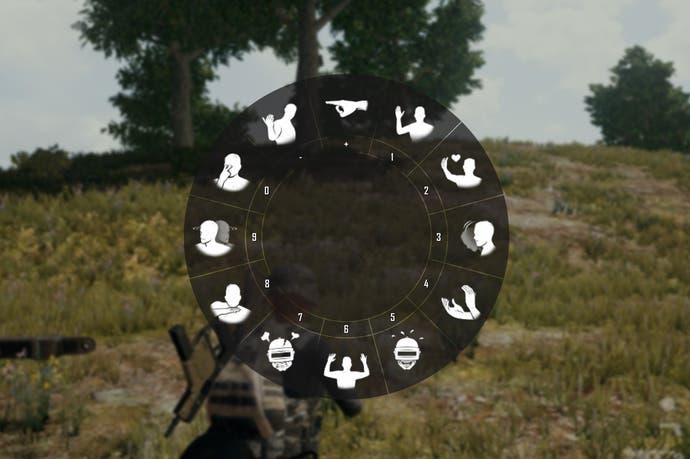 PUBG Emotes are here on Xbox and PS4, having already arrived on both the live and test servers on PC, and they make for a very handy way to communicate - and mess around - without using a mic.
Here, we'll provide and quick rundown of a full PUBG Emotes list, as well as an explanation of how to use emotes in PUBG, now they're all live in the game itself.
How to use Emotes in PUBG on PC, Xbox and PS4
It's nice and simple, thankfully, and you can use all of the Emotes with your hands still on the mouse thanks to its implementation as a wheel.
To use Emotes, first bring up the Emotes menu by pressing [~] on US keyboards, or [`] on European ones - either way, it's the key that's under your Esc key in the top left of the keyboard that it's set to by default. You can of course change this in the settings menu.
On Xbox One, press LB and RB at the same time to bring up the wheel. On PS4, press L1 and R1 at the same time to bring up the wheel.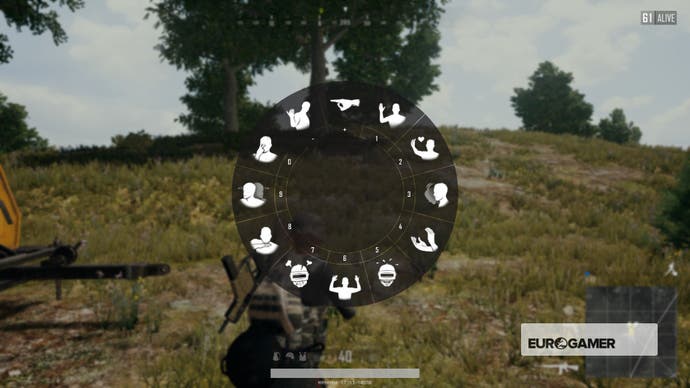 When you've brought up the menu, simply point your mouse (or right analog stick) in the direction on the dial and click when it highlights the emote you want to use.
Alternatively, on PC all of the Emotes are numbered, too, so you can just press a number and save having to move your mouse around as well.
Emotes can't be used to change perspective or peek round corners in first person mode, or anything like that - they're purely cosmetic, and fortunately have no impact at all on gameplay itself.
PUBG Emotes list
There are twelve Emotes in PUBG, numbered from 0 to 9 and the final two tagged to the + and - symbols. Here's a list of each of them: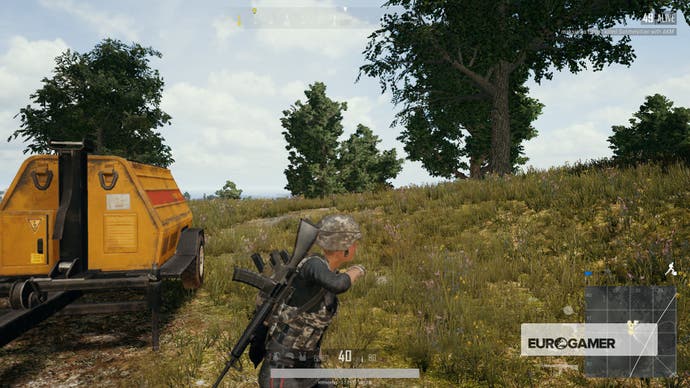 1 - Wave
2 - Thank You
3 - Nod Head
4 - Clap
5 - Laugh
6 - Surrender
7 - Angry
8 - Threaten
9 - Shake Head
0 - Taunt
- - Come Here
+ - Point
---
PUBG update #29 is live: here's our guide to the latest PUBG patch notes for update 29 to get you up to speed. Meanwhile, we've dedicated pages on the Sanhok map, Erangel map and Miramar map and Vikendi map, too. If you're after some broader advice, our list of PUBG tips and tricks, PUBG weapon damage stats and the best weapons and best PUBG loot locations can help.
---
As you can see there's no dancing Emote, and no dab, which us grumpy old farts will be glad to hear - you don't want any of those pesky kids coming along and spoiling the game with their "fun", do you!
Otherwise, no that Emotes have finally hit Xbox's version of PUBG, here's a big list of coming next to Xbox and PC versions of the game in our guide to the PUBG Xbox and PC Roadmaps, if you're keen for more.