PUBG ditched server selection - and now there are calls to region lock China
Hack the planet.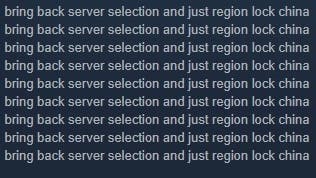 A recent update to PlayerUnknown's Battlegrounds ditched the server selection the battle royale game used to employ in favour of region locking - something players had vociferously called for for months.
However, PUBG Corp., the developer of the game, has since been hit by a backlash to the update, with the game's western players calling for Chinese players only to be region-locked.
PC update 22, which came out earlier this week, made it so your server or region was decided automatically depending on the player's local region.
It also means if you group with a player from another region, matchmaking will automatically decide the best region to play on.
This change makes sense in principle, but in practise it does not appear to be working as intended. PUBG's Steam community and subreddit are littered with complaints from players who have been shunted into regions not their own - and have suffered a poor online experience as a result.
High pings can cause serious problems for PUBG, with desync a particular issue right now. But there's an extra layer to the disquiet: Chinese players are blamed for the vast majority of hacking that goes on in PUBG. Before update 22, Chinese players would pop up on western servers and cheat their way to the top - a problem that in part sparked the calls for region locking in the first place.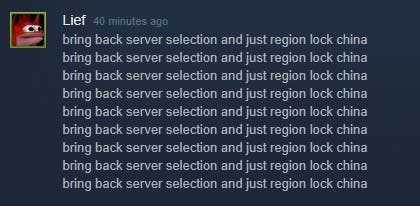 However, western PUBG players report that even post-update 22, they're being matchmade with Chinese players, which is exactly what the new region system was supposed to prevent.
The problem appears to have something to do with PUBG's global matchmaking system, which is automatically placing players into servers outside the region they would consider to be local. The developers have just released a patch to resolve a bug which occurred in some regions that affected global matchmaking, although PUBG Corp. did not explain what the bug was or how the patch changed the game.
Meanwhile, players are still reporting higher-than expected pings, and the calls to region lock China specifically continue. This is the latest development in what is a troubled relationship between PUBG Corp. and its players. But while it's clear PUBG suffers from serious problems, it remains the most popular game on Steam by some distance with a whopping one million concurrent players at the time of this article's publication.