PUBG dev makes the Event Pass better
Insert pan here.
The developers behind PlayerUnknown's Battlegrounds have changed the game's controversial Event Pass for the better.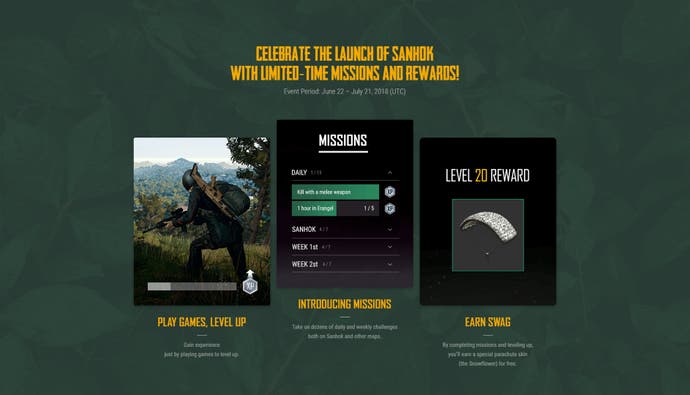 Last week, PUBG got its first ever Event Pass. The £7.49 DLC is, clearly, inspired by Fortnite's hugely-successful Battle Pass, and lets players unlock premium loot, including themed cosmetics and items. To do this you need to take on exclusive challenges and gain experience points as you play.
Reaction to the Event Pass was mixed, with some complaining about the slow rate of progress possible.
Last week, Redditor iisfitblud worked out potential experience point gain for those who do not buy the Event Pass, and concluded you'd have to play between six and eight hours per day - consistently well - to reach level 20 (the maximum level available to those who do not pay for the Event Pass) before the event ends on 21st July, based on estimates for the average XP that can be earned daily and through simply playing.
In response, PUBG Corp. has upped the daily XP limit and reduced the minimum play time required to count towards mission progress, the developer said in a post on the PUBG Steam page. This should make reaching level 20 a lot easier.
Here are the details: the daily XP limit is raised from 80 to 120; minimum play time required to count towards mission progress is lowered from five minutes to two minutes; minimum play time required to acquire XP is lowered from five minutes to two-and-a-half minutes, and base play time XP payment is now granted in two-and-a-half minute intervals, instead of five minute intervals (previously, 2XP was granted every five minutes, now 1XP is granted every two-and-a-half minutes).
Meanwhile, for Duo or Squad games, mission progress is now updated when your team wins the game, or when your whole team is eliminated. And another change for the better: the "reach top three without killing anyone in solos" mission requirements have been changed. This mission now requires reaching top three with two kills or less.
"As we've said in the dev notes, the Event Pass was introduced to let players experience a different way to enjoy new PUBG content," PUBG Corp. said.
"Your feedback regarding the Event Pass has been extremely valuable to us, and we're making some changes based on the feedback received."