PSN Festive Sale
With our bank accounts battered by Christmas, and the headlines full of financial gloom, it can feel like those leftover chocolate coins are worth more than the actual coins in your pocket. What's a poor gamer to do? Fire up the PS3 and head to the PlayStation Store, of course, where Sony's Festive Sale promotion is offering tasty discounts on some of the best digital downloads around until January 11th. Take a look at this menu and drool yourself silly.
PS3 Games
Full retail games, squirted down the internet pipes into your console for crazy prices!
LA Noire Complete Edition £35.99 (PS+ £32.39)
Play 2011's most ambitious and technologically innovative game the way it was meant to be played. Clean up post-war Los Angeles as you rise from beat cop to LAPD superstar detective, uncovering conspiracies as you go. This edition includes all the bonus DLC case files, so you're getting the full unabridged experience. Eurogamer's LA Noire review.
Rayman Origins £31.99
Ubisoft's 'armless mascot makes a stunning comeback in 2011's best PS3 platform game. Hand painted graphics, hilarious four player co-op, loads of replay value and gameplay that finds space for casual and hardcore alike. An absolute gem. Eurogamer's Rayman Origins review.
Deus Ex: Human Revolution Complete Edition bundle £39.99 (PS+ £35.99)
One of 2011's best games, delivered straight to your console with all the extras and trimmings. Stealthy cyborg spy or bionic brute? The choice is yours as you make your way through a cyberpunk saga that's as smart as it is thrilling. Eurogamer's Deus Ex: Human Revolution review.
Just Cause 2 Ultimate Edition £11.99
Step into the musky Cuban heels of freedom fighter Rico Rodriguez, aka The Scorpion, as you strive to free the island of Panau from a tyrannical dictator. With realistic demolition physics, a truly enormous gameplay area and your trusty grapple hook to hand, it's one of the most insanely entertaining openworld games ever made. Eurogamer's Just Cause 2 review.
Red Dead Redemption & Undead Nightmare bundle £23.99
Immerse yourself in the Old West with Rockstar's cowboy classic, leading grizzled hero John Marston through the dying days of the frontier, then flip things over to horror with the critically acclaimed zombie-themed expansion pack. Bargain! Eurogamer's Red Dead Redemption review.
Resident Evil 5 Gold Edition £11.99
Capcom's venerable horror series shakes things up with this African nightmare. Co-op play and an action-focussed slant make this a unique entry in the franchise.
Midnight Club Los Angeles Complete Edition £13.99
Roar around the City of Angels in this seminal openworld racer. With 47 cars and bikes to try, plus a pounding sountrack featuring Nine Inch Nails, Nas, Primal Scream and Deadmau5, it's as cool as driving gets.
Premier Manager 2012 £4.99
The deepest, richest, most life-devouring footy game returns and it's better than ever. Show Fergie whose boss for less than a fiver!
Borderlands Game of the Year bundle £16.99
The loot drop RPG gets a manic cartoon FPS makeover in Gearbox's sci-fi splatter romp. Imagine Mad Max with a sarcastic sense of humour and you're halfway to understanding why this was many gamer's fave game of 2010.
Ape Escape £9.99
Use the power of PlayStation Move to smash and grab a veritable army of cheeky chimps. Great family fun with an active twist.
PSN Titles
The very best of the PlayStation Store digital download range, now even cheaper!
Who Wants to be a Millionaire? Special Editions £7.19
Nerve-wracking telly quiz becomes a brilliant console trivia game, with specialist question packs thrown in!
Lara Croft and the Guardian of Light £5.19
The star of Tomb Raider changes pace for a superb top-down co-op adventure packed with traps, puzzles and peril.
Braid £4.79
One of the most critically acclaimed games ever, this time-warping puzzler will make you feel like a dunce and a genius at the same time!
PAIN £3.19
Fire up the catapult, and fling hapless humans into the scenery to score massive points. Fans of Jackass, take note!
Hydrophobia Prophecy £1.99
Ready to get wet? Boasting cutting edge water effects, this tense and gripping adventure will really make a splash!
Blue Toad Murder Files £2.99
Superb co-operative mystery adventure, ideal for family play.
Renegade Ops £6.29 (PS+ £5.66)
Breathless top-down vehicle shooter, from the makers of Just Cause.
Magic the Gathering - Duels of the Planeswalkers 2012 £3.19
The popular collectable card game in its latest interactive outing, with added multiplayer.
Prince of Persia: Warrior Within £6.29
Prince of Persia: The Two Thrones £6.29
Swooning matinee swashbuckling, in two classic sequels from the beloved action series.
The Baconing £4.79
Irreverent action RPG with the meat-headed knight, Deathspank.
Swarm £3.99
Guide dozens of blobby blue minions to safety, without letting them get splattered, split or otherwise gruesomely slaughtered.
Worms 2: Armageddon £5.49
Bomb, bash and bludgeon the opposing annelids in this beloved and hilarious multiplayer strategy romp.
Worms Crazy Golf £6.49
Once you've blown them up, why not make amends with a nice quiet round of golf. Complete with grenades, mines and special attacks, of course.
Bomberman Ultra £3.99
The timeless fast-paced multiplayer arcade classic returns, now with the chance to customise your own Bomberman character!
Zombie Apocalypse £3.99
What's better than shooting the undead? Shooting the undead with your mates!
Castlevania: Harmony of Despair £6.29
Experience a brand new chapter in Konami's evergreen gothic platformer.
Armageddon Riders £5.19
Vehicular combat with an undead twist, as the Large Hadron Collider turns everyone all green and hungry, and it's up to you to sort it out.
Rocketbirds: Hardboiled Chicken £5.49 (PS+ £4.39)
Forget getting angry, real birds get hardboiled! Old school action platforming with a feathery twist.
Toki Tori £3.99
Deliciously cute puzzler starring the most adorable yellow bird since New Zealand Story.
Battle: Los Angeles £3.99
Urban FPS based on the blockbuster alien invasion movie.
Tom Clancy's Splinter Cell HD £5.49
Tom Clancy's Splinter Cell Pandora Tomorrow HD £5.49
Tom Clancy's Splinter Cell Chaos Theory HD £5.49
A triple whammy of Sam Fisher goodness, as three classic stealth titles from yesteryear get the HD makeover treatment. Neck-snappingly good fun!
Smash Cars £7.99
RC mini-mayhem with stunts, customisation and impressive physics.
Learning with the PooYoos Episode 1 £3.99
Delightful educational fun for 3 to 6 year olds. Hey, it's not all zombies and bullets, you know.
Hamsterball £4.79
Tumble and roll around fiendish mazes in this rodent-themed puzzler.
Mushroom Wars £3.99
Fungi infested fiendish real-time strategy.
Cubixx HD £3.99
The classic arcade thrill of Qix gets a three-dimensional laser overhaul.
Anarchy: Rush Hour £2.99
Ruthless street racing in an openworld city, with stunts, gadgets and brutal crashes.
Red Johnson's Chronicles £5.49
Comic book adventuring in the old school point-and-click style.
Digger HD £3.99
Classic underground tunnelling action, remade in HD.
Mercury Hg £1.99
Chemically enhanced maze action, as you guide a gloopy blob of quicksilver past 60 levels of puzzles and traps.
The King of Fighters '94 (NEO GEO) £3.59
The King of Fighters '95 (NEO GEO) £3.59
Two timeless entries in one of the finest fighting series ever.
Metal Slug (NEO GEO) £3.59
The benchmark for run-and-gun shooters, in its original NEO GEO guise. Retro heaven!
Samurai Shodown (NEO GEO) £3.59
The fighting game gets an honourable makeover, complete with big swords and baggy pyjamas.
Super Sidekicks (NEO GEO) £3.59
Retro footy action from Japan, perfect for those times when FIFA just seems too normal.
Cuboid £3.19
Brain-bending puzzler in which you try to roll a rectangular block through a small square hole. Sounds easy? Yeah, just give it a try.
Alien Breed 2: Assault £3.59
Alien Breed 3: Descent £3.59
Team 17's cult space shooter enters the 21st century with its claustrophobic action and slimy beasts intact.
Death Track: Resurrection £6.29
Post-apocalyptic action racer, in which you tear through mangled versions of Tokyo, Moscow, London and even the Vatican. Say five Hail Marys and apologise to the Pope at once.
Penny Arcade Adventures: Episode 1 & 2 bundle £3.19
Gabe and Tycho take centre stage in two epic action RPG adventures from Monkey Island creator Ron Gilbert, packed with the sort of bizarre humour and devilish wordplay you'd expect.
Magic Orbz £3.19
Colourful ball-bouncing scenery-smashing fun.
Blacklight: Tango Down £3.99
A fully-featured combat FPS, with amazing graphics, for less than a fiver!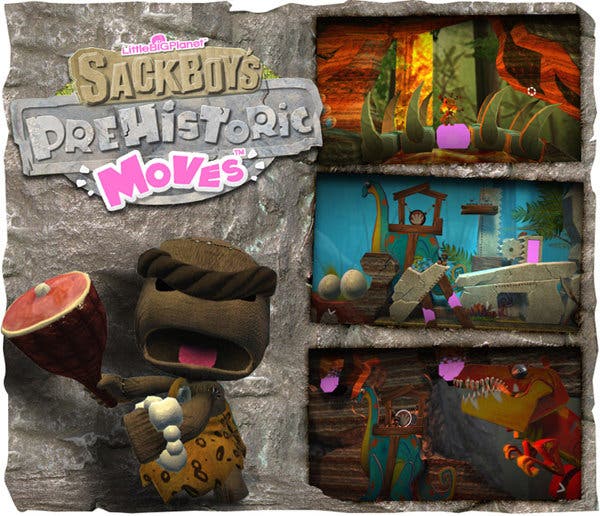 Sackboy's Prehistoric Moves £2.39
LittleBigPlanet gets a PlayStation Move enhanced spin-off, with co-operative play and all the charm you'd expect from Sony's breakout hit.
Test Yourself: Psychology XL bundle £3.19
Lie back on the couch and let your PS3 rummage around in your doubtless well-adjusted personality. And it's roughly a hundred times cheaper than an actual therapist. Bonus!
StarDrone £1.59
Imagine Geometry Wars had a baby with a pinball machine and you'll be close to grasping what this trippy Move-enabled shooter has to offer.
Landit Bandit £4.79
Wacky helicopter hijinks, not unlike an aerial version of Crazy Taxi, but with even sillier physics.
Ricochet HD £2.39
Brick-breaking action with power-ups, multiplayer and a more than generous 150 levels.
PSP Minis Pick N' Mix
The perfect pocket money treat, and ideal for the gamer on a really tight budget. Choose five Minis from the list for just £3.19!
Farm Frenzy
Gemocracy One: Legend of Robot
Pipe Madness
Carnivores: Dinosaur Hunter
Carnivores: Ice Age
Touch Racing Nitro
Cohort Chess
Me Monstar: Hear Me Roar!
The 2D Adventures of Rotating Octopus
JellyCar 2
Arctic Adventures: Polar's Puzzles
A Space Shooter for 2 Bucks
Widgets Odysse 1 and 2
Coconut Dodge
I Must Run!
Flick Fishing
Zenonoia
MiniSquadron
Blimp: The Flying Adventures
One Epic Game
Arcade Sports Bundle
Bashi Blocks
Arcade Air Hockey & Bowling
Family Games
Arcade Pool & Snooker
Paper Wars: Cannon Fodder
OMG-Z!
Fighting Fantasy: Talisman of Death
Ace Armstrong vs. the Alien Scumbags!
Who's That Flying?!
Monochrome Racing
Arcade Essentials
Revoltin' Youth
Mad Blocker Alpha: ROTF
Hysteria Project
Hysteria Project 2
Pix 'n Love Rush
Drums Challenge
3D Twist & Match
Bunny Dodge
Run Ghost Run
Karimogi
Karoshi
Athena
Guerrilla War
HAL 21
Marvin's Maze
Ozma Wars
Sasuke vs Commander
Vanguard