PS5 owners are exploiting a loophole to sell the PS Plus Collection to PS4 owners
Back door compat.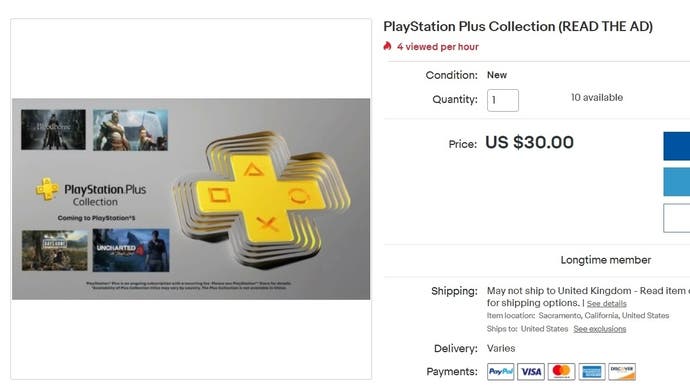 PlayStation 5 owners are exploiting a loophole to sell the PlayStation Plus Collection to PlayStation 4 owners, it has emerged.
PS Plus subscribers who own a PS5 get the eye-catching PS Plus Collection as a bonus. It's a new curated series of 20 PS4 games that are available for digital download. The list includes some big hitters, such as Bloodborne, Days Gone, God of War and Uncharted 4.
As VGC reports, it didn't take long for PS5 owners to discover and exploit a loophole that lets them log into a PS4 owner's account on their PS5, which in turn unlocks the Collection games for use on the PS4.
And, perhaps inevitably, PS5 owners are selling this unlock "service" on auction sites. One listing on eBay offers the unlock for $30. "For people who want access to the games and only have a PS4 and no access to a PS5," reads the ad description. "I'll login with my PS5 with your details, add the games and deactivate. Upon purchase I highly advise creating a temporary password and then creating a new one when it's done."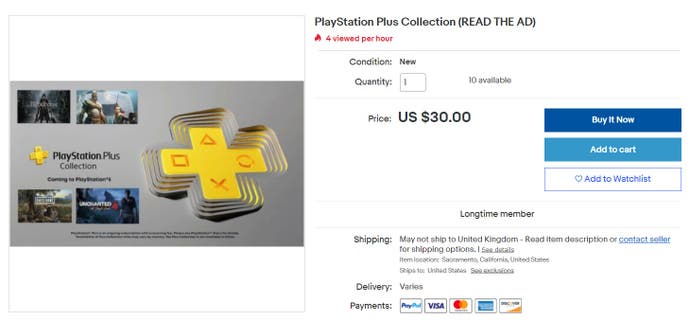 There are similar listings on Canadian site kijiji as well as Craigslist, all varying in price. "If you need these games but you don't have a PS5, I can help," one listing reads.
One person reportedly made over £100 charging over 20 people a fiver each to unlock the PS Plus Collection on their PS4. This is, of course, not how Sony intended the PS Plus Collection to be used, and there are now reports bans have kicked in - possibly automated as an account theft and sale prevention measure. One Twitter user based in Hong Kong claimed thousands of PSN accounts have been banned in the region for this very reason.
Thousands of PSN accounts have been banned, and according to community discussions, these accounts are concentrated in HK(@PlayStationHK ), and have in common the receipt of Sony's PS Collection service for PS Plus, which contains serveral PS4 games for free. pic.twitter.com/ECWPRgVuO2

— 王之乎 (@zhihuwong) November 26, 2020
Now, some PS5 users who have shared their PS Plus Collection with a single friend, for example, have expressed concern they may be caught up in a banwave. Sony has yet to comment.