Project Cars 2 sets new standards for the racing genre
Heavens and hell.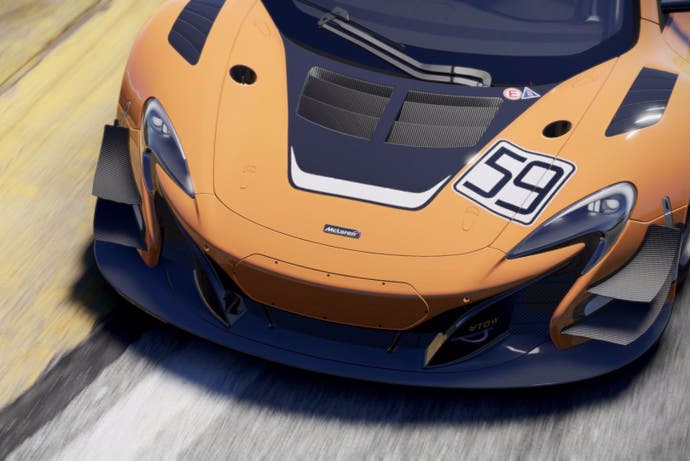 Motor races are often won and lost at the whim of the heavens. At this year's Nürburgring 24 hours, the hesitation of a fumbled late pitstop for Team Land was all the opportunity one mechanic needed to look up at the darkening skies and make a last-minute call to move to wet tires, allowing the Audi R8 LMS to pick off an opposition that was reduced to tip-toeing around the rain-slicked wilds of the Nordschleife during the race's final minutes. It made for an electric, unpredictable climax, the kind of moment that motor racing legends are made of.
And they're all too uncommon in racing games. At the start of the generation, Forza abandoned variable weather altogether, and only half-heartedly restored the feature in Forza Motorsport 6 before it was properly reinstated for this year's entry. Meanwhile Gran Turismo - once the premier destination for an appropriation of the madness that is 24 hours at the Nürburgring - has done away with varying conditions entirely, one of the more disappointing developments made for the forthcoming Gran Turismo Sport.
Project Cars 2, though, is doubling down on the feature. Set the in-game clock on an accelerated tour of 24 hours and you'll see the sun rise and set over the Eifel forests. You'll see mists roll out across the tarmac at dawn, the track looking like it's haunted by the ghosts of past heroes such as Nuvolari and Fangio. If you're unlucky, you'll see dark clouds move in, dampening the track with showers that can intensify, leading to pools and puddles forming dynamically. And that's when it gets really nasty.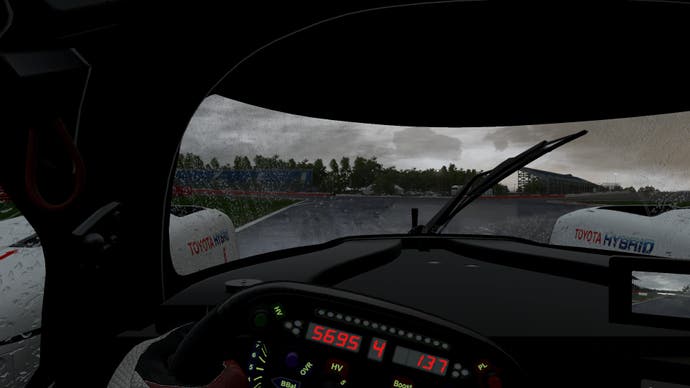 Project Cars 2 does an incredible job of portraying a live, evolving track. Puddles pool and form where you'd expect them to, the falling water beholden to fluid dynamics, circuit topography and the porosity of the given track surface. What that means, effectively, is the same puddle that made my heart leap out my mouth during a sodden track day at Brands Hatch's Graham Hill Bend a couple of years back soon makes itself known during a shower in Project Cars 2, and it's just as mean here as it was in real life.
Reading changing track conditions, as well as adapting and exploiting them, is a fundamental part of what motorsport's about, and Project Cars 2 isn't just leading the way here - it's in a class all of its own. It goes to show that Slightly Mad Studios has made significant strides for this sequel, and elsewhere it's shored up the occasionally patchy original.
This certainly benefits from the motorsports focus of the original, which has remained firmly in place. Other games can boast more cars, but none of them can boast cars with quite the same pedigree of those on offer here; there are clubman favourites from Ginetta, all-time classics from Team Lotus and modern-day prototypes from Oreca and Ligier. With the original's DLC bundled in and the addition of rallycross machines almost every discipline is spoken for, and it's an impeccable list.
Its selection of tracks, meanwhile, needs no qualifiers - it's simply the best there is. Cadwell Park - Lincolnshire's own mini-Nürburgring - rubs shoulders with the real thing, while you're even given period accurate models of Silverstone, Rouen and Monza for some of the older machinery to stretch its legs. More importantly, if you're a lover of endurance classics like myself, it's the only place you can run a multi-class field at Le Mans' Circuit de La Sarthe through a day/night cycle, and it looks absolutely splendid while doing so.
Plenty of which will be familiar from the first game, perhaps the broadest and most generous pure motorsport game since the TOCA series' heyday. Yet I - and I think a fair few others - bounced off the original Project Cars fairly quickly, even though motorsport's the religion I dedicate myself to most Sunday afternoons. It was something about the sprawl of the career which had a tendency to feel listless and unfocused, and more importantly something about the feel of the cars.
The former's been addressed well enough in Project Cars 2, with more defined goals and a broader range of disciplines. The latter's also been improved, and quite dramatically so too; this is now perfectly playable on a pad, and isn't quite the unwieldy and erratic beast that its predecessor tended towards. It's enjoyable enough on a wheel, too, and handling seems more consistent across the garage than it was in the original, but it's still not quite perfect.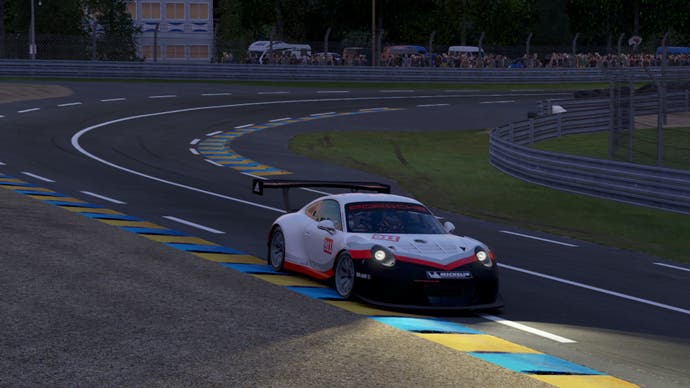 There's a lack of friction to the cars, as if each vehicle is half-asleep and half-dreaming. It's possible a little tinkering with the settings will stir it into life - Project Cars always needed a little cajoling to get the best out of it - but out of the box it's a little flat. Compare the experience behind the wheel of one of its GT3 cars to the violence and pure sensation in something like iRacing or RaceRoom and the differences are clear - and in that washiness, a lot of the personality of each car feels somewhat lost. It's noticeably better than what went before, but - in my opinion, at least - it's not quite the best.
But putting it up against the PC's brightest and best is perhaps a little unfair, and Project Cars 2 is a very different proposition to those games. It's a motorsport simulator where you can, at a whim, set up a multi-class around-the-clock race around Spa Francorchamps and leave yourself open to the vagaries of the Ardennes' unpredictable weather. It has its foibles, still - doing as such in the preview build of Project Cars 2 only led to a pile-on at the Bus Stop chicane as the AI took the corner's name a little too literally - but hopefully such quirks and bugs can be seen to before the final release.
And when Project Cars 2 releases, it'll do so in a curiously crowded time for the driving genre on console. At first glance there's not much to tell Forza Motorsport 7, Gran Turismo Sport and this apart, but look a little closer and it's clear they're disparate beasts. One's the polished figurehead for a new console, the other a significant retooling of an eccentric classic, while Project Cars 2's focus on motorsport and deep feature set helps it stand apart. I'm not sure there'll be a clear winner from the three, so varied are their approaches, but then that's another of the beauties of motor racing. Different cars make up their lap-times in very different ways, and Project Cars 2 has some serious performance in areas its competitors are lacking.