Professor Layton vs. Ace Attorney gets a Japanese launch trailer
Bring it west already!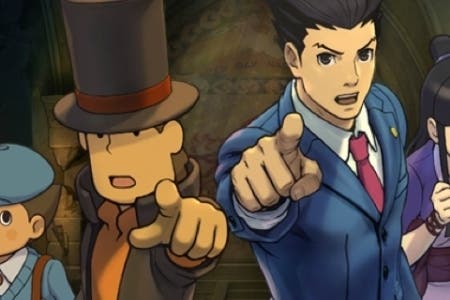 The highly desired Professor Layton/Phoenix Wright crossover Professor Layton vs. Ace Attorney has a new launch trailer in honour of its recent release in Japan.
We get to see the usually button down Phoenix Wright tackle a knight, Layton staying calm in the face of magic and danger, like a gentleman does, and of course, there's lots of index finger pointing.
Unfortunately, there's still no word on whether the Level-5/Capcom joint venture will make it to the west. Every game in the Professor Layton series has made it over here, but the same cannot be said of his pointy haired lawyer friend. (Or adversary. I don't really know since I don't speak Japanese nor do I have a Japanese 3DS. The system is region locked, unlike the original DS).
Most games in the Ace Attorney franchise have seen a western release and indeed the upcoming Ace Attorney 5 has already been confirmed for English localisation. However, Gyakuten Kenji 2, aka Ace Attorney Investigations 2, has not been given a western release. A shame as we quite liked the first one.
"The costs of localisation are higher than the forecasted return," said Capcom vice-president Christian Svensson on the company blog in regards to the Ace Attorney Investigations sequel. "Could this content show up on some other platform somewhere down the line? Possibly, but there's nothing on that front for me to talk about. I realise there are fans who would like to have this and I'll be sure to explore ways that could happen viably in the future with our strategy and R&D teams but no promises."
Of course, Level-5 served publishing duties on this crossover in Japan, so it has more say in the matter and it's keeping mum about it. Given that Level-5 has been releasing obscure airport simulators and tabletop RPGs on the eShop, it would stand to reason that it would bring this mishmash of two beloved properties to Europe and North America as well. Only time will tell.