Professor Layton and The Curious Village is coming to iOS in the west
UPDATE: Out now.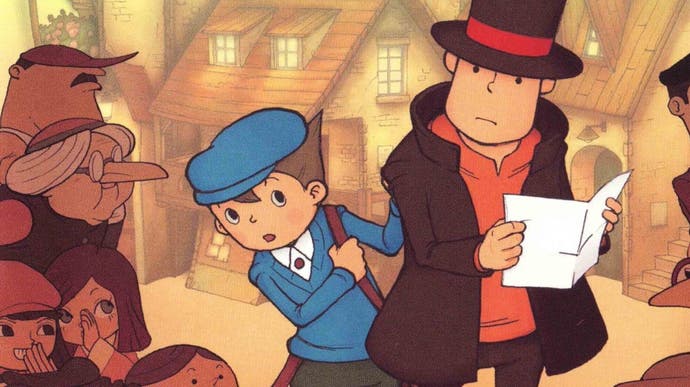 UPDATE 26/9/18: If you've been holding out for further news on Professor Layton's arrival on iOS in the west, well, today's your day: Professor Layton and The Curious Village is available to download now on the App Store.
Professor Layton and The Curious Village, the first game in Level-5's superb brainteasing adventure series, comes to iOS devices with new animation footage and existing animated cutscenes newly remastered in HD, some of which can be seen in the trailer below.
If that tickles your fancy, you can pick up the complete game - Level-5 hasn't felt the need to squeeze in any sneaky micro-transactions - for a very reasonable £9.99.
---
ORIGINAL STORY 10/9/18: Level-5's superb Professor Layton series is heading to iOS in the west, starting (sensibly enough) with The Curious Village.
Professor Layton and the Curious Village - which has been available on iOS and Android since June in Japan - originally released in 2007 on Nintendo DS and marked the debut of puzzle-solving gentleman Layton and his plucky sidekick Luke. Its compelling mix of brain teasers and rollicking, wonderfully presented adventure was popular enough to spawn two sequels, three prequels, a movie, a TV series, novels, a manga, a fantastic Phoenix Wright crossover, and two spin-off games.
To date, two Professor Layton games have been released on mobile in the west - the modern-day spin-off Layton Brothers: Mystery Room and series reboot Layton's Mystery Journey: Katrielle and the Millionaires' Conspiracy - but The Curious Village will be the first mainline series entry to make it to iOS outside of Japan.
There's sadly no release date just yet (in fact, available information starts and ends at a sparse announcement tweet on the official App Store Twitter account), and no news of a pricing model either. "Stay tuned for more info", is all we're told - and that additional news may or may not arrive as part of Apple's big event on September 12th.