Procedurally generated, Metroidvania-style platformer Chasm finally launches this summer
UPDATE: Out this month on PC, PS4, and Vita.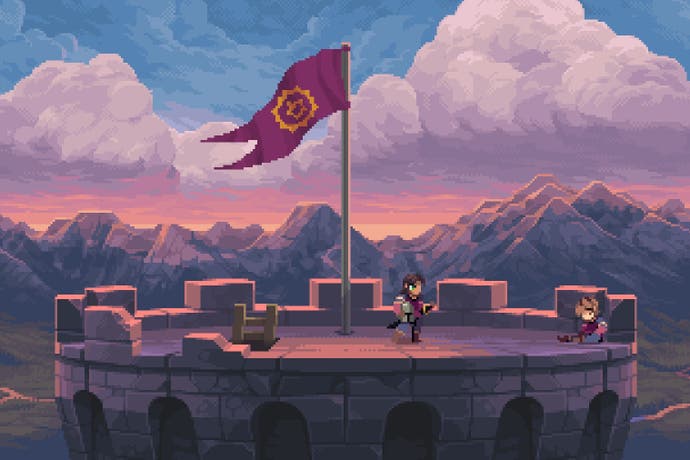 UPDATE 9/7/18: Chasm, developer Bit Kid's promising, procedurally generated platform adventure, finally has a release date: it's coming to PC, PlayStation 4, and Vita, on July 31st - somewhat later than it's originally anticipated launch window of 2014.
"Honor-bound to solve the mystery and restore peace to the Kingdom," explains Bit Kid, "you embark upon an epic adventure, with deadly battles against cunning monsters, exploration of ancient catacombs and castles, and powerful new equipment hidden at every turn.
"Though the overall story is the same for all players, your hero's journey will be unique: each of the rooms has been hand-designed, and behind the scenes Chasm stitches these rooms together into a one-of-a-kind world map that will be your own."
You can see a little of its lovely looking action in the new release date trailer below.
---
ORIGINAL STORY 4/4/18: Developer Bit Kid has announced that its long-in-development procedurally generated platform adventure Chasm will finally be heading to PC, PS4 and, unexpectedly, Vita, this "summer".
Chasm casts players as a fledging knight investigating strange rumours surrounding a mining town. "But what you discover," says Bit Kid, "is worse than you imagined: The townspeople have begun to disappear, kidnapped by supernatural creatures emerging from the depths."
The resulting caper promises "challenging retro gameplay", massive bosses, new abilities that open up previously inaccessible areas, and a variety of armour, weapons, and spells.
Bit Kid describes Chasm as being inspired by classic hack 'n slash dungeon crawlers and Metroidvania-style platformers. Its sprawling two-dimensional world consists of six areas, each procedurally generated from a wide assortment of hand-crafted rooms.
Chasm successfully secured $191,897 USD of of Kickstarter funding in 2013. It was originally anticipated to release in 2014, so backers have had quite a lengthy wait for the final game.
However, in a new Kickstarter update, Bit Kid said that, "After years of work, we're finally confident enough in our estimates for the remaining tasks that we can officially confirm a release time window of this summer!". To celebrate the announcement, as well as the news of a cross-buy PS4/Vita version, Bit Kid has released the lovely looking new trailer above.
"This has been an incredibly arduous undertaking," concluded Bit Kid, "one that I've loved (almost) every minute of, but one that wound up being an even bigger challenge than I expected. I'm grateful for everyone's support and patience [...] I know you guys are all looking for the most kick-ass action-adventure ever to grace a gaming system, and we're doing everything we can to deliver on that promise. And now, we're almost there!"