Pro Evolution Soccer 2013 Preview: Pass Master
Konami's series returns to the dynamic flair football that made its name - and threatens to return PES to the top of the football pile.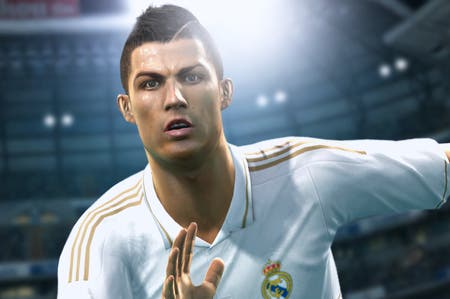 As we walk amongst the dying embers of this round of consoles, it's safe to say that this generation hasn't been as kind to Pro Evolution Soccer as the last. The series' journey since its stuttering first steps and the rising fortunes of its rival have been documented well enough; but in FIFA's shadow, PES has quietly, and at times brilliantly, rebuilt itself as a dynamic, quick-fire alternative to the more studied rhythms of EA's game.
That journey was kicked off by Pro Evolution Soccer 2011, a game that dared to tear apart the series' fundamentals and start from scratch - an approach that, given the slow start that PES had on HD consoles, made perfect sense, taking the series in a direction that favoured fast-paced, combative football.
Having thrown its cards in the air a couple of years back, it feels like they've finally come down to settle into place for PES 2013. After two exciting if flawed outings, here's something approaching the end product, a realisation, perhaps, of what Pro Evo could and perhaps should have been this generation. Not that those cards haven't been subject to a reshuffle. Shinji 'Seabass' Takatsuka has stepped down from his role at the head of the series, replaced by a new group of producers who've come up through the development team. Kei Masuda, who's worked on the series since 2003's PES 3, is the new face of the game, though sadly he's not present for the grand reveal - in his place is senior producer Naoya Hatsumi, another veteran who's taking up a more prominent role.
They're old hands but fresh faces, their appointments ushering in an end the conservatism that's held back more recent entries. "When we started developing PES 2013, we asked ourselves questions," Hatsumi begins. "What is the fundamental essence of football? What's the best part of football? This is our answer." It's an answer that, we're pleased to report, rings with the pomp and flair that's traditionally defined PES.
PES 2013's amendments and improvements were highlighted upon announcement, but it is, as ever, a minor revelation to see them come together in open play. The headline addition is PES Full Control (or - cutely - PES FC), an umbrella term for a range of tweaks and new features that place a greater emphasis on a player's dexterity with finger and thumb, translating it into an athletic showcase of footwork and agility.
Dynamic First Touch is one of the more interesting of the additions, especially when placed in contrast to FIFA 13's First Touch Control - features that are superficially similar but that reveal, on closer inspection, philosophies that are near-diametrically opposed. In FIFA there's a new-found emphasis on the way that chance plays into the beautiful game, and how controlling an incoming pass is so very dependent on skill as well as a little luck, with balls likely to spill out across the pitch if not treated with a certain amount of respect.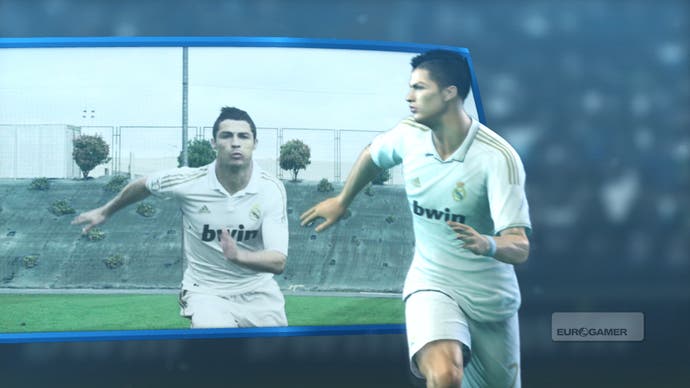 In PES 2013, it's all about giving the player a level of control that tends towards the spectacular. Holding down the right trigger when a ball comes in enables a trap, a cushioning that can tame an incoming ball or that can, with a little skill, use its momentum to turn against the opposition; a click of the right stick as the ball's being trapped sets off a deft flick that can send it over your head and, if circumstance allows, over the heads of any inbound defenders. It's a tighter sense of control that makes lofted passes a little more viable than they have been in the past.
This level of control has been extended to more intimate moments, too. Deft Touch Dribbling continues last year's concern with placing an emphasis on close control, and so putting more focus on the myriad one-on-one encounters that make up a game of football. By combining movements with the left and right sticks, players stroke the ball around, tapping away at it and rolling it around under the sole of their boot and enabling a little pensive pause in play before the next decisive move is made.
Countering the close control is response defending, an amendment that sees some of the defensive improvements of last year's FIFA make their way to PES. Holding down the tackle button harries an opposition player, holding up the play - while double-tapping the same button sends the player lunging in pursuit of the ball, a challenge that won't necessarily work out, that outcome made more likely by the more advanced close control that's afforded to attacking players.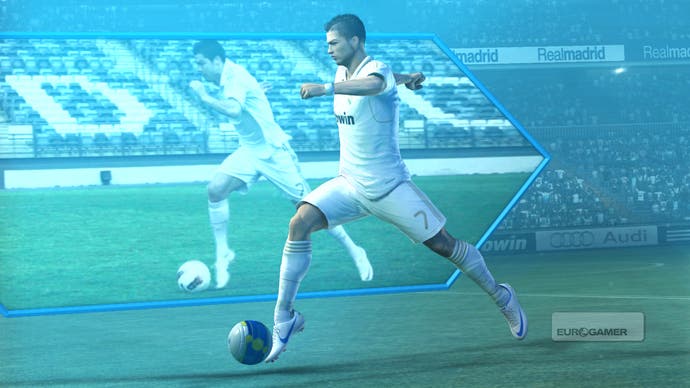 Balancing the potential frailty of defenders and the empowered attack is Pro Active AI, an amendment that sees computer-controlled players off the ball making much smarter use of the space around them. It's highlighted well in a direct comparison with last year's model, where a defensive line would remain rigid in the line of fire - whereas this time out, it's more fluid, working to block off potential channels of attack.
PES 2013's improvements allow for greater expression in play, and for more individual personality to emerge in an encounter. Reflecting that within the code is a little more personality from the players on the pitch, with more individual stances and tics making the cut. There's cover star Ronaldo's arrogant stance, legs wide apart, from free kicks, as well as a reflection of his uniquely fleet-footed dribbling.
Then there's Iniesta's deft dribbling and his ability to cut a ball in with alarming precision, Ribery's turn and Neymar's general ability to dazzle defences with acts of incredible athleticism. Some of the quirks are less flattering for the players, though: Robben now runs, true to life, like a camp aeroplane, while John Terry will fling himself at moments of desperation like a stiff and unsavoury salmon.
So how does it all hang together? Oddly, the thing that strikes first when playing PES 2013 isn't any of the headline additions; it's the pace, with games being carried out at a much more sedate rate than PES 2012 (although given the hyperactive nature of that particular game, it would have been unwise to have gone any faster). It's still played at a quicker lick than its rival, but it's certainly more ponderous, giving players the time to indulge and experiment with the changes brought in by PES FC.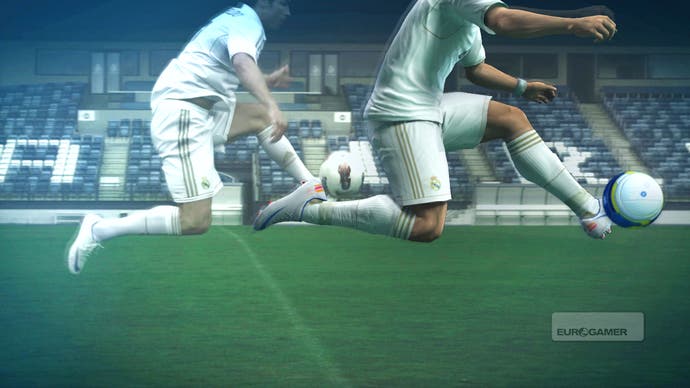 And the most striking of those is the Full Manual Control that's now actively encouraged. Manual passing has been complemented by a manual one-two that allows you to direct the second ball, enabling lay-offs that, if placed well, can prove lethal. Manual shooting, meanwhile, gives a level of control that's dizzying at first, a feeling compounded by being thrown in at the deep end in a competitive match. (It's a problem that, to its credit, PES' development team acknowledges; it's working on implementing a full tutorial.)
Indeed, playing PES 2013 for the first time, it's easy to feel lost. But any sense of confusion soon gives way to a sense of wonder as the possibilities enabled by the new systems become apparent, with deft one-twos giving way to driven shots across the box that fly into the top corner, all directed with precision by the player in a fully manual set-up. There's a learning curve, but in giving so much control over to the player there's also the sense of unpredictability that made PES so alluring back in its heyday - the feeling that a goal could emerge from any situation and that, with the right amount of skill and a little luck, anything's possible.
This isn't the conservative PES that iterated itself into oblivion for so many years, and nor, right now, does it seem to be one that's hamstrung by minor flaws that blemish its grand philosophy. In fact, PES 2013 comes across as positively daring, its move towards a brand of flair football promising a game that's uniquely intoxicating, and one that means that the series could see out this generation the way it saw out the last.