Pre-orders are live for the resurrected Xbox Duke controller
Releasing May 8th.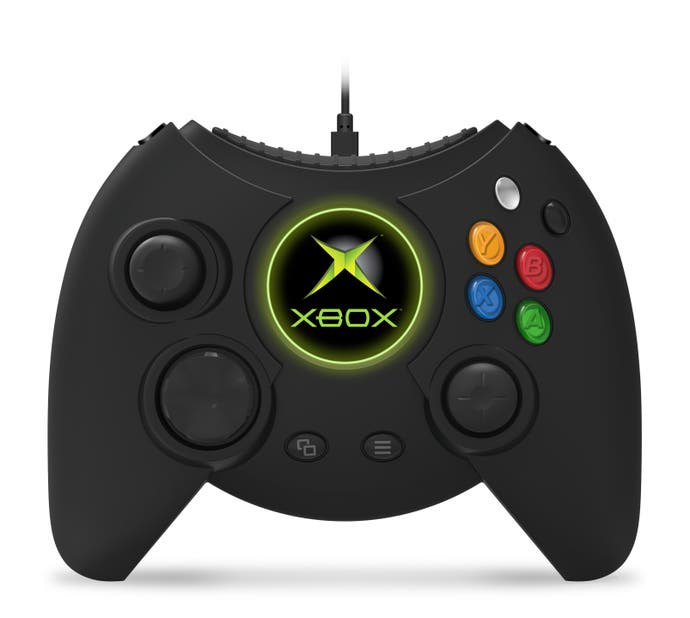 Update 09/05/2018: While the Amazon UK listing of this controller has been updated with some packaging images, it seems to be drifting in and out of availability. With that in mind, you can also pre-order the controller from Funstock Retro, while stock lasts.
Original story 02/05/2018: You may remember, all the way back in January of this year, peripheral manufacturer Hyperkin joined forces with Seamus Blackley, the creator of the very first Xbox controller to bring back history's greatest monster - the Xbox Duke controller.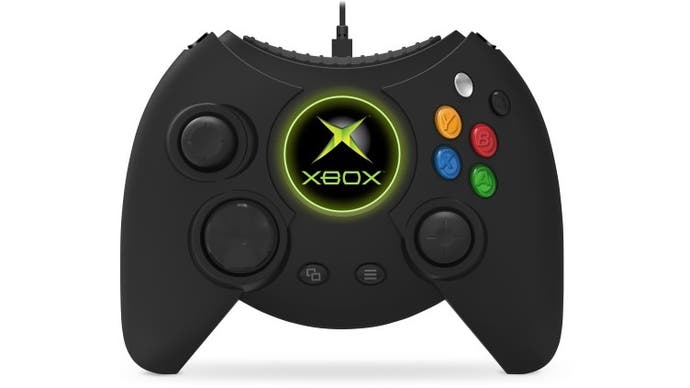 The time has come for the newly revived Duke to be unleashed upon the world; Hyperkin has announced that it'll be arriving a little sooner than expected. Releasing on Tuesday, 8th May in the UK, the 'Hyperkin Duke Controller' is already up for pre-order at Amazon, costing a cool £69.99.
In addition to replicating the original Duke's bulky frame and excessive heft, the revived Duke features some of the modern age of gaming's better features - namely, the Xbox One 'Menu' and 'View' buttons are present, along with a 3.5 mm headset jack, left and right bumpers, 'precision' analog triggers and trigger vibration. The original Duke's bizarre 'black' and 'white' buttons return, however, though they'll be emulating the bumpers in most cases.
In addition to all of that, the giant Xbox logo in the middle of the controller is no longer a useless plastic window for branding and now is a touchscreen that will play the original Xbox start-up animation, for that extra nostalgia kick when and wherever you need it. The controller also comes with a 9.5ft detachable cable.
The new Duke is designed to work with both Xbox One and Windows 10 PCs, and, given that it's out in less than a week, launch pre-orders (and initial stock) are limited. If you've been waiting to grab one of these, you're probably going to want to snap one up while you can.
Meanwhile, at Jelly Deals, you can find a fancy buyer's guide to the best Xbox One external hard drive to get in 2018 as well as guides for the best Star Wars games to play on May the 4th and more.