Pony Island dev's "deeply disturbing" card-based horror Inscryption gets first trailer
Coming to PC next year.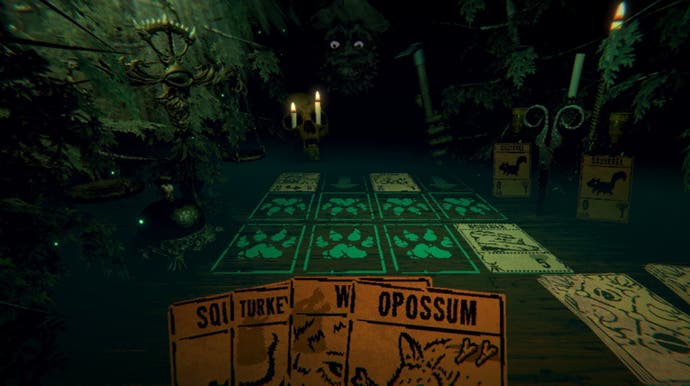 Daniel Mullins - the developer behind such genre-defying delights as Pony Island and The Hex - has offered up the first trailer for his "inky black" card-based horror oddity Inscryption.
Mullins intially shared word of Inscryption, apparently an expansion of an idea first visited in his Ludum Dare game jam effort Sacrifices Must Be Made, back in February. However, its rather wide-reaching description - as a "narrative focused, card-based odyssey that blends the deck-building rogue-like, escape-room style puzzles, and psychological horror into a blood-laced smoothie" - made it somewhat tricky to get proper handle on.
And while that hasn't exactly changed, a little more detail on its curious nature has now been shared, with Inscryption's first proper trailer showing an unseen protagonist engaging in a rather curious game of cards with a cast of bizarre creatures, all from within the confines of his gloomy log cabin. Progress is made on a branching map and, at intervals it seems, the card game pauses so that players may leave the table to explore the cabin and probe its many contraptions - and which point, well...things get weird, as you'll see below.
According to Inscryption's new Steam page, woodland creature cards required to participate in its strange battle of horrors must be acquired "by draft, surgery, and self mutilation", with players ultimately able to "unlock the secrets lurking behind the walls of Leshy's cabin".
Inscryption's "unexpected and deeply disturbing odyssey" begins on PC some time next year.