Pokémon Go legendary birds release confirmed, first set to appear this weekend
Mew too?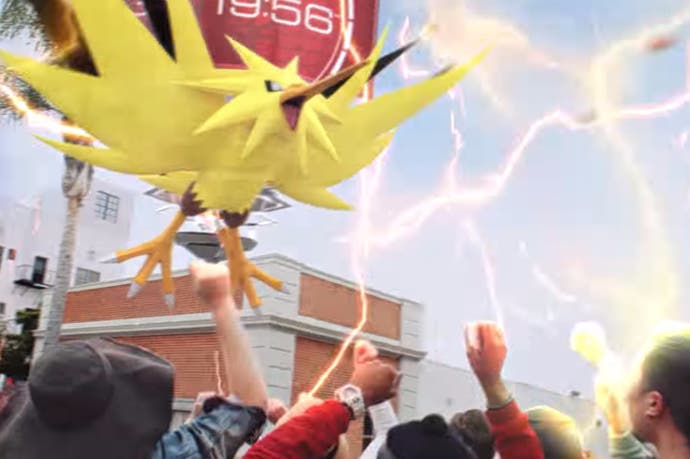 Pokémon Go releases its first ever legendary Pokémon this weekend.
But which Legendary Pokémon will be released first? The trailer below reveals the game's five legendary birds as the first to become available: Articuno, Zapdos, Moltres, Lugia and Ho-oh.
There's also a cheeky glimpse of Mewtwo, right at the end of the trailer. When might he appear?
As expected, the first legendary Pokémon will make its appearance at the Pokémon Go Fest event in Grant Park, Chicago - should players in the park and around the world manage to catch enough regular critters. (We're pretty sure they will.)
This Saturday, 22nd July, Pokémon caught in the game will count towards a set of previously-revealed bonuses. Catch enough and the first legendary Pokémon will be released in Grant Park.
If and when players in Grant Park defeat this Legendary Pokémon, it will start appearing in raid battles across the world. There's no word on exactly when this will happen, but it would make sense to begin during the 48-hour post-event window when its in-game bonuses are placed into effect.
Recent updates to Pokémon Go have paved the way for the release of Legendary Pokémon behind the scenes. In-game items glimpsed in the game's code include a special raid pass - although at the moment it's unknown how you will acquire this.
One moment in the trailer suggests the Legendary raids will last for 48 hours, rather than the usual 60 minutes. Presumably, as these events will be rarer, this will allow more people to travel to a location to battle the creature.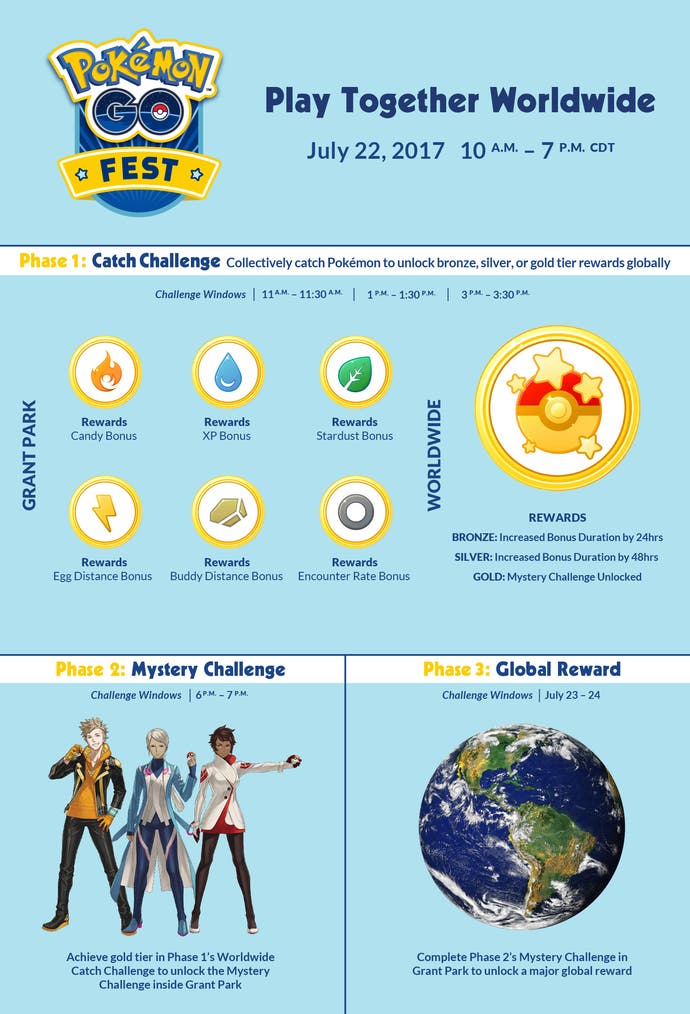 It's also unknown how many players you will need to take down a Legendary. The trailer suggests you'll need a large crowd.
Fancy joining in at the weekend? Catch times for the event take place over three separate half-hour periods throughout Saturday 22nd. 11am to 11.30am Chicago time (5-5.30pm UK), 1pm to 1.30pm (7-7.30pm UK) and 3pm to 3.30pm (9-9.30pm UK).
Should the amount of six particular Pokémon types exceed the event's total (which is yet to be detailed) then various in-game bonuses will unlock - as detailed in the image, right.
We expect the first Legendary Pokémon to then appear in-game worldwide from sometime on Sunday.
For more on Legendary Pokémon Go creatures and detailed instructions on how to take part this weekend, Eurogamer has a full guide.