Pokémon Go Groudon counters, weaknesses and moveset explained
How to add Groudon to your Pokédex in Pokémon Go.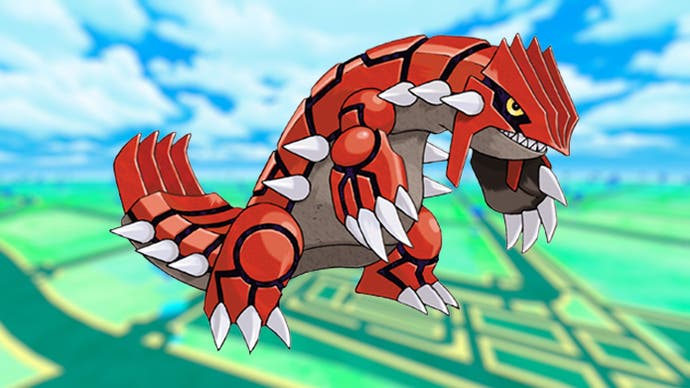 Groudon, the 'Continent' Pokémon, is one of the Legendary Pokémon that can make appearances as raid bosses in Pokémon Go.
Before you begin the battle, however, it's a good idea to know both Groudon's weaknesses and counters in Pokémon Go to ensure that you beat it.
Like all Legendary Pokémon, Groudon appears in five-stars raids and, to defeat it, you'll almost certainly need to battle alongside a group of trainers, which you can now do from home thanks to the Remote Raids passes.
Primal Groudon was released into Pokémon Go as part of the Go Tour: Hoenn event and you can have a shiny Primal Groudon!
On this page:
Groudon counters and weaknesses in Pokémon Go
Here are Groudon's weaknesses and a selection of counters to help you exploit them in Pokémon Go:
Groudon type – Ground
Groudon is weak against – Grass, Ice and Water types
Groudon Mega counters – Mega Sceptile, Mega Swampert, Mega Venusaur, Mega Gyarados, Mega Blastoise and Primal Kyogre (it basically counts) are all great options. Weirdly, even Mega Gengar and Mega Blaziken rank higher than the best non-Mega counter, but go for one of the top ones, ideally in the order listed above, if you can.
Groudon counters – Kartana, Zarude, Kyogre (obviously), Kingler, Swampert, Samurott, Feraligatr, Mamoswine and Roserade are your best options
Other things to know — If you picked a mono-Grass team for Kyogre, it will work here, but be aware that Groudon can pack a sneaky Fire Blast to ruin your team. If you want to lean into the Water types, be aware that it has Solar Beam in its move pool, too. Your best bet, if you're concerned is to make two teams: one of each mono-typing, and then go to battle. If you come across the one you're weak to, well you'll have a great second string waiting in the wings...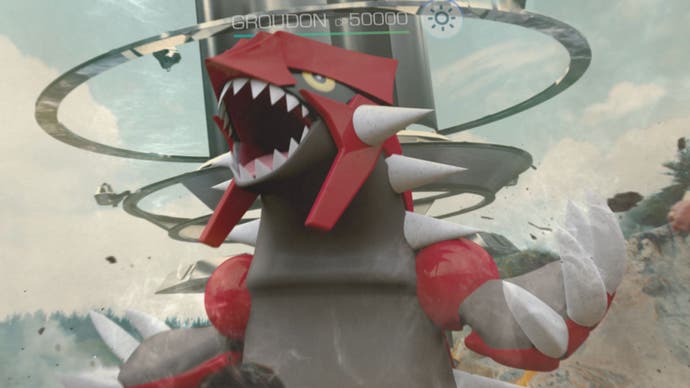 Groudon CP in Pokémon Go
Below you can find the CP ranges you can expect when battling and attempting to catch Groudon in Pokémon Go:
Raid Boss CP – 54,411 CP
Groudon max CP – 4652 CP
CP when being caught – 2260 to 2351 CP
Weather boosted CP (Sunny) when being caught – 2825 to 2939 CP
Everything we know about Groudon
Shiny Groudon was released in Pokémon Go back in January 2019. As you can see from the preview below, it trades its firey red for an almost jade green. While this isn't the greatest shiny in the world, make sure you catch one to Primal Revert back into a shiny Primal Groudon, which looks truly epic.
Thanks to Reddit user azurelatios for the preview.
Alongside Kyogre and Rayquaza, Groudon is a member of the legendary weather trio, which dates back to Gen 3.
Unlike the majority of legendary trios or groups, the weather trio does not live in harmony. Instead, Groudon and Kyogre quickly fall into conflict due to their opposing natures – Groudon being one with the land, Kyogre with the sea. It's Rayquaza, the trio master, who has to stop their battle before it causes chaos.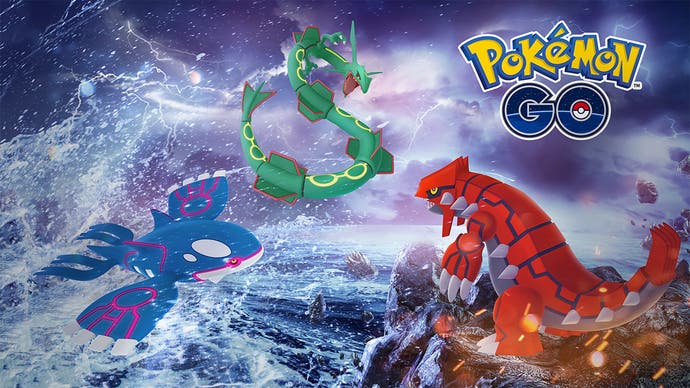 In the remakes of Pokémon Ruby and Sapphire – Omega Ruby and Alpha Sapphire – both Groudon and Kyogre gained the Primal Reversion ability, which allowed them to return to their original forms. Primal Reversion joined the world of Pokémon Go in February 2023.
Good luck facing Groudon in Pokémon Go!