Pokémon Go developer's NBA All-World launches today
Curveball.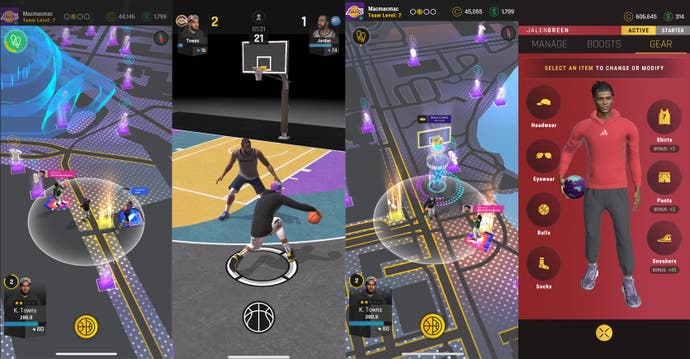 NBA All-World, the next game to launch from Pokémon Go developer Niantic, will arrive for smartphone devices worldwide from today.
The release marks the first fresh app from Niantic to arrive since 2021's Pikmin Bloom, with virtual pet experience Peridot and a game based around Marvel superheroes also waiting in the wings.
As you'd expect from a Niantic game, NBA All-World encourages outdoor play and exploration of your local environment, with a particular focus on the world of NBA, basketball and the sport's wider culture. Niantic has big hopes from this collaboration, which it is aiming at some of the NBA's many millions of fans worldwide.
Why NBA? And why should a global audience care? According to figures quoted by Niantic in a presentation I viewed last week, more than 450 million people regularly play basketball worldwide, while the NBA itself enjoys a viewership even bigger internationally than back at home in the States. The sport's influence on youth culture, music and fashion is also a major draw - and Niantic intends all of this to be represented in the game as well.
At a basic level, NBA All-Stars' gameplay systems will likely look familiar to anyone who has played a Niantic game before. The app has an overworld map populated by points of interest, with mini-games available at certain areas where you can leave your mark for others to see.
The equivalent of Pokémon encounters on the map are now NBA league players, who you'll engage in a short hoop-shooting mini-game with in order to sign to your team. These players can then be trained up and customised, and put into action at gym-like Rule the Court locations, which feature shooting mini-games with public leaderboards. The longer you stay on the leaderboard, the more points you earn - until it resets each week, encouraging you to make return visits.
Any basketball courts in your neighbourhood should automatically become Rule the Court locations, thanks to Niantic's pre-existing world-spanning database of real-world places. If not, you'll have one spawn within walking distance nearby.
That same database is also being used for Drop Zones, real-world locations which dole out useful items as you pass by. Certain types of shops will offer in-game clothing, food outlets will give out energy drinks, while real-world banks will top up your in-game currency.
At home, apart from managing all your players, you'll be able to take part in remote tournaments with entry via passes you can pick up via exploring. The game's monetisation as a free-to-play app will be familiar to Pokémon Go players, Niantic said, with similar items and upgrades available to buy if you choose, without decentivising outdoors play.
Perhaps surprisingly for a game made by a company founded on developing the future of augmented reality, NBA All-World will not feature any AR features at launch. Instead, these will arrive in an update coming early in the second quarter of this year, and allow you to spawn bonus rewards at basketball court locations. Other upcoming ideas being considered are the ability to trade in-game sneakers, and a more active PVE experience akin to Pokémon Go's raiding.
NBA All-World is another take on the real-world smartphone space which Niantic has made its own, alongside another major partner and further brand deals with clothing and music labels to provide licensed gear and music. While similar in playstyle to Pokémon Go and other Niantic titles, the company clearly feels this is a promising bid for a slightly different audience. Here's hooping it finds that.