PlayTV
They're not playing games.
Naturally, PlayTV also offers a couple of features that no standard video recorders do: support for PSP remote play, allowing you to control the device and watch TV anywhere, and the ability to do anything you like with your recordings.
PlayTV installs itself as a new group in the PS3's home menu, and clicking on that instantly brings up a circular menu of the tuner's seven modes: live TV, library (all your recordings), settings, a manual, a TV guide, a schedule of recordings and favourite shows, and the rather nifty find-and-record feature. The latter can search TV titles and descriptions with any keyword - our Kiwi host Bunting demonstrated this by searching for any and all programmes about New Zealand in the coming week. A definite plus over regular tuners, there.
The control scheme with a PS3 pad is sound, if a little fiddly - not the fault of the designers, but an inevitable side effect of using a game controller for something it wasn't designed to do. Sensibly, they've included an on-screen remote keypad that you can bring up at any time and move around with the right stick. Nevertheless, picking up a Blu-ray remote as well would seem like a wise move, and if Sony and/or retailers have any sense, they'll be planning to bundle the two.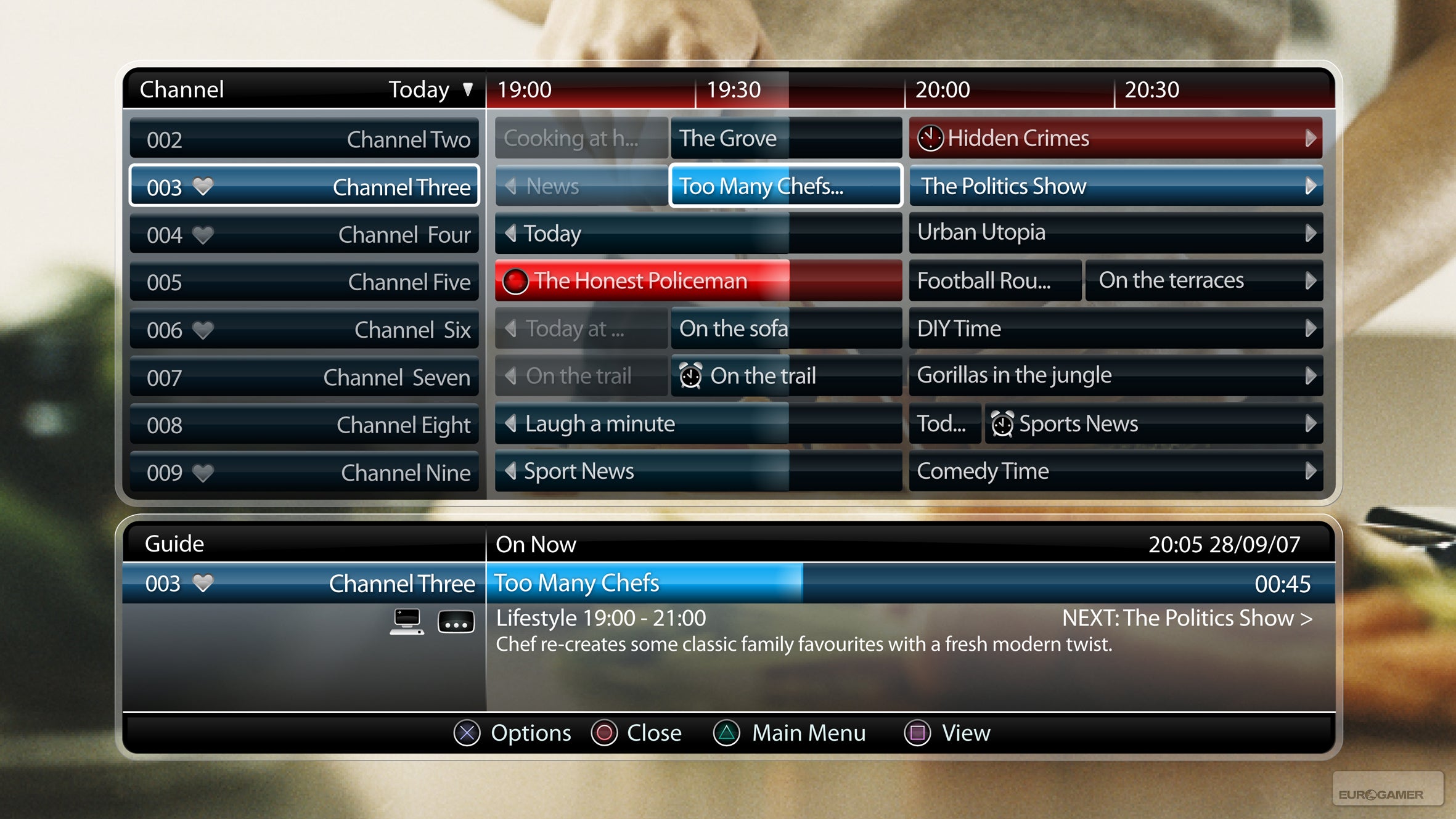 True to convention, the Sixaxis' start button acts as a pause button for both recordings and live TV. The default setting of the machine is to only start buffering live TV when you hit pause, although if you think you're likely to want to rewind on a whim, you can set it to keep a buffer at all times - this is only turned off to save strain on the hard drive. (Bunting claims that the vast majority of Sky Plus returns are due to knackered hard drives, and points to the superior reliability of the laptop units used in the PS3.) The buffer holds up to two gigabytes' worth of TV in memory at any time, which is an hour and a half to two hour's viewing, depending on the signal. A progress bar across the top of the information box shows where you are in the show, and how much of it is in memory.
The PS3's processing grunt has been put to good use: the load time for interactive features like news multiscreen is noticeably faster than with a standard tuner, and there's a fancy depth-of-field blur applied when you bring up menus over the picture. In contrast to PlayTV's physical presence, its on-screen interface oozes quality and class, even by Sony's own high standards. Sony's Bravia teams have had a lot of input in PlayTV, and it shows.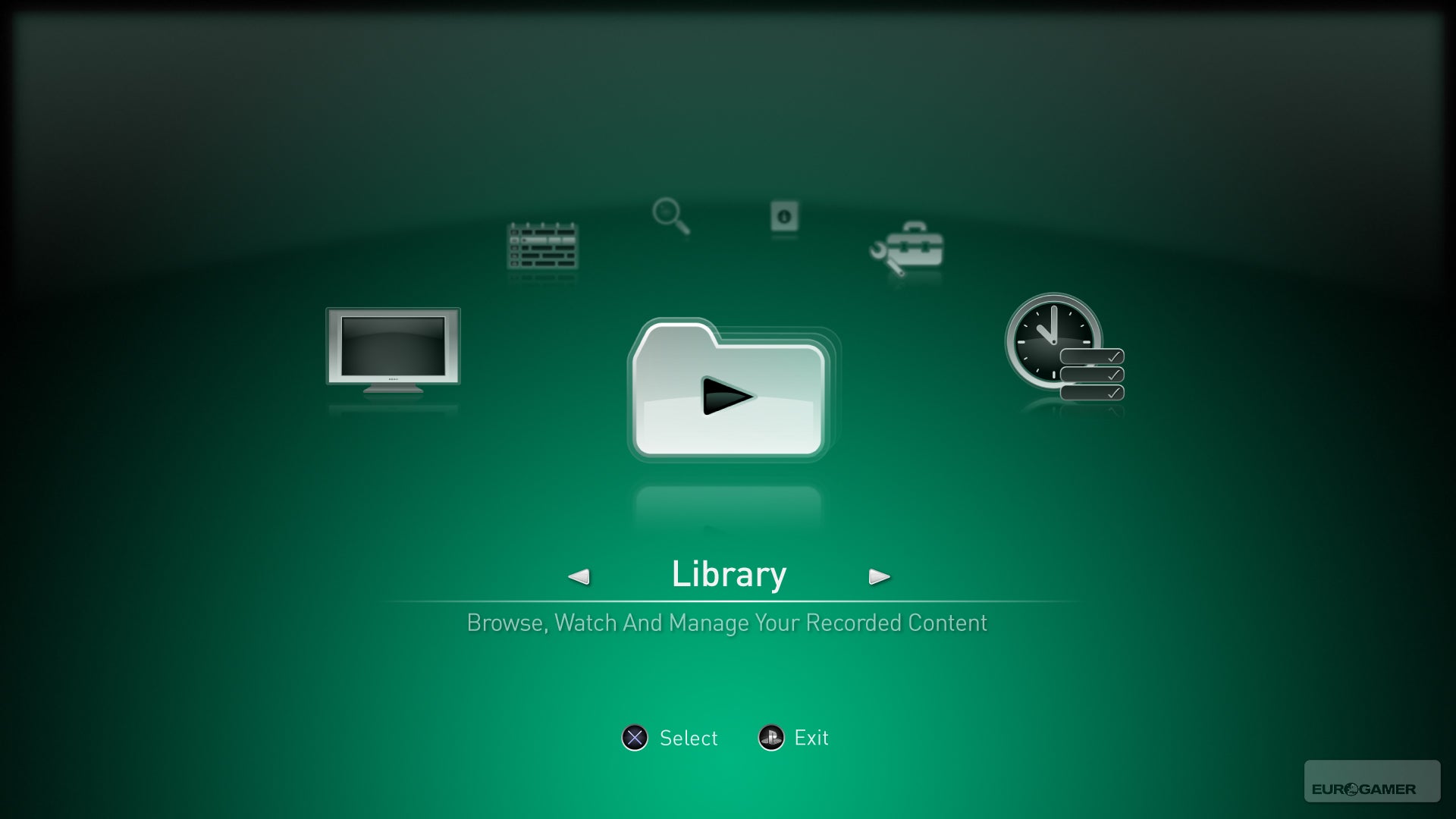 Last but by no means least is picture quality. Again, this has been tested against the built-in tuners in Bravia TVs, and is as good as you'd expect, although even a PS3 can't manage to make a compressed standard-definition signal look all that good on a large high-definition screen. That said, one of the most appealing aspects of PlayTV is that its future-proofed for the full HD signals that will eventually come to Freeview and its European equivalents. Bunting says the BBC's test signal looks "incredible", and every one of PlayTV's features works perfectly in high definition. The PS3's power and high-quality HDMI output hand PlayTV a big head-start in this area, and it's comforting to know it won't be outmoded any time soon.
So we're praying as hard as Sony must be that those testers in Liverpool - mucking around in Resistance while their PS3's record hour after endless hour of Fern and Phil - don't find any faults with gameplay during recording. If this last piece falls into place - and if the price is right - PlayTV is looking very tempting indeed.
Will you support Eurogamer?
We want to make Eurogamer better, and that means better for our readers - not for algorithms. You can help! Become a supporter of Eurogamer and you can view the site completely ad-free, as well as gaining exclusive access to articles, podcasts and conversations that will bring you closer to the team, the stories, and the games we all love. Subscriptions start at £3.99 / $4.99 per month.