PlayTV
They're not playing games.
Will you want to buy a PlayTV? We can't answer that just yet. Although we recently had a first-hand demonstration of Sony's digital TV tuner add-on for PlayStation 3 - and came away impressed - there are still two enormous and probably yellowy-orange question marks hanging over the device's future. How much will it cost? And - crucially - will you be able to play games while it's using the PS3's hard drive to record TV?
The first question is important because you can now go down the shops (well, navigate to your favourite online retailer) and pick up a Freeview tuner/recorder that will do almost everything the PlayTV allows you to do for as little as GBP 100. It probably won't be very good - and Sony's own 80GB recorder costs GBP 180 - but still, an extremely competitive price point is vital for a device that only works in conjunction with a GBP 300 games console. We were pleased to learn that HMV's GBP 99.99 price tag wasn't necessarily accurate, and we think 100 Euros (GBP 70 or thereabouts) is much more likely. But Sony needs to sell PlayTV as cheaply as it can possibly afford if it's to do its job - which is to help make the PS3 a viable multimedia hub, to compete with Media Centre PCs, AppleTV and the like. Sony won't even confirm a ballpark price for the unit at present; we await that announcement with interest.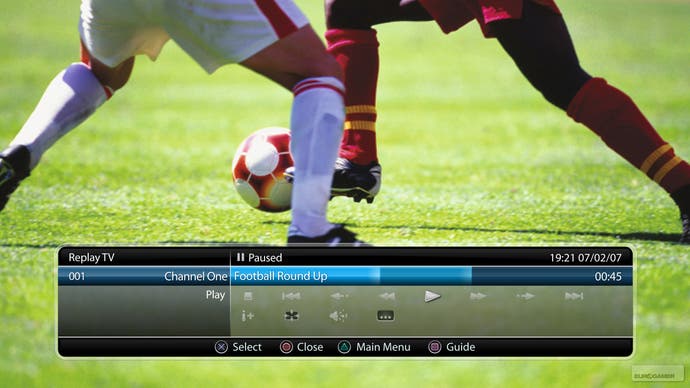 Another argument for a low price is that - physically at least - PlayTV does not invite aspirational gadget lust. It's a small and unassuming thing, about six inches by two inches in footprint, very light, made of dark grey plastic with a matte finish and a curved top like the PS3's. It's inoffensive to look at and the compact size is definitely welcome, but it looks and feels cheap, and the unsightly USB cable that connects it to the front of the PS3 doesn't help. On the plus side, it draws all the power it needs from that cable, freeing up some no doubt much-needed space on the plug board behind the telly. Its only other features are a power LED and a standard RF connector for your TV aerial.
An answer to the second question - can you record TV while playing games? - is vital because, for all its multimedia affectations, the PS3 is still a games machine, and there's every chance PS3 owners will be looking to record TV because they're playing a game. This is also unconfirmed, but the good news is that Sony understands the importance of this very well, has implemented the feature, and is testing it thoroughly.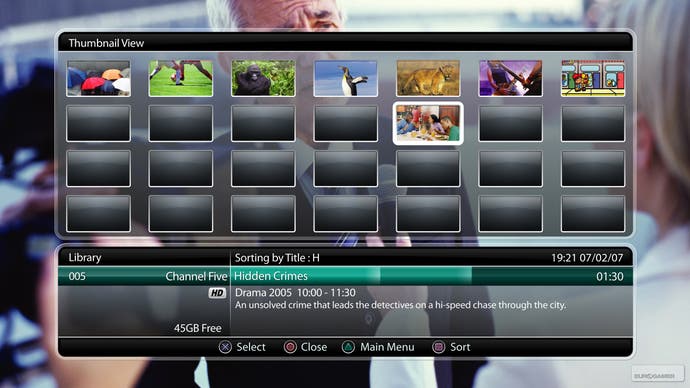 "It's no secret that we want to do it, but we can't jeopardise gameplay," says Mark Bunting, a producer at Sony's Cambridge Studio, which is working on the software for the PlayTV device. "Every game known to man is under test. At the moment, out of all the testing we've done, we haven't found anything go wrong." It's no exaggeration to say the fate of PlayTV hangs on the outcome of these tests, but as it stands the signs seem very positive.
If PlayTV can clear these hurdles, though, there's nothing to stop it being a roaring success. Based on our demonstration we would recommend all Freeview-using PS3 owners snap one up. PlayTV is fast, HD-ready, with a slick, attractive and highly usable interface and some powerful features. About the only thing it doesn't offer that a Sky Plus box does is the ability to record two channels simultaneously; although it has two receivers, one is dedicated to recording, and the other to live TV.
However, that does mean that you will always be able to watch one channel while you record another, and even pause the live channel or watch previously recorded programmes while a recording is taking place. Setting recordings is simplicity itself - or you can use Select as a one-touch record button - and there's no need to leave your PS3 on for timed recordings. PlayTV will wake it up from standby just before the appropriate time.