PlayStation 4 pre-orders are live at GAME, requires a £20 deposit
UPDATE: ShopTo also opens pre-orders.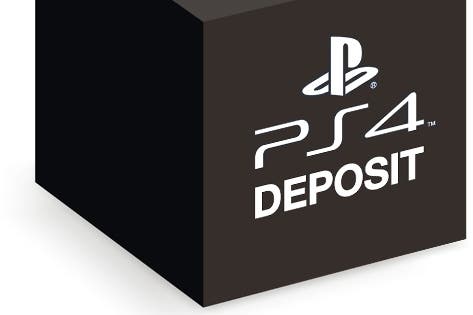 UPDATE: Pre-orders for the PlayStation 4 have also gone live at online retailer ShopTo.

ShopTo's offer does not require a deposit and includes 12 months warranty. The retailer has currently marked the PlayStation 4 as being priced £399.85, with the caveat that this would likely change.

Amazon has also begun listing the PS4, albeit with no price or pre-order offer. It does however date the system for release on "March 3, 2020"!

ORIGINAL STORY:

GAME has already begun accepting its first pre-orders of Sony' recently revealed PlayStation 4.

We don't know how much it will cost or when it will come out, but we do know that plopping down £20 will guarantee a unit on launch day at the popular retailer.

Interestingly, the announcement stated that the PS4 is "set for release later this year," contrary to rumours that it will be pushed back to 2014 in Europe just as the PS3 was delayed a few months here. Of course it could always be pushed back, and Shuhei Yoshida told Eurogamer "it takes more time for us to know that [the European release window]." He noted that he'd like for it to have a simultaneous release in Europe as the rest of the world, but he's "not making any promises."

GAME CEO Martyn Gibbs noted, "Many console launches have seen demand significantly outstrip supply so we would urge anyone wishing to get their hands on a PS4 from launch to register their interest with our store teams or online as soon as possible."

Hopefully Sony will have learnt their lesson regarding shortages and will get enough of these babies produced prior to launch. Then again, the Wii was nearly impossible to find at launch while the Wii U was relatively easy to tumble upon, so a manufacturer's past launch isn't necessarily indicative of how things will go down this time. Of course, something tells me the PS4 will be in demand more than the Wii U. Call it a hunch.