Plants vs. Zombies 3 gameplay emerges as game gets soft launch
Soil yourself.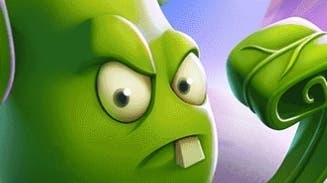 The previously-teased Plants vs. Zombies 3 has finally poked its head above ground to soft launch for iPhone and Android in Ireland, Romania and the Philippines.
We first got wind of PVZ3 back in July last year, when a pre-alpha build popped up for certain US Android users.
Now, EA has made the whole thing a lot more official - and released a Q&A blog post on what to expect when it does roll out worldwide.
Gameplay-wise, this version of PVZ retains the original's lane-based tower defense combat while shaking up some of the series' core mechanics. Sunflowers are no longer required on your lawn, for example, as you'll earn solar power in other ways. Lawn mowers are gone.
Even more drastic, perhaps, the art style is now 3D and the whole thing is played in portrait mode rather than landscape.
EA has anticipated your questions surrounding all of these changes and provided answers, below.
"We love the 2D art from the original games, but wanted to provide our brand with more flexibility and artistic opportunities for the future (we've got plans, folks!)," executive producer Bruce Maclean said in the blog post. "Updated 3D graphics also allow us to show off the characters in better detail, so you can truly appreciate their wackiness.
"We recognise that many people play mobile games on the go or while multitasking on their phone," Maclean continued. "Displaying the game in portrait mode allows you to more easily play with one hand and provides smoother transitions between the game and other applications."
And finally, on the game's free-to-play monetisation:
"Yes, PVZ 3 is free to play. Mobile games are now more accessible than ever, and we want to make sure that everyone is able to play - and that they can have fun and be successful without having to pay. While this game is definitely a labour of love here at PopCap, our families still gotta eat. So, we've added optional microtransactions that can help you speed up progression."
There's no word yet on when PVZ3 will sprout up elsewhere - but if you are able to give it a try, let us know how you find it.