Pillars of Eternity 2: Deadfire announced
UPDATE: $1.1m goal reached in less than a day.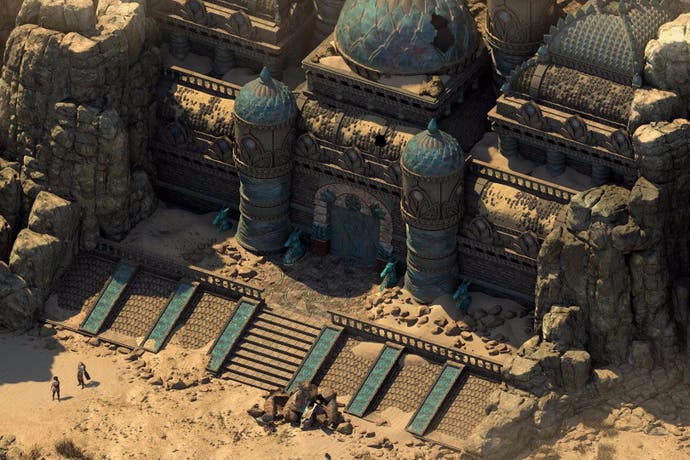 UPDATE 27/01/2017 5.30pm: Pillars of Eternity 2: Deadfire reached its $1.1m funding goal in a scant 22 hours and 57 minutes.
As of publishing, the game has amassed $1,108,022 across 9887 backers. Roughly half of these opted for rewards while the other half invested in the project since Fig allows investors to see equity on their pledge.
ORIGINAL STORY 26/01/2017 6pm: Obsidian has announced Pillars of Eternity 2: Deadfire, and as it did with the first game in the isometric role-playing game series, the developer wants to crowdfund development.
This time, though, Obsidian has ditched Kickstarter in favour of Fig, the platform used for the likes of Psychonauts 2 and Wasteland 3. Obsidian's asking for $1.1m, with $2.25m open for equity (the original Pillars of Eternity raised nearly $4m in October of 2012). If all goes well, Pillars of Eternity 2 will release for PC, Mac and Linux in 2018.
"For the sequel, we have turned to Fig for our fan funding needs because we not only wanted our fans to help shape Pillars of Eternity 2: Deadfire, but to financially share in its potential as well," said Obsidian boss Feargus Urquhart.
Pillars of Eternity 2 picks up where the first game left off, taking players on a second journey to the world of Eora. But this time you visit the Deadfire Archipelago. There the player character hunts down a god. Here's the official blurb:
We're promised new companions, a story that changes based on the player's decisions, and the ability to continue your story from Pillars of Eternity, so you can see how your decisions and actions in the first game play out in the second.
Screenshots are below.