PAX 10 selection revealed
Some indies to look forward to and some you may have missed.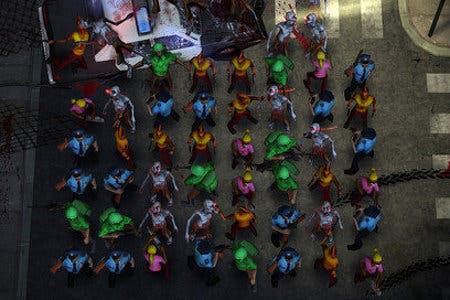 PAX Prime 2012 has announced its selection of 10 indie games to highlight as part of its annual PAX 10 showcase.
This year's standouts include:
Containment: The Zombie Puzzler (Bootsnake Games, iPad and PC); puzzle - Out now
Deity (DigiPen, PC); isometric stealth action - Out now
Offspring Fling! (Kyle Pulver, PC and Mac); platformer - Out now
Puzzlejuice (Asher Vollmer, iOS); puzzle/word game - Out now
Splice (Cipher Prime, PC and Mac); puzzle - Out now
Johann Sebastian Joust (Die Gute Fabrik, Mac with PS Move); monitor-less party game
The Bridge (Ty Taylor and Mario Castaneda, PC); puzzle
The Swapper (Facepalm Games, PC); puzzle/platformer
Cannon Brawl (Turtle Sandbox, PC and Xbox 360); action/strategy
Catch-22 (Mango Down!, iOS and Facebook); One-Button Arcade Game
We've already selected Containment as an App of the Day, where yours truly wrote, "Containment is smart, fast, quirky, and more distinctive than it has any right to be."
Oli Welsh also investigated Johann Sebastion Joust at GDC. "The object of the game is to knock other players out by jostling their controllers, while protecting your own," he wrote.
Creator Douglas Wilson said "It's an excuse, or an alibi, for the players to look like a**holes and make everyone in the room laugh."
Additionally, Deity is a freeware game, so feel free to give it a spin here.
For more information on this year's PAX 10, check out the official site.
PAX Prime is set for 30th August to 2nd September in Seattle, Washington.