PaRappa the Rapper, Gitaroo Man creators working on new rhythm-action game
UPDATE: Switch stretch goal drastically reduced.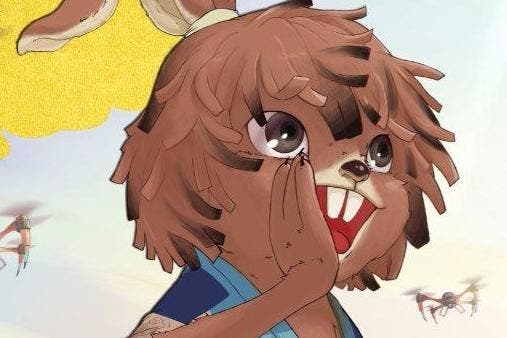 UPDATE 17/5/17 9.05am: Project Rap Rabbit's replacement Switch stretch goal has been announced - and it's now far, far more achievable than before.
Just $1.5m is now needed to secure development of the game on Switch - down from $4.95m previously.
The abrupt reduction in cost comes from making it the first and now only stretch goal on the project's page. All other bonuses and mention of a potential Xbox One port have been removed, a new digital soundtrack has been added to most reward tiers, and an additional early-bird tier has been added.
There's a long and well-reasoned blog post over on the Project Rap Rabbit Kickstarter with a lot of detail on why the initial stretch goals were so high and why it was a good idea to restructure them. It's well worth a read, but the project founders' state they did not want to lowball the amount of money necessary for the project and have to compromise its quality.
"We are not in the position of being co-funded by a secret fourth party: Project Rap Rabbit's funds are coming purely from NanaOn-Sha, iNiS J, PQube and Kickstarter, and we therefore presented the full amounts necessary to develop certain features to their fullest," the blog states.
---
UPDATE 17/5/17 9.05am: Project Rap Rabbit's ambitious Nintendo Switch stretch goal is being reworked, the project's creators have been revealed.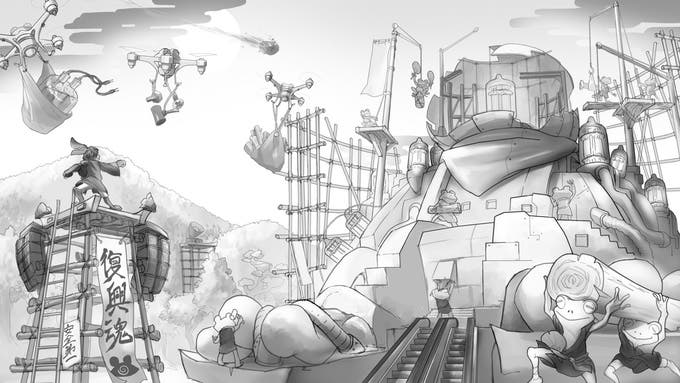 A new blog update on the project's Kickstarter page said the changes were being made to address the "loud and clear" feedback from potential fans.
The project is now around 10 per cent funded after its all-important first couple of days but there's still a long way to go - and some of the previous set of stretch goals (now all deleted, and currently being reworked) now seem far too optimistic.
Project Rap Rabbit will be funded when its crowdfunding campaign hits $1.1m (£880k), but releases for Xbox One and Switch were set to only unlock at far, far higher targets - $3.1m and $4.95m respectively.
"Over the last 24 hours we've been taking the time to digest all your comments, wishes and feedback, and one request stands out above all others: a significantly lower Nintendo Switch goal," the blog post reads. "We want to let you know that we hear you loud and clear. As a result, we are busy re-examining our Stretch Goal format to prioritise a Nintendo Switch version of Project Rap Rabbit above other features.
"This is a process we need to undertake carefully and methodically, so please bear with us while we piece together our new plan. We'll update our Stretch Goals as soon as we possibly can - until then, keep the comments flooding in on social media and here on the Kickstarter page, and we'll continue to answer all your questions."
We'll check in on the game's status again when the project's new set of stretch goals are revealed.
---
UPDATE 15/5/17 3.05pm: Project Rap Rabbit will be a Kickstarter-funded game, its developer has announced via the EU PlayStation blog.
The project - live now on Kickstarter - will only happen if £855,000 ($1.1m) of public funds are raised before 19th June. After 20 minutes, some £10k has been pledged.
Pledge £30 to get a digital copy, £35 for a physical edition, or up to £7950 for the chance to visit the game's studio and sing karaoke with its creators (travel to Japan not included).
Stretch goals include a decidedly more ambitious $3.1m target for an Xbox One version (otherwise, it's PC/PS4), or $4.95m for a Nintendo Switch edition.
Rap Rabbit will offer different beat-matching paths through songs, via a system co-producer Keiichi Yano has likened to the dialogue wheels of RPGs:
"There are no wrong routes through our songs - the heart of Project Rap Rabbit's gameplay mechanics still involves rhythmic beat-matching - but different paths through each battle will unlock bespoke bonuses and outcomes," Yano said.
"It's a system that draws inspiration from the dialogue wheels of Mass Effect and Fallout 4, as well as the classic call-and-response gameplay established two decades ago in PaRappa The Rapper."
But some fans have questioned the need for a Kickstarter campaign at all. "Question! Why doesn't Sony just fund this game?" blog reader Yaro-sensei asked. "I'll have a look look at your goal and rewards when it's live but I dunno if I'll back it," reader turniplord added. "I'm cautious with crowd funding now."
Coincidentally, Bertie published an excellent investigation into the future of video game Kickstarter projects just this morning. It's well worth a read.

---
ORIGINAL STORY 15/5/17 11.00am: The creators of rhythm-action classics PaRappa the Rapper and Gitaroo Man are teaming up for a new game in the genre: Project Rap Rabbit.
A trailer for the game was published over the weekend and has quickly gained a host of fans.
And for good reason - as well as an attractive art style, the game has talent behind it: Masaya Matsuura (PaRappa The Rapper, Vib-Ribbon) and Keiichi Yano (Gitaroo Man, Osu! Tatakae! Ouendan).
Already, though, fans have taken to the game's anthropomorphic rabbit star and frog sidekick characters. The game's official Twitter account has been retweeting lots of fanart:
There's no word yet on release platforms or a funding method for the game - but we expect an official announcement shortly.