Paper Mario: The Origami King announced for Nintendo Switch
Unwraps itself in July.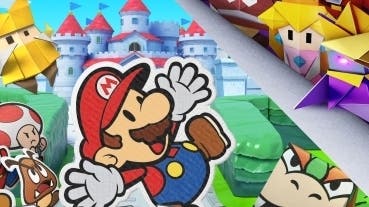 Surprise! A new Paper Mario game is coming to Nintendo Switch in July.
Paper Mario: The Origami King is an all-new game in the papercraft role-playing game series, which will launch for Switch on 17th July.
Nintendo's 2D hero has a new ability, 1000-Fold Arms, a kind of stretchy arm tactic that lets you interact with scenery, revealing hidden areas and new puzzles.
Long-term fans of the series will likely be pleased at what looks like the return of the series' older partner system, back here after being dropped in more recent entries.
And there's a new ring-based battle system - nothing to do with Ring Fit - which turns battles into a kind of puzzle where you must line up Bowser's minions for maximum damage.
Finally, the trailer showed several areas with open exploration - in a car shaped like a goomba shoe, across a rolling sea in a paper boat, and there's a nice nod to a forgotten Nintendo series right at the end.
Paper Mario: The Origami King is one of many Mario titles old and new coming to Nintendo Switch in 2020, as Eurogamer recently reported.
Here's the first trailer:
And a quick look at the new battle system: