Taking a Dive
The control scheme echoes that aesthetic perfectly. Despite the fact that Tequila always dual-wields his pistols, you only ever have one fire button (the right trigger); the other trigger makes you leap in the direction you're holding the stick, while still firing, or jump onto a context sensitive item to slide along it. A bar next to your health bar at the top of the screen indicates how much "Tequila Time" (that'd be slow motion, as opposed to some kind of happy hour promotion) you have at your disposal, and fills up constantly and rapidly as you play.
You can drop directly into slow-mo if you like, by pressing the right bumper, but it's mostly better to let the game do that for you. Any time you have your crosshairs near an enemy while jumping, leaping, tumbling, sliding along a rail or running up a bannister, the game automatically slows down to let you pull off groups of tricky shots. It's reality in reverse, basically; whereas in real life aiming a gun is rather a lot easier when you're standing still with your legs slightly apart and arms outstretched, in the world of Stranglehold the easiest way to aim a gun is by diving sideways out a window holding one pistol in each hand.
Performing the trademark John Woo "sliding over a table / across a bar / down the side of any straight edge in the bloody room" move is even easier. Walk up to a table, and rather than stopping dead in front of the object, you slide over it. The same logic applies to bars and so on, and conveniently, this will also drop you into slow motion.
Fleshing out Tequila's repertoire of moves are specials known as "Tequila Bombs", which are special moves you'll learn as the game progresses. You start out with just one - a health restoring move - but in the first level, you'll learn a special move that slows down time and zooms in your pistol, allowing you to take out snipers or distant enemies. In the second, we found a ludicrously over-the-top move called Barrage, which lets you fire continuously for a set period of time - which is gloriously ridiculous when using the shotgun, as it allows you to decimate an entire room or building in record time.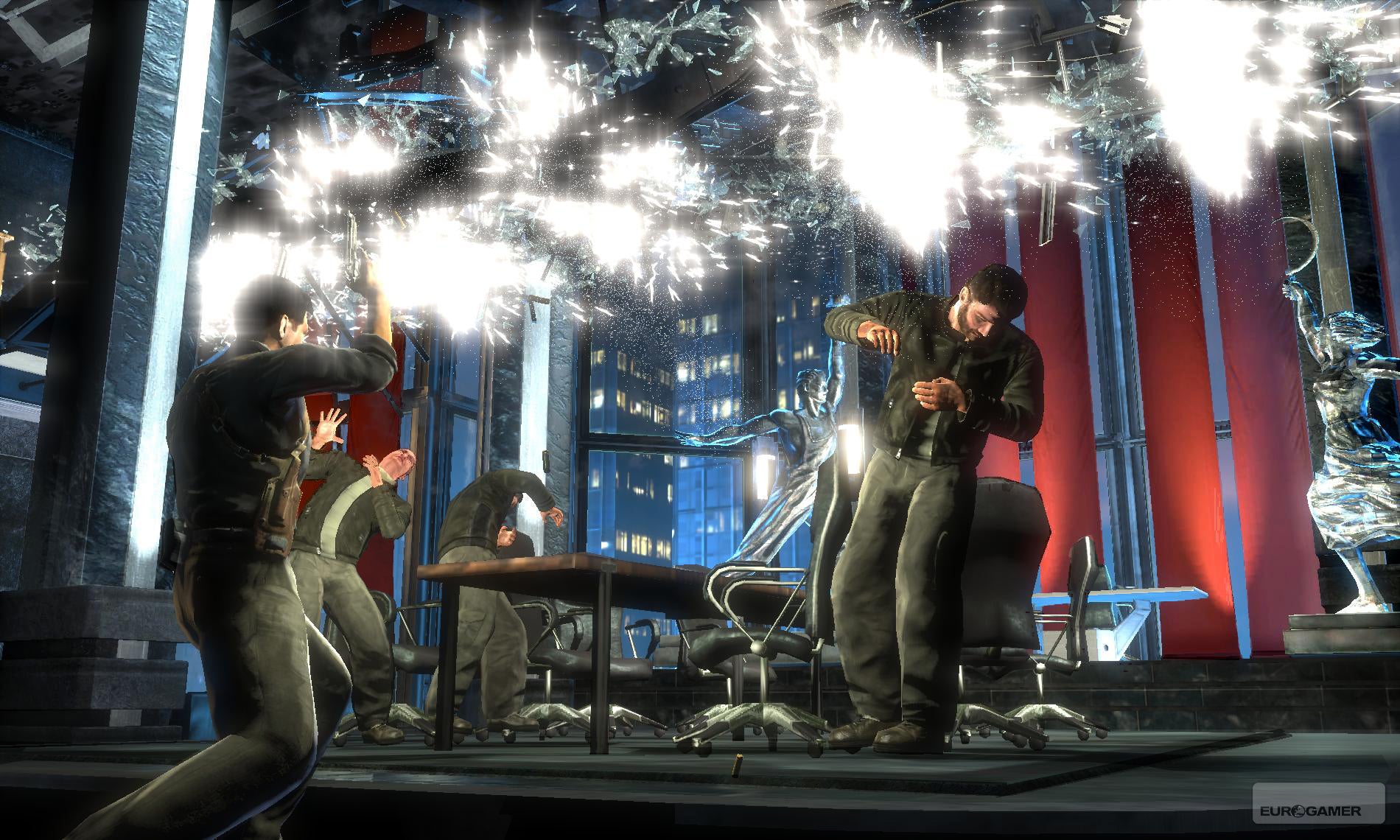 As you might expect, any game which offers so many ways to kill your foes also has plenty of ways for them to die. Locational damage is taken to a whole new level in Stranglehold, with enemies even reacting differently depending on what part of the face or head they're shot in (which can result in some astonishingly gory animations when taking zoomed-in potshots). We were having so much fun finding new ways to shoot men in the face in slow motion that we entirely forgot to try shooting them in the crotch until our helpful Midway rep suggested it. We can now report that it results in an eye-watering and incredibly long animation of a howling man staggering around clutching the bloody mess that used to be his crown jewels. If that's your sort of thing, I guess...
Levelling Off
One criticism which we can definitely see Stranglehold facing in reviews is that the structure of the levels sees you repeating similar tasks multiple times. On one level, we travelled between half a dozen clusters of similar-looking rough shacks, destroying various drug-making equipment in each one. We do understand what the team has tried to accomplish with this approach; each level is, in essence, a set of arenas which are designed for Tequila to wreak havoc in, and as you clear each arena you progress to the next one.
However, a little more variety wouldn't go amiss in this regard, especially in arenas which won't let you progress until you've killed a somewhat arbitrary number of enemies. We're not sure how this will pan out over the course of the full game, but certainly in the levels we played, repetition felt like it could become a major problem without some fairly significant tweaks to the formula later on.
That said, the formula itself is extremely solid. Action gamers are often inspired by action films; we don't want to be a jerkily animated character who gets stuck on scenery. We want to be Neo kicking an enemy out of the air with balletic grace or Tequila sliding down a bannister and taking out his foes without batting an eyelid. Stranglehold promises to deliver exactly that, a game where the biggest reward of getting good is that you'll look cooler, but where even mediocre players can pull off stunts that look great.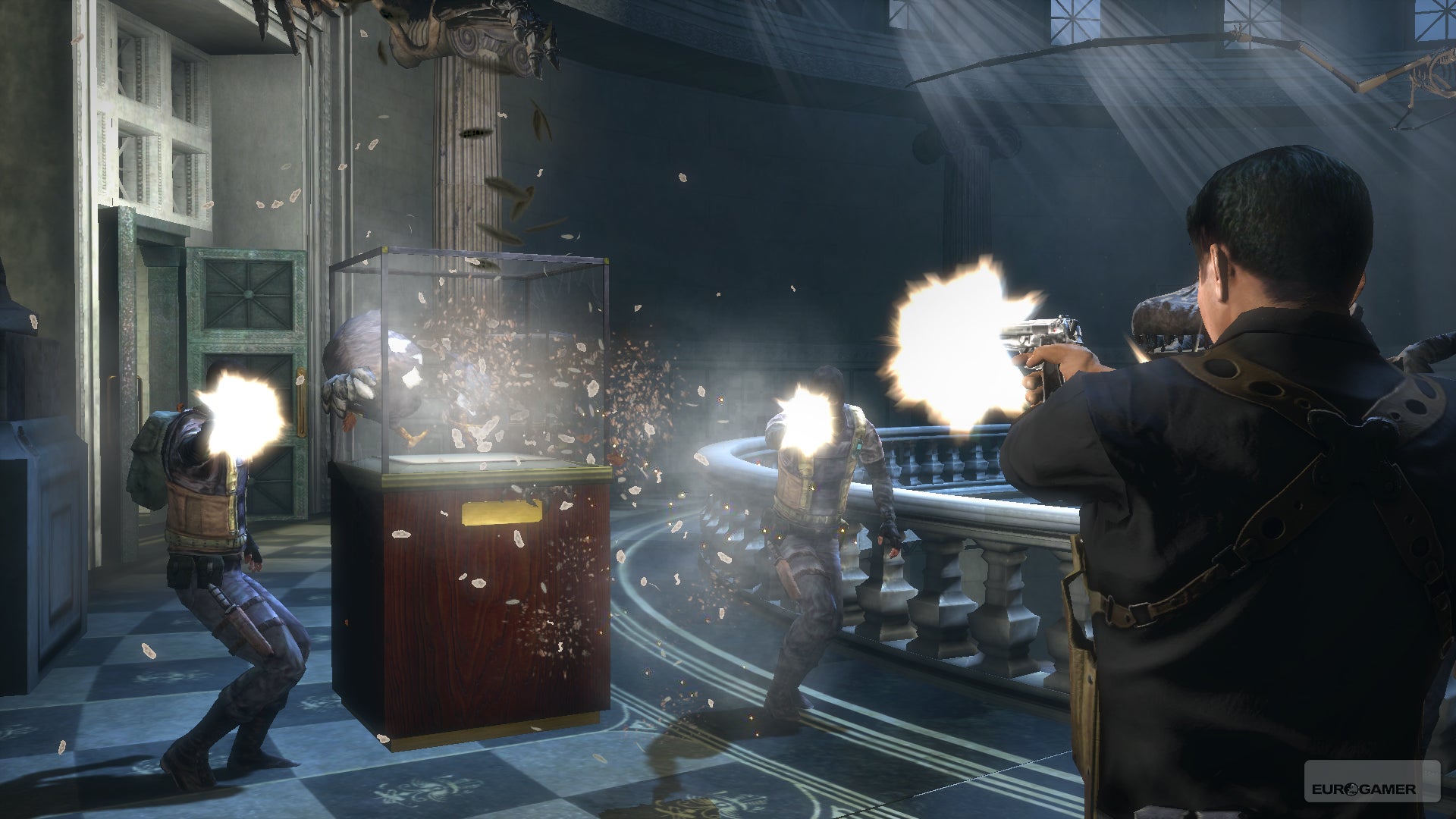 Whether the developers, the internal Midway team who were responsible for the well-received Psi-Ops, can achieve what they've set out to do here will depend largely on how well they can tweak the still somewhat clunky character motion controls and the flow of the level design. This is exactly the sort of last minute tweaking developers always do with their games, though, which makes us rather optimistic that later this year, we'll all be cackling with glee as Tequila shoots another miscreant through the eye socket while diving backwards through a pile of watermelons.
On a scale of Hard Boiled to Paycheck, then, signs point to Hard Boiled.
Will you support Eurogamer?
We want to make Eurogamer better, and that means better for our readers - not for algorithms. You can help! Become a supporter of Eurogamer and you can view the site completely ad-free, as well as gaining exclusive access to articles, podcasts and conversations that will bring you closer to the team, the stories, and the games we all love. Subscriptions start at £3.99 / $4.99 per month.