God of War
Kill Medusa, minotaurs and others as Dante journeys to Ancient Greece.
At a press briefing in the US last week, Sony Computer Entertainment America unveiled one of its upcoming first-party titles, God of War, which is undergoing development at the platform holder's Santa Monica studio (following roughly two years' work at its Southern Californian studio under the direction of David Jaffe - he of Twisted Metal fame - who also led the presentation).
The eve of war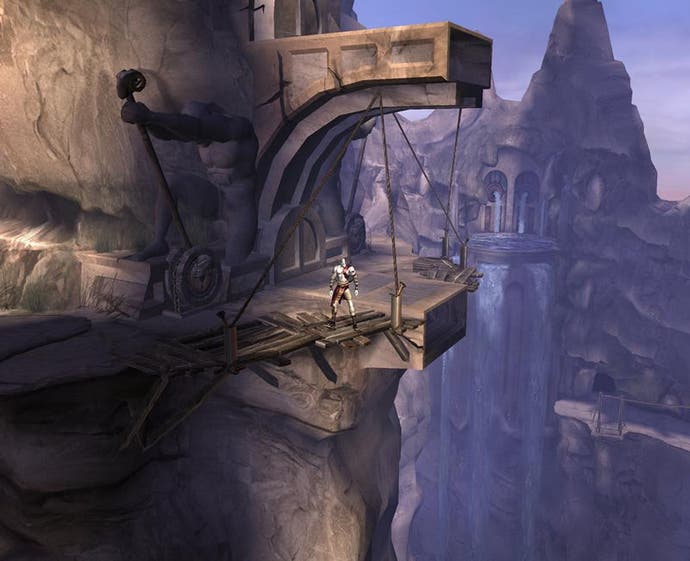 God of War begins on a mountaintop, as a nameless Spartan soldier prepares to plunge to his self-inflicted death, and the game charts the preceding events in the form of a three or four-chapter story delivered via playable flashbacks. The game is set in Ancient Greece, and as is quickly established, the aim is to hunt down and kill Aries, the eponymous God of War.
Killing a god is obviously no mean feat, even for the most dedicated of mythological warriors, and that's why our hero needs to get his mitts on Pandora's box, which can be found stowed away at the heart of a heavily booby-trapped and puzzling temple - itself perched atop a titanic monster that crawls through the desert.
God of War certainly isn't shy about mining Ancient Greece for its weapons and enemies, putting us in control of a pair of sword-like chain weapons, and hackandslashing at legendary enemies including minotaurs, harpies, undead archers and even medusas - whose serpent-topped noggin you can decapitate and then use to turn your own enemies to stone.
The combat system is also ambitious, and clearly (and happily) influenced by the likes of Devil May Cry. Our hero has a core set of some 15 moves and throws, which he can link together as he sees fit to deliver some gorgeously brutal combinations. Doing so also helps fuel the combo meter, which when full allows him to transform into a godlike creature and truly smite the shit out of anybody who wants to argue the toss.
The combat system will also adapt to your location. Climbing hand over hand along a rope, for instance, our heroic warrior can't slash at anything with his chain-swords, but he's quite free to grab enemies with his hanging legs and snap their villainous necks.
Killing them softly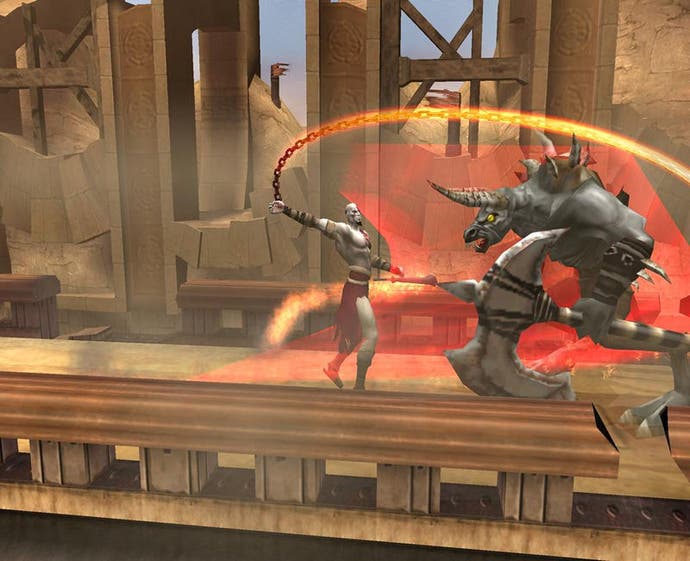 God of War also has an interesting grab system slightly reminiscent of the stealth kill system in Rogue Ops. With an enemy mostly defeated, it's possible to trigger a mini-game where you have to match on-screen button prompts. Doing so unleashes a spectacular finishing move. We'd advise the Santa Monica chaps pop along to SCEA San Diego and see what they did for derided slasher The Mark of Kri. They should at least borrow the bone-crunching sound effects.
The game also promises various magical abilities, and you can expect to build up an even bigger repertoire of moves (and hopefully weapons) as the game wears on. We're certainly looking forward to seeing which other myths the Santa Monica studio develops into brutal tools of destruction...
David Jaffe was reportedly at pains to point out that the game also places a heavy emphasis on story-telling, with multiple endings available to encourage replay value, and that the game will be suitably brutal, with Cyclops boss characters and puzzles based on strategic placement of severed heads. Things like that.
As we can already see from the visuals (which, despite the best efforts of the screenshot Nazis, we've managed to dig up watermark-free), the game features some suitably epic and misty locations, temples and monuments to various gods, and our muscular, grey-skinned hero himself is no slouch with the searing chain-sword. And judging by the size of the minotaur pictured in the first shot - not to mention his battleaxe, which has a blade almost as tall as the player - SCEA Santa Monica hasn't skimped on scale in delivering these theological nightmares.
Devil May Ico Warrior Princess
With the potential visual scale of something like ICO, a combat system that clearly draws inspiration from Dante's antics in Devil May Cry and a basis in Ancient Greek mythology, God of War has certainly caught our attention. It's due out in early 2005 Stateside and we'll be keeping a watchful eye over it in the months to come.