Echelon
Preview - our first hands-on look at the sci-fi flight combat game
While most futuristic flight combat games are set in the distant reaches of space, Madia and Buka Entertainment are quite literally bringing the genre back down to earth with Echelon. As a pilot for the Galactic Federation you will find yourself flying a variety of fanciful aircraft through the valleys and mountains of a planet under attack by the ubiquitous rebels, in this case using stolen alien technology in an attempt to overthrow your government. We took a look at a press preview version of the game to find out more...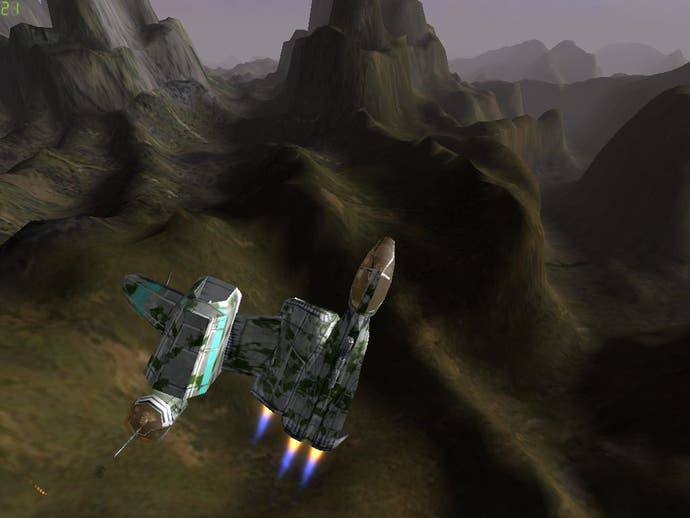 There Goes My Wing
Echelon will feature two full military campaigns, giving you the chance to rise through the ranks as you take part in both day and night battles against the rebels in a range of different weather conditions. Eventually you will find yourself leading an entire wing of aircraft into combat, with fourteen different vehicles to fly, each of which can be customised before the mission with your choice of primary, secondary and missile weapons.
Sadly the preview version we were sent by publisher Akaei only featured a couple of rather uninspiring "instant action" missions, which involved constantly flying backwards and forwards to blow up tanks and aircraft which were half-heartedly attacking your base from various directions one or two at a time. One of the game's many multiplayer arenas was also included, with the standard free-for-all and teamplay options available and support for up to 48 players over a LAN or the internet.
Combat was disappointingly slow and ponderous compared to classic games like Terminal Velocity, but that doesn't make it any less dangerous. Many battles are head-on duels, and if you or your target flinches too late you run the risk of colliding and losing a vital piece of bodywork thanks to the nifty locational damage system. While a missing wing tip isn't fatal, it will make your aircraft much harder to control, and if you manage to lose the rest of the wing you will find yourself spiralling towards the ground trailing smoke.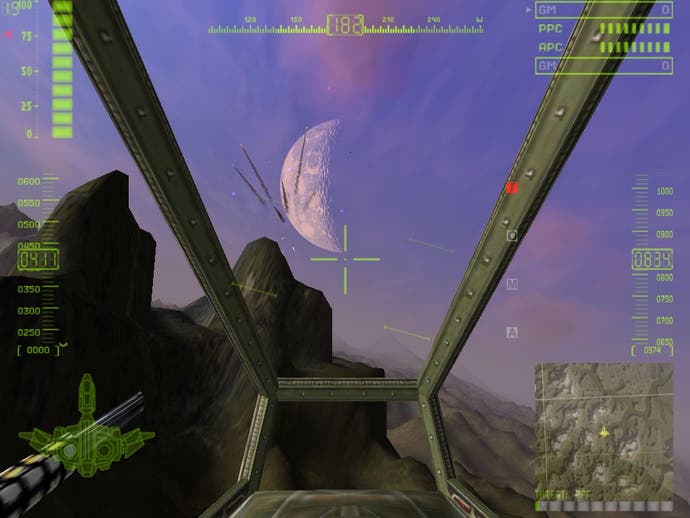 Where There's Smoke...
The aircraft are certainly visually impressive, with or without their wings, but unfortunately they are so small and indistinct that it's hard to really appreciate the highly detailed models, real-time lighting effects and damage system until you are far too close for comfort. Conversely terrain looks good from a distance but is a little less impressive close up, which is a pity as much of the action seems to take place at a very low altitude.
Having said that, overall the graphics are eye-catching even at this early stage. Vast open terrain stretches off into the distance, with the fractal landscape giving the game a truly alien feel. Explosions are another high point, with destroyed vehicles splitting into several smaller pieces that streak off through the misty sky trailing smoke and debris like something out of Deep Impact.
At the moment then Echelon is something of a mixed bag, but with a few months left before its release there's still plenty of time to add some polish, and hopefully the single player campaign will prove to be more rewarding than the spartan stand-alone missions we've seen so far. We'll bring you an update as soon as we get our hands on a more complete build of the game...