4x4 Evolution
Preview - excellent off-road racer comes to PlayStation 2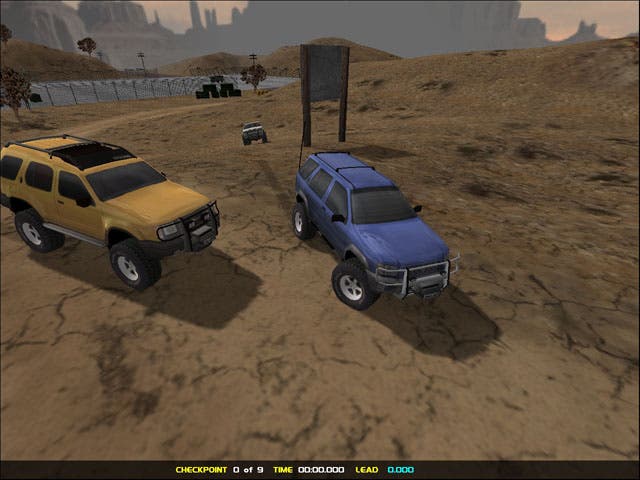 Distinctive
Each of 4x4 Evolution's 15 courses will feature a unique design set and musical score, the idea being to keep the game innovative from stage to stage. Getting to the finish line first is obviously the general idea, but in the meantime you'll have to hit each of the many checkpoints in turn - how you do that though, is your business entirely. That's part of Evolution's attraction; it doesn't deny you the freedom you and your SUV or truck deserve. Big burly 4x4s deserve to write their own ticket, and that's precisely what you should do. If you see what looks like a shortcut, the chances are you could slice a few seconds off your lap time. There's always the map and a cursory pointer to give you a helping hand should you come a cropper. Ditches and cliffs litter the tracks to thwart your attempts, but perseverance will likely prove beneficial, just as it did in the PC version. The graphics engine is expected to be nigh on identical to the PC version's, meaning all the associated detail, lens flare, reflections and shadows will be emanating their way onto the PS2 as well. The intricately detailed car models will return, as will the variable polycount landscapes, which actually do increase in detail as you approach in order that more high quality visuals can be displayed at once without slowdown.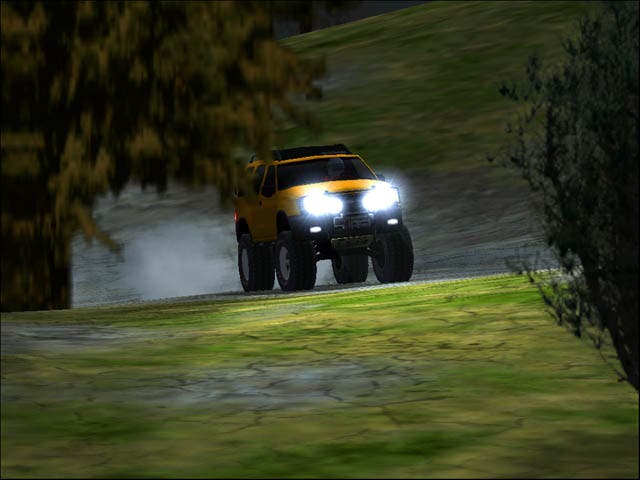 Finding the Bite
Other elements of detail that will litter each track include gates, trees, tractors and even oncoming traffic in the construction zones. There's a military base level where one of the key sections involves zooming through a hangar while dodging a B12 Bomber, and other areas include piles of tyres and other bits and pieces to impede your progress. Thanks to these rather dangerous obstacles, most high-speed races end up viewing like a work of art from the third person perspective, with spectacular collisions and life-like swerving. Headlights splash colour all over the place and depending on the weather and time of day (which vary from race to race and game to game), the results can be breathtaking. Twilight to dusk. Included to compliment the game's visuals is an exhaustive action replay element, that will allow you to watch whole races, save sections and more. The actual game itself focuses around a series of Championship style races. You take control of a base truck or SUV, and compete for cash in competitive races. As your prize purse increases, upgrades will become available to you, as will whole new vehicles. There will be plenty of 4-wheelers on hand too, with over 70 licensed brands.
Conclusion
Porting 4x4 Evolution to the PlayStation 2 shouldn't prove too difficult for Terminal Reality. If anything, the Dual Shock 2 controller will better fit the game, and the rumble functionality will make matters a lot more interesting. It'll be interesting to see just how much of the visual flair TRI can retain for this port, but judging by the footage of the game that we have already seen, things are going fine.