Oxenfree follow-up Afterparty, Swery's The Good Life and more set for Xbox Game Pass
Joining library on launch day.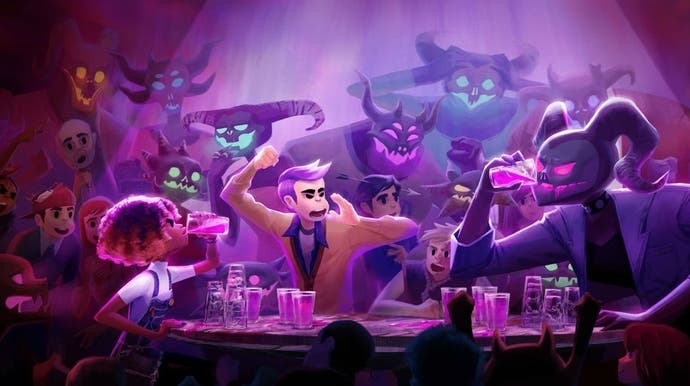 Microsoft has unveiled a bunch of new indie games joining Xbox Game Pass on launch day, including Night School Studio's Oxenfree follow-up Afterparty, and The Good Life from Deadly Premonition director Hidetaka "Swery" Suehiro.
Details come via Microsoft's inaugural, and pleasingly pacy ID@Xbox Games Pass web show - which offered around 13 minutes of breezy developer chat and announcements, including word on eight new indie games joining Xbox Game Pass on the day of their release.
First up is the aforementioned Afterparty, in which two best friends go on a pub crawl around hell in a bid to thwart satan and return to the mortal world, followed by Swery's intriguing English-village-life-sim-meets-surreal-murder-mystery The Good Life.
Elsewhere, Liquid Bit's hyperactive online multiplayer platformer Killer Queen Black is getting the "day one release" treatment, as is Mobius Digital's space exploration adventure Outer Wilds. This one sounds particularly interesting, setting players off to uncover the secrets of a hand-crafted, evolving solar system - a task somewhat complicated by the fact that everything exists within a time-loop and resets after 20 minutes.
Joining those are Billy Goat Entertainment's bizarre trolley racer Super Market Shriek, Blue Manchu's strategy-shooter Void Bastards, JoyMasher's side-scrolling run-and-gunner Blazing Chrome, and Zen Studio's sumptuous first-person dungeon-crawler Operencia: The Stolen Sun.

It's worth mentioning that ID@Xbox Game Pass neglected to date any of these releases, but a cursory glance around the internet suggests that some of these titles aren't scheduled to launch until next year at least. As such, you might be waiting a while for the full line-up to arrive.
Xbox Game Pass, for those unaware, costs £7.99 a month and provides unlimited access to a library of over 200 titles, ranging from top-notch indies to Microsoft first-party offerings, including Crackdown 3, Forza Horizon 4, and Sea of Thieves.