Ouya boots Dungeons the Eye of Draconus from Free the Games Fund
Dev hits back: "It appears we were thrown under the FTG bus."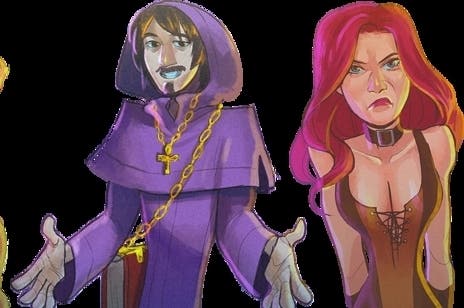 Ouya has booted Dungeons the Eye of Draconus from its controversial Free the Games Fund.
The Golden Axe-inspired brawler had raised $54,067 of its $10,000 Kickstarter funding goal from 180 backers (just over $300 per backer on average), and was in-line to benefit from doubling its money using Ouya's $1 million scheme.
Last week, after a number of users had accused developer SuckerFree Games of "gaming" the fund, lead designer William McDonald revealed his father, using retirement payments saved over the last three-and-a-half years, had provided most of the money pledged to Kickstarter.
Now, in the latest twist in what has been a controversial saga for the micro-console maker, Ouya has kicked the game out of its promotion - and McDonald isn't happy.
"It appears we were thrown under the FTG bus," McDonald wrote in an update on Kickstarter.
"Ouya gets their fall guy and Gridiron keeps their money. So while a bunch of ex-EA employees with rich friends can apparently receive $171,000 in match funds for a game they, allegedly, already finished, a person whose father was willing to make a large sacrifice so his son's team could qualify for the fund and actually develop their game properly is disallowed. If we had remained silent we very likely would have received the funds, our transparency and honesty apparently was our undoing."
McDonald claims Ouya delisted Dungeons the Eye of Draconus "without explanation or even the decency of a notification". He has pulled the plug on the Ouya version and vowed not to develop for the platform. "Without Ouya match funds and only $4055 in donations from our crowd source backers, the cost of swag, taxes and fees would cause us to have a net loss of approximately $11,000," he said.
"So we have no choice but to cancel our Kickstarter."
At the time of publication Dungeons the Eye of Draconus was still listed on Ouya's blog, but the cancellation of its Kickstarter is noted. It's been delisted from the Free the Games Fund website.
One game also under scrutiny from the Ouya community is Gridiron Thunder, which is, currently, a successful Free the Games Fund title. It's due out on 30th September.
Ouya's Free the Games Fund pledges to match donations made to Kickstarter-funded games as long as they raised at least $50,000. In return, Ouya wants six months of exclusivity on its micro-console.
Gridiron Thunder hit the headlines after it raised $171,009 from just 183 backers - much more than the $75,000 goal. That means backers, on average, pledged $934.48 per person.
As a result, some observers have labelled the crowdfunding drive a "scam", although the developer has denied any wrongdoing, saying it benefited from wealthy backers in Silicon Valley and the sports industry. As a result, MogoTXT is set to receive $171,009 from Ouya - that's on top of the Kickstarter money.
As for Ouya, it's yet to directly address the controversy around Gridiron Thunder, or comment on Dungeons the Eye of Draconus - a decision that's angered a number of indie developers.
What now for Dungeons the Eye of Draconus? McDonald had planned to release it on PC, Mac and Linux after the Ouya exclusivity expired, but with the Kickstarter cancelled its future is unclear.