Outer Wilds absolutely nails this one thing about exploration
Rumour and speculation.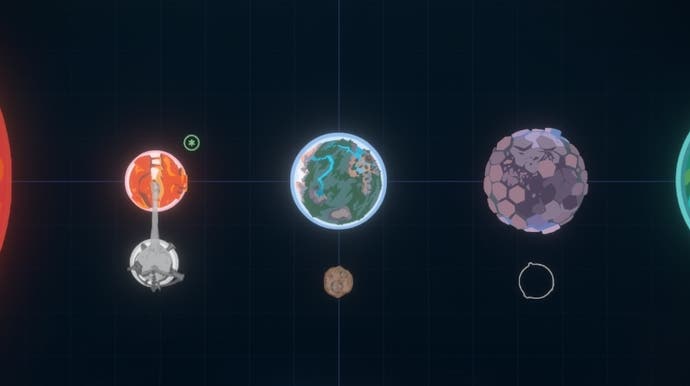 The difference between a good exploration game and a great one isn't always down to the quality of the landscape, the story, the stuff you're actually exploring. Sometimes, as with The Legend of Zelda: Breath of the Wild, the difference is as small as waypoint pins. There's only a handful of them to play with in Zelda, meaning that you have to really choose what you're going to aim for on the map, while the game also ensures that you can't become overwhelmed. Those pins narrow your focus, and make a huge landscape manageable.
Outer Wilds does something else.
Outer Wilds is already one of the greatest games I have ever played and I have no idea how far through it I am. Seriously, this game is magical. You play as a member of a sort of cobbled-together space initiative exploring a clockwork solar system filled with dynamic forces and constant change. Everywhere I land when I blast off to the stars in my little ship suggests thrilling mysteries, and while I suspect a lot of these individual mysteries will dovetail, it's still a lot to keep track of.
And that's the danger. Outer Wilds is so close at times to being the best game I will never really play, because keeping track of all this stuff could be completely defeating. Keeping track of it in my head would be impossible, but it's also the sort of problem that well-meaning UIs only make worse in their attempts to solve it.
Outer Wilds has two solutions. One of them lies at the heart of the game. This solar system is locked in a time loop: every half hour or so the sun explodes and you're sent back to the start of the game again, but with everything you discovered still in your head and on your ship's computer. So you can make progress even though the loop resets, and you also know that whatever you want to do, you're going to have to do it in a half hour: it takes the pressure off.
But the second solution lies with the ship's computer and how it keeps track of what you've discovered.
Oh man, this is so good. Basically, your ship's computer has two screens: a map screen and a rumour screen. Let's look at the map screen first. The map screen is a beauty - I would have that on my wall, frankly. It shows each planet in the solar system, makes clear which ones you've visited, and if you click on each one it shows you everything you've discovered broken down by location.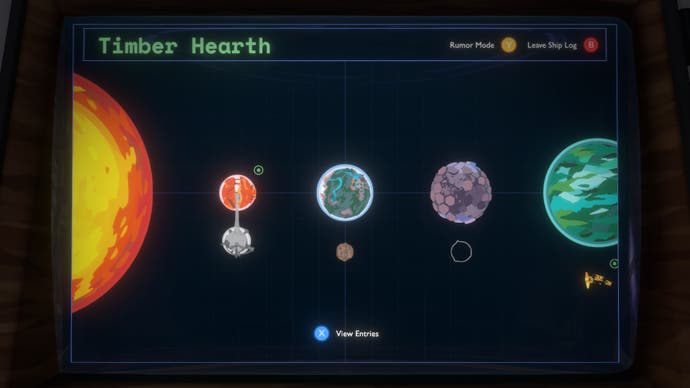 Now let's look at the rumour screen. I have tried not to spoil anything with this snapshot, but equally, maybe don't look at it too closely.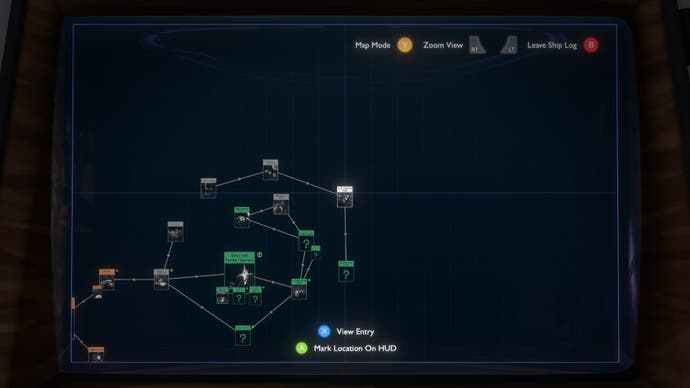 The Rumour screen holds the same information as the map screen, but it's arranged not by location but by how it fits together in a potential theory of everything that your character is constructing. The genius of this is that it mirrors the way we think about problems in exploration games: where is the thing I need located, but also, what is the reason I need this thing in the first place? Brilliantly, you can switch between screens and slice and dice the data. And you can mark it on your hud. Voila. A huge game is somehow manageable and none of its complexity has been reduced.
The thing I like most is that this stuff is recorded automatically. I can get very lost following my nose in the Outer Wilds, but I can feel safe knowing that someone is keeping track of everything I'm doing in a way I can understand. Equally, sometimes the character I play as notices things I haven't spotted about the places I've been. This opens up a little gap between the character and the player, which I really like. But it also provides a gentle hint system that doesn't feel like cheating.
Anyway, Outer Wilds is extremely clever as well as being moving, spellbinding, pretty much unforgettable. Go and play it.