Original voice actor behind Frank Woods is "so bummed" he's not reprising his role in Call of Duty: Black Ops Cold War
"I would have f***ing crushed this thing."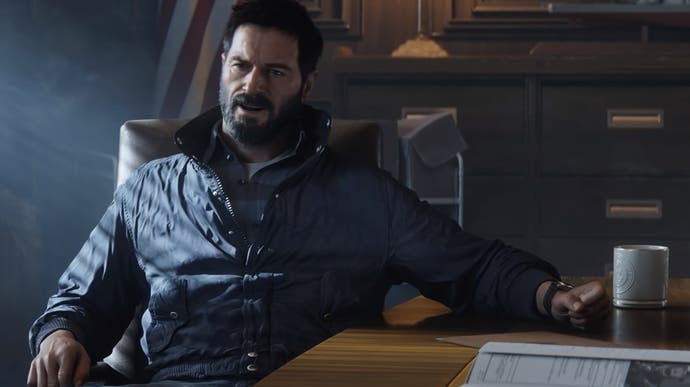 If you've watched the reveal trailer for Call of Duty: Black Ops Cold War, you'll have seen fan-favourite character Frank Woods present and correct. But something is certainly off...
It's Woods, alright, but his voice isn't quite right - and that's because the original voice actor behind the character has been replaced. With whom, we're not sure - Activision has yet to make that announcement. But we do know the original voice actor is pretty bummed out about it.
Speaking in a YouTube video where he answered a series of fan questions, an exasperated James C Burns, who has played Frank Woods for over a decade, expressed his frustration.
"I'm sure the story's going to be fucking brilliant," Burns says. "It's just that if I could have brought all that I know... like I got 80,000 pounds of weight to bring to this thing. Not a knock on whoever they got in to do it, but he doesn't have the background I have with Woods. I've got 11 years with this guy man, and I have all this backstory and all this front-loaded stuff... and I know the... man!
"So that's my frustration. I would have fucking cru - not that this guy's not going to do a good job. I'm sure he is. He's a professional actor. I'm sure he'll do fine. But... ah! I would have fucking crushed this thing. That's my frustration. I wish I had a shot at it. Because man I think I would have really...
"I would have done a great job. I'm so bummed I didn't get a chance at it. That's all."
Burns has also dispelled a few myths in a few tweets, calling the decision a "mystery" and insisting his recent voice work on a fan-made Zombies map called Kowloon had nothing to do with it.
What makes the decision more curious is Black Ops Cold War is not a reboot, or even a soft reboot. Rather, it is a direct sequel to the first Black Ops game, with a story that takes place between Black Ops 1 and 2. And what we have here is what sounds like a voice actor doing an impression of Burns' Woods - as opposed to a brand new take on the long-running character. Burns even addresses this in his video, saying: "I don't understand either, especially when they have a guy imitating me. It's one thing to bring a new character in, right, and have him create a whole new Woods. But they didn't. They brought a guy in who's kind of stealing my... imitating my thing."
It seems Burns isn't the only old-school Black Ops voice actor to have been replaced for Cold War. The trailer shows some familiar faces from the first Black Ops game that came out back in 2010, including Alex Mason (originally played by actor Sam Worthington) and Jason Hudson (originally played by actor Ed Harris), but they're voiced by new actors, too.
Activision has said who plays the new "hero cast", however. Russell Adler is played by Bruce Thomas, Helen A. Park is played by Lily Cowles, Lazar Azoulay is played by Damon Dayoub, and Lawrence Sims is played by Reggie Watkins. The game's villain is played by David Negahban, who was in Showtime's Homeland series. And let's not forget the Ronald Reagan impression.
While Burns does sound frustrated by the decision, he's having some fun with it.