Ordnance Survey maps Britain in Minecraft
UPDATE: Watch Ian explore the OS map and mispronounce things.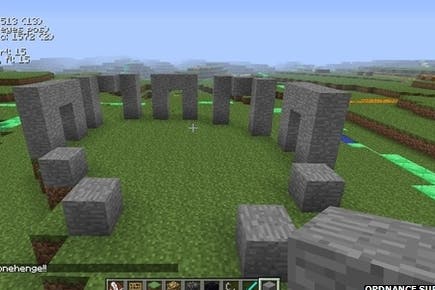 UPDATE: Eurogamer's Ian Higton has been exploring the Ordnance Survey map for himself - watch his travels below as he takes in Stonehenge, London, Oxford and mispronounces everything around Eurogamer's home city of Brighton.
A note for Ian - Lewes is pronounced "Lewis", not "loos".
Watch on YouTube
ORIGINAL STORY: UK maps service Ordnance Survey has created an enormous version of Britain in Minecraft.
The map is 86,000 sq miles across, BBC News reported, and contains more than 22 billion blocks.
Joseph Braybook, an intern at Ordnance Survey's Innovation Labs team, created the map in just two weeks using the company's free OS OpenData technology. Presumably he wasn't playing on Survival mode.
"We think we may have created the largest Minecraft world ever built based on real-world data," said Ordnance Survey's Graham Dunlop. "The resulting map shows the massive potential not just for using Minecraft for computer technology and geography purposes in schools, but also the huge scope of applications for OS OpenData too."
The map contains all of England, Scotland, Wales and some surrounding islands, but unfortunately doesn't include Northern Ireland, Ireland, the Isle of Man or the Channel Islands.
You can download the map from Ordnance Survey's site - uncompressed, it's 3.6GB in size.
Log onto the map and you'll spawn at Ordnance Survey's Southampton head office. From there you can then explore and build Britain at will - testers have already built a scale model of Stonehenge in the correct place. Also, Hogwarts.