OMG Knightmare returning for one-off YouTube special
UPDATE: It's out!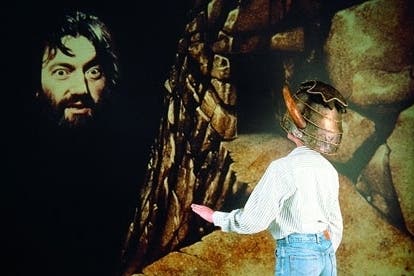 UPDATE: The special one-off episode of Knightmare is out now.
We don't want to spoil it, so have a gander yourself via the video below. Perfect for a rainy Monday lunchtime.
ORIGINAL STORY: Knightmare, the 1980's kids' TV show inspired by fantasy role-playing video games, is returning in a special one-off episode filmed for YouTube on Monday, 5th August.
Series creator Tim Child will produce it, and actresses Isy Suttie (Dobby from Peep Show) and Jessie Cave (Lavender Brown in the Harry Potter films) will feature in it.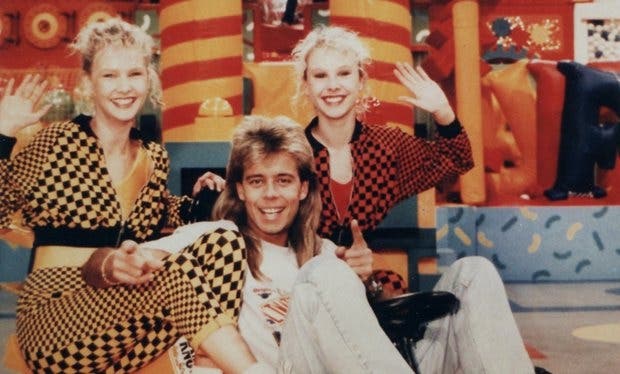 They'll be hosted by Knightmare's original presenter Hugo Myatt (Treguard) and joined by YouTube stars Dan "danisnotonfire" Howell, Phil "AmazingPhil" Lester, Emma "emmablackery" Blackery and Stuart "ashens" Ashen, reported The Guardian. Presumably those YouTubers will form the team exploring the Knightmare dungeon.
Digital Spy mentioned that the new episode will be filmed at the original studio in Norwich, too.
Knightmare, for those who don't remember or don't know, was a television game show in which one member of a team would don an oversized barbarian-style helmet (so they couldn't see) and step helplessly inside a virtual fantasy world. The rest of the team would be the eyes and bicker about how best to guide their friend through the many puzzles and perils that lie in wait.
Our Ellie Gibson wrote a lovely fat piece about Knightmare for Gameological last autumn, in which she interviewed the original cast and went beneath the imagination-capturing veneer of the show.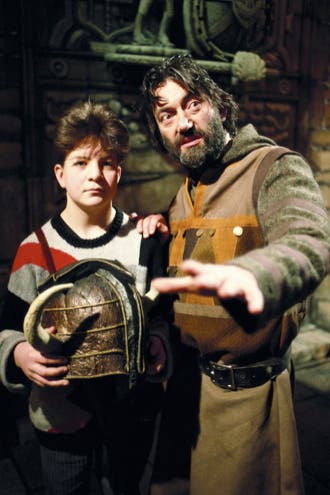 Knightmare is being resurrected for the inaugural Geek Week festival on YouTube, which runs from 4th-10th August. It's a big deal and everyone's getting involved, with content to sprout from around 100 YouTube creators during the week.
Each day of the week will be themed thus (look out for The Guild creator Felicia Day on Friday - she was in Dragon Age 2 DLC don't you know):
Blockbuster Sunday: A celebration of the iconic characters, movies and shows that define geek culture - plus a spotlight on the best original YouTube sci-fi, fantasy and animation. Hosted by FreddieW in the U.S., with new content from Tomska in the U.K.
Global Geekery Monday: Anime from Tokyo, comic-book heroes from Delhi, and a celebration of Doctor Who. Explore geek culture from around the world. Hosted by YOMYOMF in the U.S., and including a special new episode of the British cult children's TV show Knightmare.
Brainiac Tuesday: Science, education and knowledge channels that make YouTube the world's biggest platform for learning. Hosted by Veritasium and The Spangler Effect in the U.S., with an epic stunt from Headsqueeze and Flow from the U.K.
Super Wednesday: From hilarious parodies to real-life super-powers, explore superheroes, the supernatural and the super-weird. Plus, released exclusively for Geek Week, the trailer for Marvel's Thor: The Dark World. Hosted by Stan Lee's World of Heroes in the U.S., and you won't believe what Fast Furious & Funny have done with an old Nissan in the U.K.
Gaming Thursday: A gamers paradise, with live play-throughs, videogames in real life, game-inspired original series and much more. Hosted by Machinima and Maker Studios' Polaris in the U.S., with a Guinness World Records gaming attempt livestream from the U.K.
Fan Friday: Sci-fi-themed cooking, incredible cosplay and impassioned nerd debates as YouTube's biggest fans take center-stage. Hosted by Felicia Day of Geek & Sundry in the U.S., with an ultimate geeky quiz by Crabstickz from the U.K.