Oliver Twins return with SkySaga: Infinite Isles
F2P Minecraft-style game set for PC in 2015.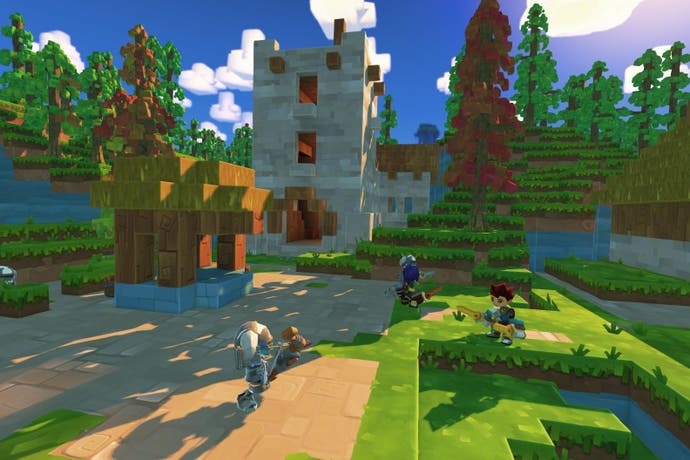 Veteran UK developers the Oliver twins, creators of the Dizzy series, have returned with a new company and a new video game following the collapse of Blitz last year.
Blitz Games, which had been going for 23 years, closed down in September 2013 after it ran out of money.
But co-founders Andrew and Philip Oliver started a new company called Radiant Worlds, which has partnered which huge Korean free-to-play specialist Smilegate for SkySaga: Infinite Isles.
SkySaga, due out on PC in 2015, is described as an "endlessly evolving multi-player sandbox online world". The story is driven by players, Radiant said, set within a procedurally-generated voxel landscape.
It all sounds a bit Minecraft, especially when you hear this: "Players dig for minerals, chop trees for fuel and construction, hunt animals for food and build shelters from the elements and the dangers of the night."
Players start on their Home Island, a "safe environment" to build a home. You then travel through a portal to an "adventure environment". When you go back through the portal you use whatever you've found to customise your home and craft new gear.
As you'd expect, you can visit other players' home islands to trade. From there you can go on co-op adventures or try competitve player-versus-player battles.
"I've been making games for over 30 years and have seen just about everything going, but I've never been as excited about a game as I am about SkySaga," Philip Oliver said.
"The team at Radiant Worlds has worked incredible magic in bringing art, design, code, audio and technical brilliance together in a game that delivers the most captivating experience imaginable. And remember, with the game just hitting closed alpha, we're at the start of an exciting journey."
SkySaga: Infinite Isles is designed to be the first game in the SkySaga series. It's free-to-play with "optional" micro-transactions. A closed alpha test begins soon.