Oculus Rift's John Carmack reckons Facebook "get the Big Picture"
As inventor Palmer Luckey reveals death threats.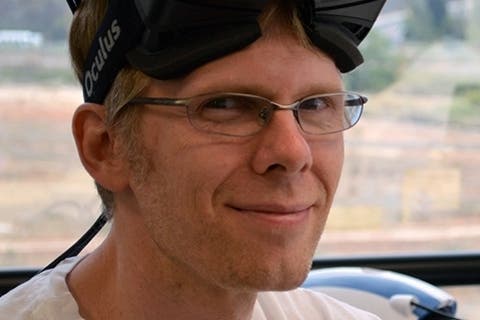 Programming legend John Carmack has responded to concern surrounding Facebook's purchase of Oculus, saying the social media behemoth "get the Big Picture".
Carmack, who joined Oculus last year as chief technology officer after leaving Doom maker id Software, commented on a blog post by Peter Berkman of Anamanaguchi fame, titled, "Wrong and Right Reasons To Be Upset About Oculus.
Berkman said he was more concerned about data-mining virtual reality, the creation of an information monopoly and "the nature of good ideas" than he was about good games coming out, any Facebook rebranding of the Oculus Rift or ads in the experience.
"The deepest issue I find here stems from the way business is done in technology today: companies exist and operate only to get acquired," he wrote.
Carmack responded in the comments section.
"I share some of your misgivings about companies 'existing and operating only to be acquired'," he said.
"There is a case to be made for being like Valve, and trying to build a new VR ecosystem like Steam from the ground up. This is probably what most of the passionate fans wanted to see. The difference is that, for years, the industry thought Valve was nuts, and they had the field to themselves. Valve deserves all their success for having the vision and perseverance to see it through to the current state.
"VR won't be like that. The experience is too obviously powerful, and it makes converts on contact. The fairly rapid involvement of the Titans is inevitable, and the real questions were how deeply to partner, and with who."
He added: "Honestly, I wasn't expecting Facebook (or this soon). I have zero personal background with them, and I could think of other companies that would have more obvious synergies. However, I do have reasons to believe that they get the Big Picture as I see it, and will be a powerful force towards making it happen. You don't make a commitment like they just did on a whim.
"I wasn't personally involved in any of the negotiations - I spent an afternoon talking technology with Mark Zuckerberg, and the next week I find out that he bought Oculus."
Carmack is less worried about Berkman's data-mining issue, however, saying, "I just can't get very worked up about it."
"I'm not a 'privacy is gone, get over it' sort of person, and I fully support people that want remain unobserved, but that means disengaging from many opportunities. The idea that companies are supposed to interact with you and not pay attention has never seemed sane to me.
"Being data driven is a GOOD thing for most companies to be. Everyone cheers the novel creative insight and bold leadership that leads to some successes, and tut tuts about companies ending up poorly by blindly following data, but cold analysis of the data is incredibly important, and I tend to think the world will be improved with more and better data analysis."
News of the Facebook deal was criticised by some - and sparked Minecraft creator Markus "Notch" Persson to cancel a virtual reality version of his game that would have been released for free.
But it seems this criticism has gone further than angry internet forum posts and tweets. Oculus inventor Palmer Luckey revealed on Reddit that he and some others at the company had received death threats.
"We expected a negative reaction from people in the short term, we did not expect to be getting so many death threats and harassing phone calls that extended to our families," he said.
"We know we will prove ourselves with actions and not words, but that kind of shit is unwarranted, especially since it is impacting people who have nothing to do with Oculus."