Oculus reveals new games by Epic, 4A Games, and Ready at Dawn
Introducing Robo Recall, Arktika.1, and Lone Echo.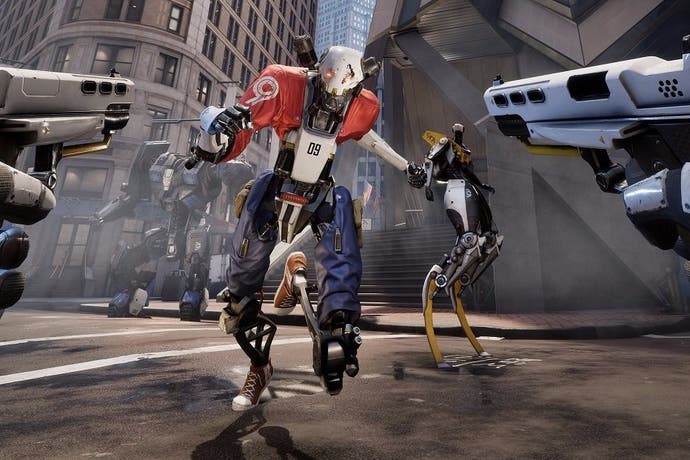 Oculus revealed a slew of new games at its press conference today with the three main features being titles by Epic, 4A Games, and Ready at Dawn.
Epic's game is a comedic first-person shooter called Robo Recall. Borne of the ashes of the studio's Bullet Train demo, Robo Recall lets players stylishly shoot, punch and bash renegade robots with reckless abandon.
It will also be free for all Oculus Rift owners upon Robo Recall's launch in Q1 2017. Here's a trailer:
Next up is Metro 2033 and Metro: Last Light developer 4A Games' post-apocalyptic FPS Arktika.1.
Due in Q2 2017, Arktika.1 is set nearly a decade into the future in a wintry apocalypse. Like the Metro games before it, Arktika.1 is based in Russia and will feature a mix of human and mutant foes.
"At 4A Games, we pride ourselves on our ability to make immersive experiences, so creating Arktika.1, a big, atmospheric VR shooter made a lot of sense," said 4A co-founder and creative director Andriy Prokhorov. "Arktika.1 is a full-blown ААА title, and we're employing all of our accumulated experience making high-quality shooters, and also using a lot of new opportunities provided only by VR. Oculus has allowed us to take the immersion to a whole new level, and it would have been a shame to miss such an opportunity."
Finally, The Order: 1886 developer Ready at Dawn announced its zero-gravity sci-fi title Lone Echo.
While the following trailer suggests an Adr1ft-like narrative vibe, the developer described Lone Echo on its official site as a competitive multiplayer sport.
All three of these titles will require Oculus Touch, which will launch on 6th December at $199.