Norco is a tantalising Southern Gothic mystery
Rust coal.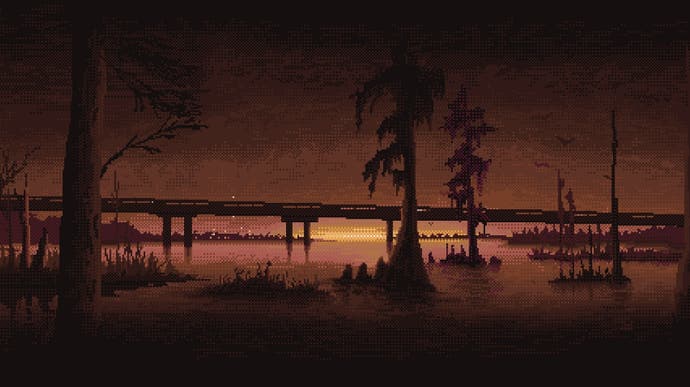 Southern Gothic always feels a bit voyeuristic to me, which is probably because it's actually American Southern Gothic, and I'm not American. It's a deep and personal genre, wedded closely to the specifics of a big, sparsely populated place. But it's also so universal: the surface is swampland, rust, Mississippi river, but the substance is pure humanity. History, power, morality. Fear and listlessness and creeping alienation. So: voyeuristic. A world of very personal suffering that I'm viewing from the outside.
Anyway, Norco. Norco is the first game from a team called Geography of Robots, published by Raw Fury, who've overseen things like Backbone, Bad North and the upcoming Sable. It is very much Southern Gothic, and also a bit magical realist, a bit dark fantasy, and so with that comes a bit of baggage. It's overwritten, in places, in the same way that Kentucky Route Zero or Disco Elysium could be, often meandering off into a verbose and abstract tangent that doesn't add much more than a little sprinkling of edge. It's also obscenely, outrageously pretty, in the way they could be too, and rich with symbolism, soaked with mystery, dripping in mood. I've played the first hour or two thanks to its new Steam demo and I love it.
The moment-to-moment is mostly point-and-click stuff. You get a beautiful pane of pixel art to jab your finger at, uncovering as much or as little as you can be bothered with, and the odd thing will be added to your mind-map, which literally ties together the little threads of information you've found - this mysterious dude, that troubled brother, your sadly deceased mum. The more you push and pull at the world the more little mysteries you find, the more dead ends, that are really rewards: an inaccessible building, a horse mooching about in the low green fog of a swamp. Norco's arranged as a series of these places that you move between, picking up little clumps of lint, rust, and mud, melancholy, the texture of the world, with every clue.
"Norco's dark and heavy stuff, and maybe a little overfond of itself - but so it should be."
There's a bit of combat, which is hysterical in a sort of sad way - I probably spoiled something for myself by battering some poor angry scumbag out of curiosity, as much as actual desire, as I often end up doing in branching narratives like this. It uses a funny little memory game, where symbols flash in a certain order and you have to quickly click on them correctly afterwards, and a kind of sickening close-up of your enemy that feels a little wrong, a little provocative, like when a character from The Simpsons faces frontwards into the camera. Character art reminds me of Hotline Miami, those kinds of horrible, wrinkled, phlegmy faces that your stoner mate draws on those t-shirts he's trying to sell. But it's good horrible, horrible with intent, this is a character you're supposed to loathe, supposed to hate for nothing more than their appearance and circumstance. This world has made them poor, and their poorness has led this world to look at them with contempt.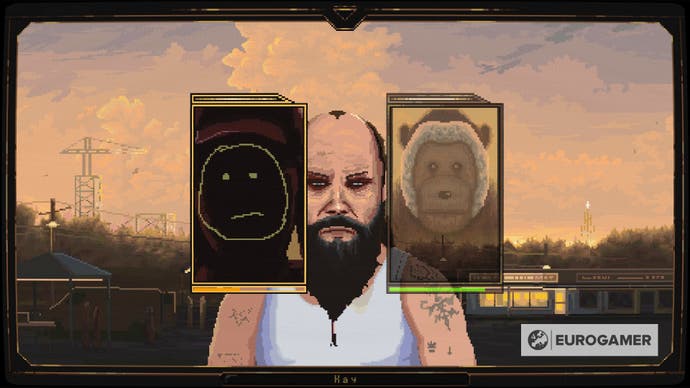 And that is Norco's story, or what I can pick up of it from my brief time with the game. Rust, decay, above all waste. A vast, looming chemical plant has poisoned the river and the community. People are fragmented and afraid of each other and themselves. All the connective tissue of the world has been pulled apart, and following a thread of mystery about your mother, her investigation, and that horrible plant might pull it back together, might not. Norco's dark and heavy stuff, and maybe a little overfond of itself - but so it should be. It's great, and I'm sold.