No Man's Sky's latest update adds a music and audio creation tool
Patch notes.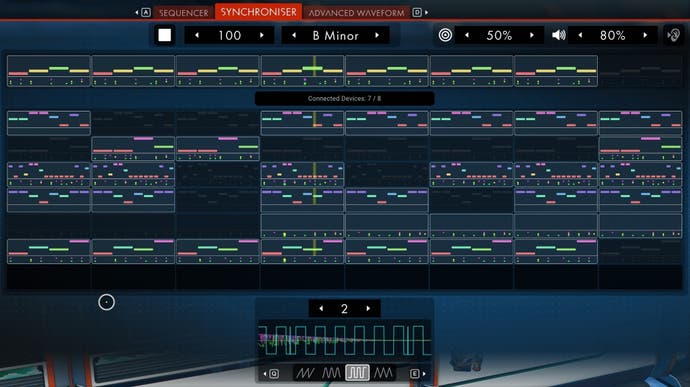 Just in time for the holidays, Hello Games' exploratory space sim No Man's Sky has a brand-new update, this one adding a music and audio creation tool to its ever-growing list of features.
Update 2.24, as No Man's Sky's latest patch is known, ushers in a "full audio creation application" that Hello Games is calling the ByteBeat Device. At a basic level, it's a machine that you can build by acquiring the appropriate blueprint from the Space Anomaly, then slap it down in your world - whereupon it will parp out a procedurally generated tune, or even specific noises that players have sequenced in.
Musical tinkerers can arrange tracks, modify melody and drums, or even adjust octave, key, or tempo. That's just the basics, though. "ByteBeat formulas are made out of simple waveforms that are manipulated through maths - but by default, the device handles all of the mathematical heavy lifting, procedurally generating random presets for you to play with," explains Hello Games, "Dedicated audiophiles have the option to explore deeper, manually sketching out note sequences, rhythms, and even manipulating the raw sounds."
Additionally, multiple ByteBeat devices can be chained together to layer tracks into more complex arrangements, and it's even possible to sync other devices, including lights, up to the ByteBeat's rhythmic output. You'll see some of that in the announcement trailer above.
No Man's Sky's ByteBeat update is available today on PC, Xbox One, and PlayStation 4.