No Man's Sky's NEXT update is big
All the details from next week's huge overhaul.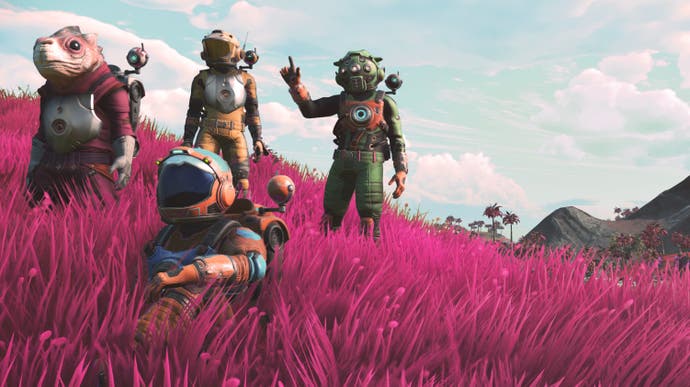 No Man's Sky ambitious NEXT update is out next week, coming to PC, PS4 and, for the first time, Xbox One. It's been a year in the making and is, it's fair to say, big.
Right now, I've only had around 30 minutes with this latest version, so it's impossible to fully appreciate its scope - but, speaking as someone that's accrued hundreds of hours with the game and its three previous updates, it's already clear that NEXT marks a significant new chapter for No Man's Sky.
The first, most striking aspect of NEXT is, unsurprisingly, its visual overhaul - and, as the recent trailer will attest, it's genuinely remarkable just how different No Man's Sky looks. Its massively improved lighting, better atmospheric effects, and increased draw distances, alongside a gorgeous new cloud rendering system, improved textures, better water, an optional new third-person camera, and more, combine to create a much more subtle aesthetic.
Perhaps more than anything though, it's the newfound sense of scale that impresses, with the game now sporting a more "earth-like" planetary generation system. Mountains tower above undulating valleys, populated by looming trees, larger architectural "props", and notably improved fauna. Creatures feature more nuanced animations, improved AI, and a broader range of sounds, all of which help sell the illusion of life just that little bit harder.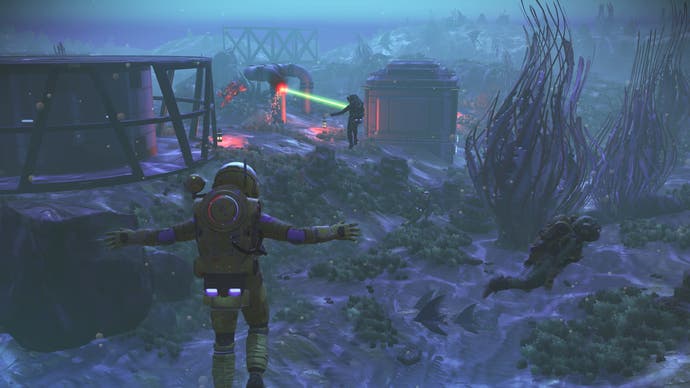 But Hello Games' changes go beyond mere aesthetic tinkering, and it's surprising just how much has, in the last year, been tweaked and enriched. It'll require a lot more time to properly gauge the true impact of NEXT, but here are a few early observations: the entire opening of No Man's Sky has been once again reworked to make for a more accessible introduction to the game's sometimes opaque systems - which have only grown more complex through the previous three major updates.
Your first task is still to gather resources to repair your downed ship - and, to be clear, the fundamental loops that drive the game haven't changed, even if the depth of activities around them certainly have - but even in the early moments, there's ample evidence of the sheer breadth of NEXT's additions, such as the introduction of a refinery, which enables the creation of new resources out of those mined from planets.
Crucially, No Man's Sky's structural reworking gives much faster access to some of its more interesting tools. Now, not only do you get a ship in the opening hour, you're given access to the the likes of the terraformer - enabling you to shape the earth at will, useful for carving out spots for bases or escaping a planet's harsh environment - as well as access to base building. Notably too, freighters - the vast starships that essentially act as giant, portable bases - are no longer the domain of the super rich, but will arrive early on as a freebie.
That's important, as No Man's Sky places renewed emphasis on freighters; improved versions of these, with betters stats, can be found around the galaxy as play progresses, and freighters have been redesigned so that customisable areas (now basically a large hangar, waiting to be filled with rooms) are front and centre, giving a much greater sense of ownership and personalisation.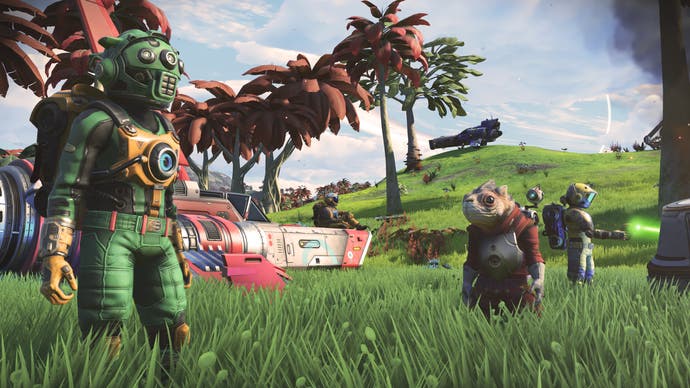 Additionally, your freighter is where you'll encounter the new frigate system. This wasn't a feature I saw myself during my playtime, but is described as something like Monster Hunter's Palico system. You can buy frigates - up to 50 in a fleet, which will be visible around your freighter - and each can have its own specialisations. Frigates are sent on procedurally generated missions which play out in real-time, and can be followed across the galaxy or simply left to complete their mission, reaping the rewards of a successful adventure.
Freighters are also home to the new procedurally-generated multiplayer quest system. Now, you're able to form wings and set out across the galaxy, working together to complete the likes of dogfighting missions and more. And speaking of multiplayer, it's impressive just how well integrated it is, feeing like a natural extension of the experience, rather than something awkwardly bolted onto the existing core.
Resource gathering no longer feels quite so much of a chore when you've up to three other friends in a party; creative collaboration on building projects and the likes is a joy, and simply exploring the galaxy with friends in tow makes for a much less lonely place. And there are plenty of well-considered touches too, such as being able to mark points of interest for others to see, and easily dropping resources straight into friends' inventories.
NEXT's additions go much further though: building has received a major overhaul, with a greater focus on construction using individual pieces (floors, walls, ceilings, etc.) to make more elaborate, more distinct rooms and layouts - and I was especially taken with the way room pieces now automatically carve out the landscape, meaning it's easy to build cosy planetary bases underground, straight into the rock.
And, of course, with restrictions lifted in terms of base size and placement - you can now build anywhere on a planet - there's much greater scope for creativity. What's more, you can finally have multiple bases, meaning that it's no longer necessary to undo all your previous work if you find an appealing new planet on your travels and want to establish a new home.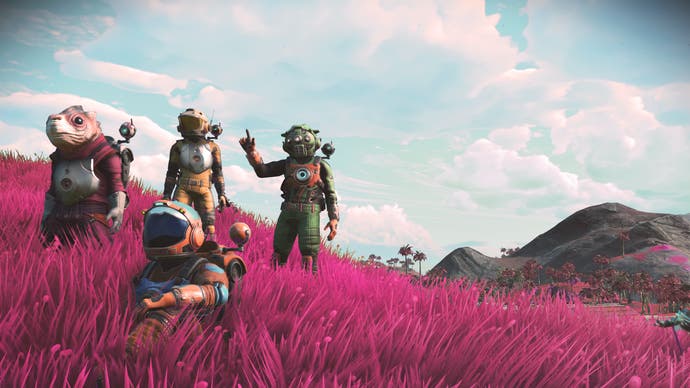 Even a relatively brief time with NEXT impresses, with its procession of subtle adjustments, welcome quality of life features, and bigger additions such as multiplayer - although it's hard to tell if the game's weighting has been shifted enough to move its focus away from the sometimes fiddly survival and resource gathering core loops that put off some at launch. Answers to these questions will come in time.
And speaking of things to come, Hello Games has one last surprise in the form of its post-launch plans for NEXT. With three massive updates under its belt, the team is keen to adopt a schedule of smaller, regular updates, to ensure a consistent run of new experiences. To that end, it's implementing something akin to a live events programme, in which players can work to achieve certain community goals in order to earn a second currency that can be spent in a new in-game rewards shop. This currency - and Hello is keen to stress that this is all free, and that there will be no micro-transactions - can be used to purchase the likes of emotes, customisation parts, and eventually unique ships and vehicles.
That's still not all though; this will be supported by a new galaxy map website, enabling players to scrutinise No Man's Sky from afar. It's a way of highlighting just how much of a living, changing space it is, thanks in large part to the tireless efforts of the game's remarkably engaged community. It will show the likes of galactic hubs and just how far afield the surrounding systems have been explored, as well as player discoveries, and even community-provided points of interest - whether these be screenshots, stories, or poems.
It certainly seems that Hello Games' efforts over the last year have brought significantly more scope, scale, and depth to No Man's Sky's galaxy - and I can't wait to see and share more.